This site may contains affiliate links to products and/or sponsored content. Girl Appetit may receive a commission for purchases made through such links. 
If you're new to my blog or if you don't know me very well yet, I should let you know that if I absolutely could, I would spend my days hitting all the best restaurants around the world. No joke. Yes, I do love to cook, but I think I like eating food even more! I have always loved going to new places to eat. Living so close to Los Angeles (a cool 30-60 minutes away from my town, depending on traffic of course) it's an absolutely blessing to have so many amazing and delicious places so close by. Lucky for me, my sister lived in K-Town (Korea town) so getting to visit and spend the weekend with her makes it that much easier to explore a restaurant I have never been to. This past weekend was one of those times and I got to check out not one but TWO places I have never been to before. Right now though, we are gong to talk about Harlowe in West Hollywood: a bar turned into a restaurant offering the most exquisite fine dining experience I think I have had in a long time. Chef Nicolas Peter brings an amazing French Mediterranean cuisine experience that will have you coming back for more!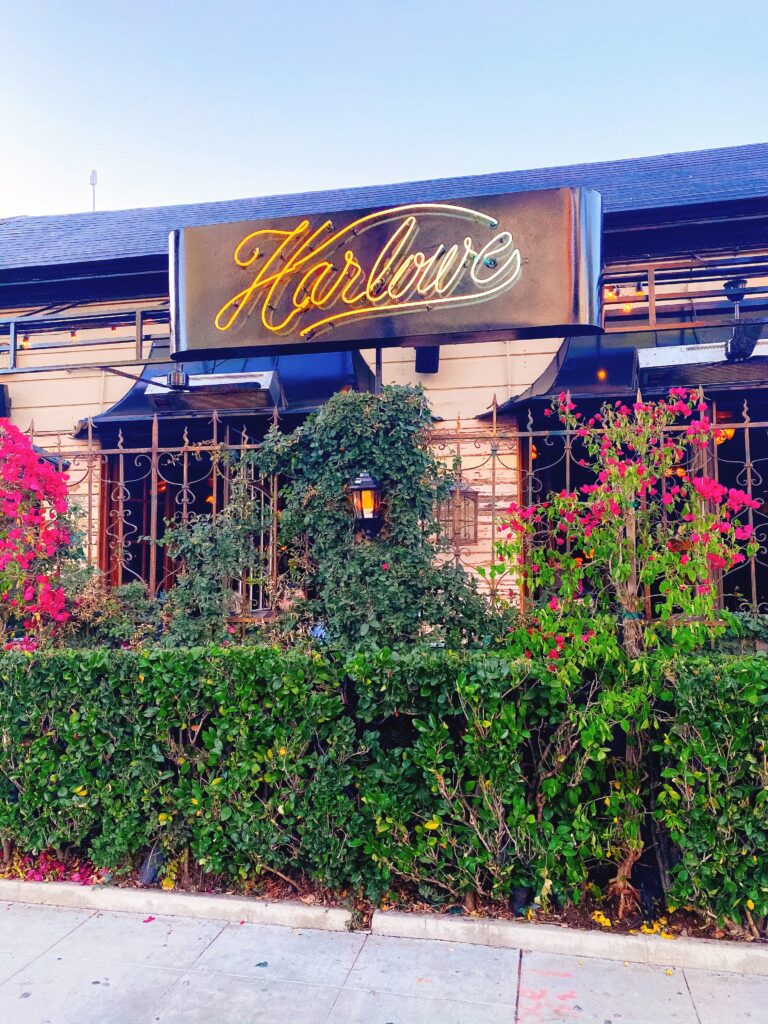 Now, I would like to also point out that going out to eat in the middle of a global pandemic can still be a bit nerve wracking. It's also very important to me to only go to places who are following proper and safe COVID-19 protocols, and Harlowe was no exception. All of their staff wore masks and face shields. All seating was outdoors and tables were far apart. My sister and I felt totally comfortable and were able to enjoy our epic feast with no worries. The ambiance was absolutely beautiful too. They re-designed the alley between the restaurant and the building next door (which also happens to be where my sister works. Shout out to Stephan Jones Interior Design Studio + Shop and your absolutely gorgeous new space!)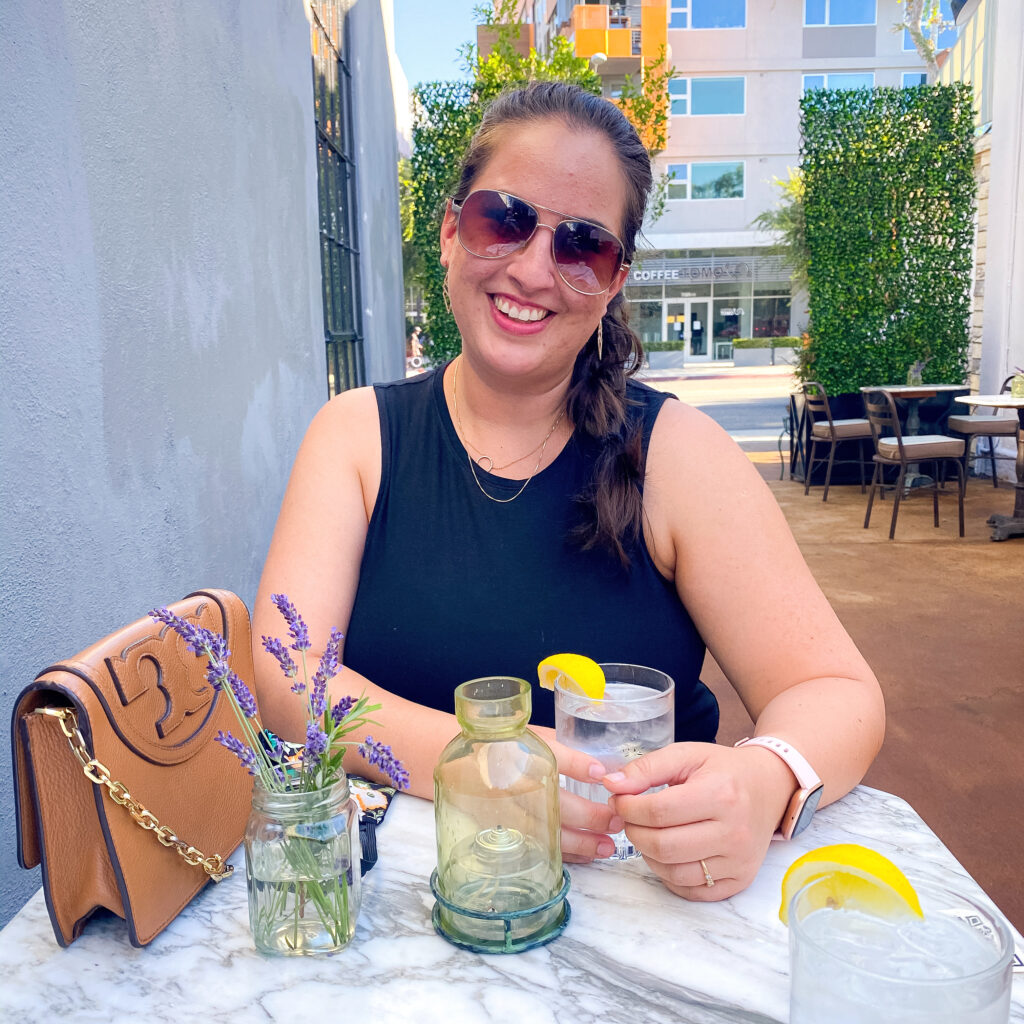 Let's just get right into it and start talking about the amazing food we got to enjoy. We ate like freaking queens, literally, we didn't hold back on anything and everything was absolutely amazing. We started with an appetizer and some drinks. I enjoyed a glass of crisp Sauvignon Blanc and my sister tried one of their signature cocktails named It's All in the Egg (which was a combination of Hennessy, Rose Hip Liqueur, Egg White, Simple Syrup, Lemon, Orange Blossom Water, Angostura and Soda). We started the evening with their Heirloom Tomato Salad which was served with seasonal peaces and fresh burrata cheese, topped with a drizzle of basil oil, and aged balsamic reduction and toasted pine nuts. Delicious would be an understatement. Heirloom tomato and burrata salads are probably one of my absolutely favorites…. now add fresh seasonal peaches to the mix and it'll have your taste buds going mad! I probably could have eaten two more orders of that, and it didn't hurt that they also brought us some freshly baked bread with herbed and spiced oil for dipping.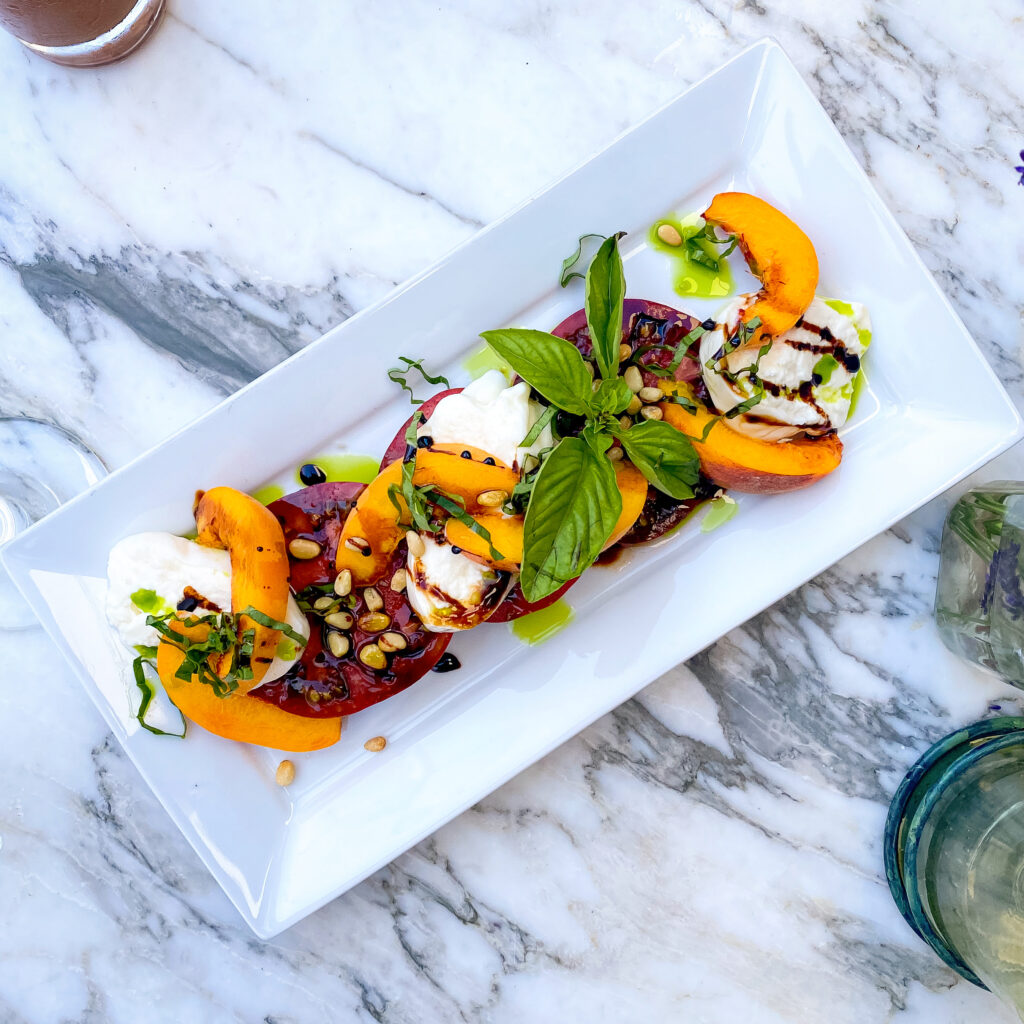 We didn't shy away with our entrees either. I went for their Grilled Marinated Skirt Steak with a green peppercorn demi-glace, it also came with potato leek gratin and broccolini. The meat came perfectly cooked, medium-rare, and it was absolutely savory. The sides were just as exquisite as the main attraction. I have never tried a potato leek gratin before. It was beautifully made and so tasty. The broccolini was the perfect complimentary veggie to complete the dish. My sister ordered the Baked Almond Crusted White Fish with a coarse mustard tarragon sauce, served with a fingerling potato mash and squash noodles. Of course, I had to have a taste and it did not disappoint.
Of course, there was no better way to end the evening than with some dessert. We were treated to their trio platter offering all the desserts on the menu. The Flourless Chocolate Cake was probably my favorite, I am a sucker for a rich chocolate cake. The second dessert was their Coconut Cheesecake. I am normally not the biggest cheesecake fan, it really depends on how it is made, and this one was phenomenal!! I seriously could no get enough of it, ten out of ten. Lastly, we got to try the Strawberry Rhubarb Lattice Tart. So yummy, loved the tartness and the crust was perfect. This was my first time trying a dessert made with rhubarb– I have always seen it on tv and in magazined, but I finally got to try it myself!
Harlowe was definitely a treat and I would highly recommend this spot to anyone looking for a delicious fine dining experience.