This site may contains affiliate links to products and/or sponsored content. Girl Appetit may receive a commission for purchases made through such links. 
Some time ago I asked my friends on social media what their favorite comfort food dishes were.  Most of them said pasta, or some sort of pasta dish, and many others said casseroles. So I figured why not come up with a new, delicious pasta bake recipe that combines these two ideas?  This Easy Spicy Buffalo Chicken Pasta Bake recipe is so good and you're going to love how simple it is to make.
Recipes that are ready in less than an hour are absolutely perfect. Am I right? Even under 45 minutes, I say that is a win. I know that you are busy. You have a lot of stuff going on in your day-to-day, so I wanted to make sure that this recipe was easy and also delicious for you and your family.
What's great about this recipe, is that you can utilize leftovers from my Easy Whole Baked Chicken Recipe. That way you can plan for one recipe and get a second meal out of it, with just a few additional ingredients.
If you are looking to make this recipe and you haven't made my Easy Whole Baked Chicken yet, that is totally okay! I will give you a few tips on how you can make this delicious Easy Spicy Buffalo Chicken Pasta Bake recipe with some alternatives.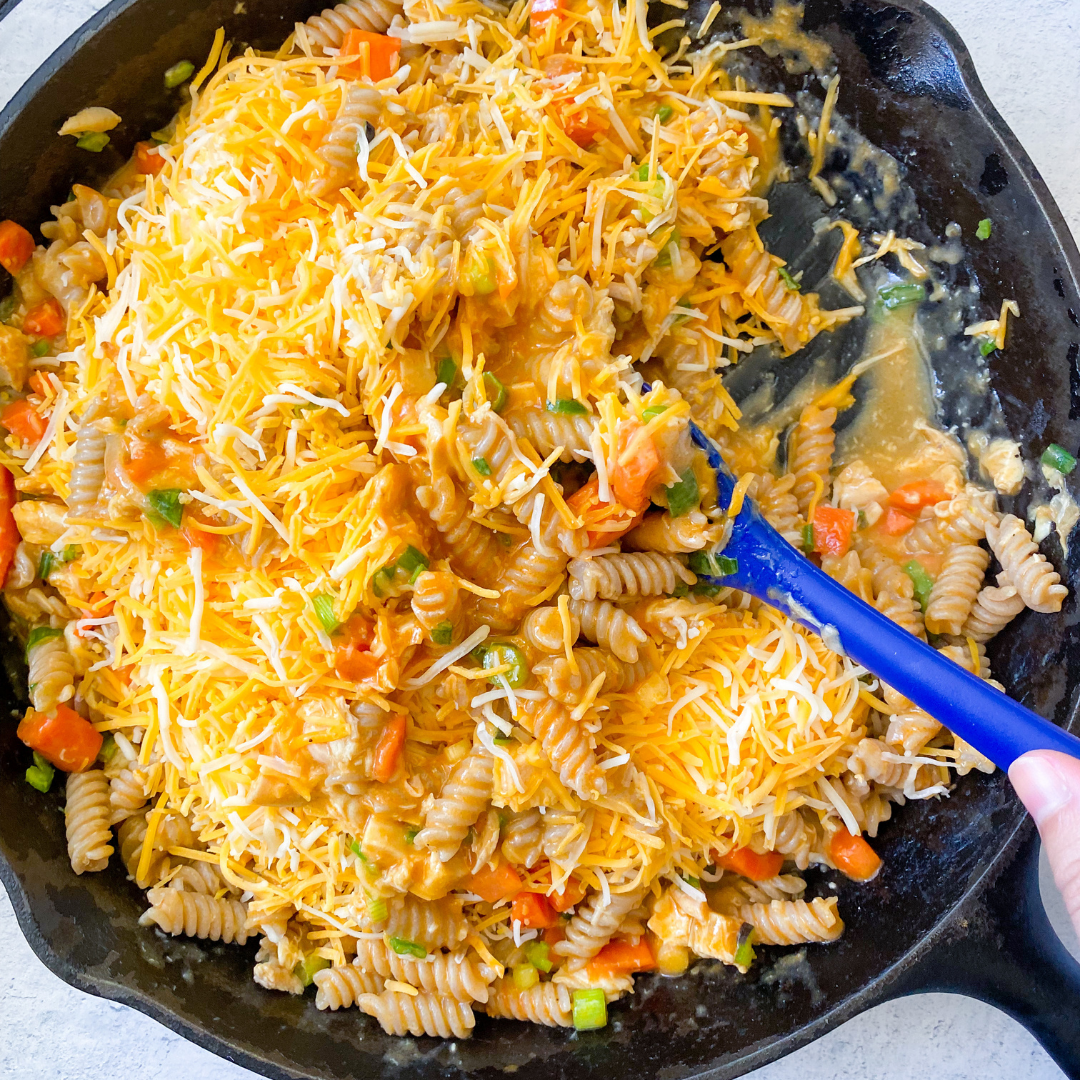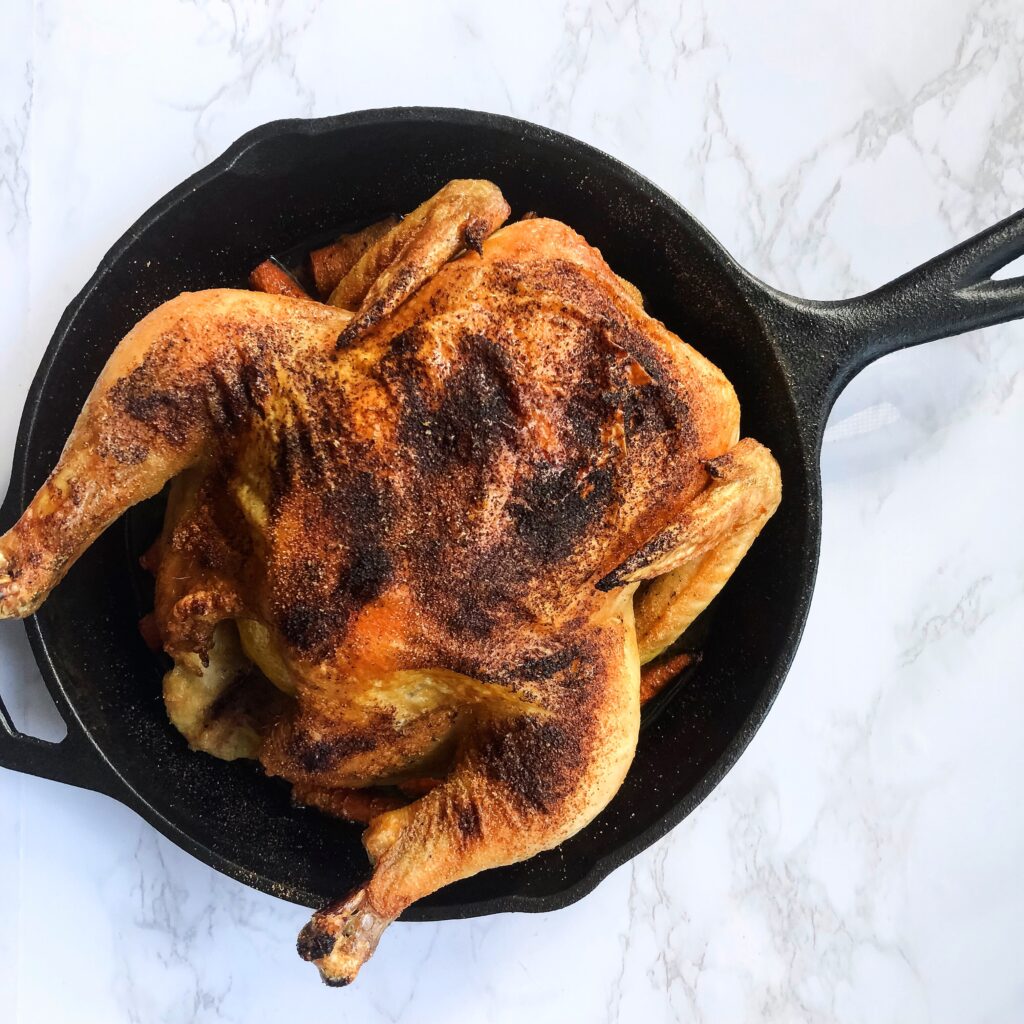 This Easy Whole Baked Chicken recipe is one of my favorite go-to meals. It's so easy, ready in just 60 minutes, and makes the perfect meal prep too! Whenever we make this, we will have some for dinner, along with a side of rice and veggies. The leftovers are great for so many other things!
You can either repeat what you have the night you made it or you can make other recipes with it, such as chicken salad for sandwiches, shred it for tacos, or for my Easy Spicy Buffalo Chicken Pasta Bake.
This recipe also calls for carrots which is what I used for the pasta bake recipe. If you are not using this recipe's leftovers for the Easy Spicy Buffalo Chicken Pasta Bake, you can either use raw carrots or roast some carrots ahead of time before making the pasta bake. 
Don't have leftovers to use?
Rotisserie

chicken will work just as well!

If you don't have leftover oven-baked chicken you can absolutely use ready-made rotisserie chicken meat. You only need 2 cups of diced chicken meat so if you love buying store-bought rotisserie chicken on your weekly shopping trips, be sure to save some for this recipe.

Talking with a lot of you online, I've learned that coming up with recipes made from leftovers is a big thing! I totally get it, if I can make one thing out of a previously cooked meal, I am so happy. Saving time is what it's all about when it comes to the kitchen for me.

But at the same time, I want to make sure that every meal is as healthy as can be. Made with real ingredients, reducing the number of processed foods as much as possible, and ensuring that everyone in my family enjoys dinner.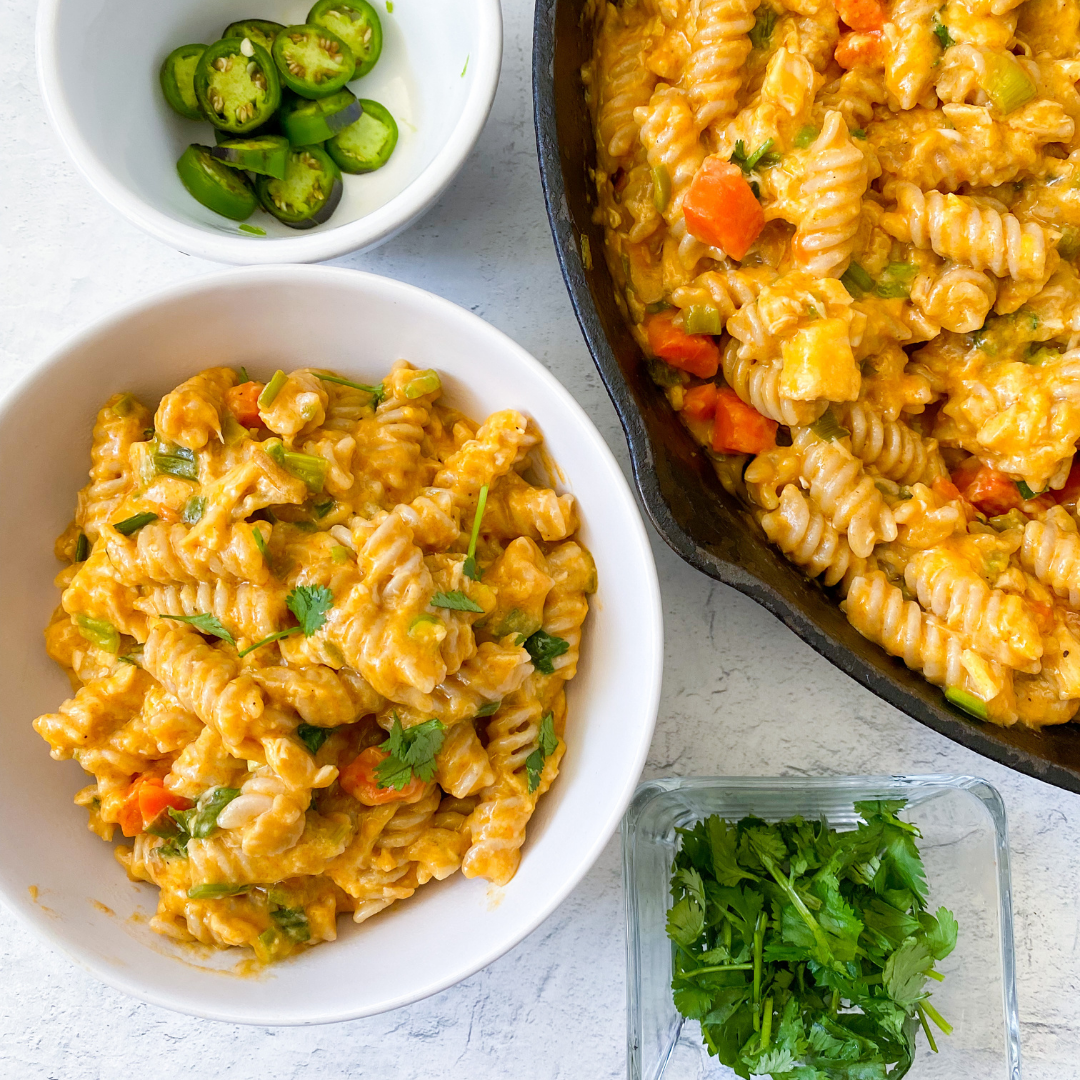 You can also cook the chicken ahead of time
Baking or boiling chicken for this Buffalo Chicken Pasta Bake recipe is also a great option. Boiling chicken is so simple, depending on the size of your chicken breasts, they should simmer for about 10 minutes. After 10 minutes remove one piece from the pot and check. The internal temperature should be 165°. If they need more time check every 5 minutes.
Try some other amazing buffalo chicken recipes
This Easy Spicy Buffalo Chicken Pasta Bake isn't the only recipe I encourage you to try this week. If you are a buffalo sauce lover, like I am, you have to try these two recipes as well. My Dairy Free Buffalo Chicken Dip is the perfect appetizer to serve at your next gathering. The Classic Buffalo Chicken Wings make the perfect Friday night dinner for you and the family!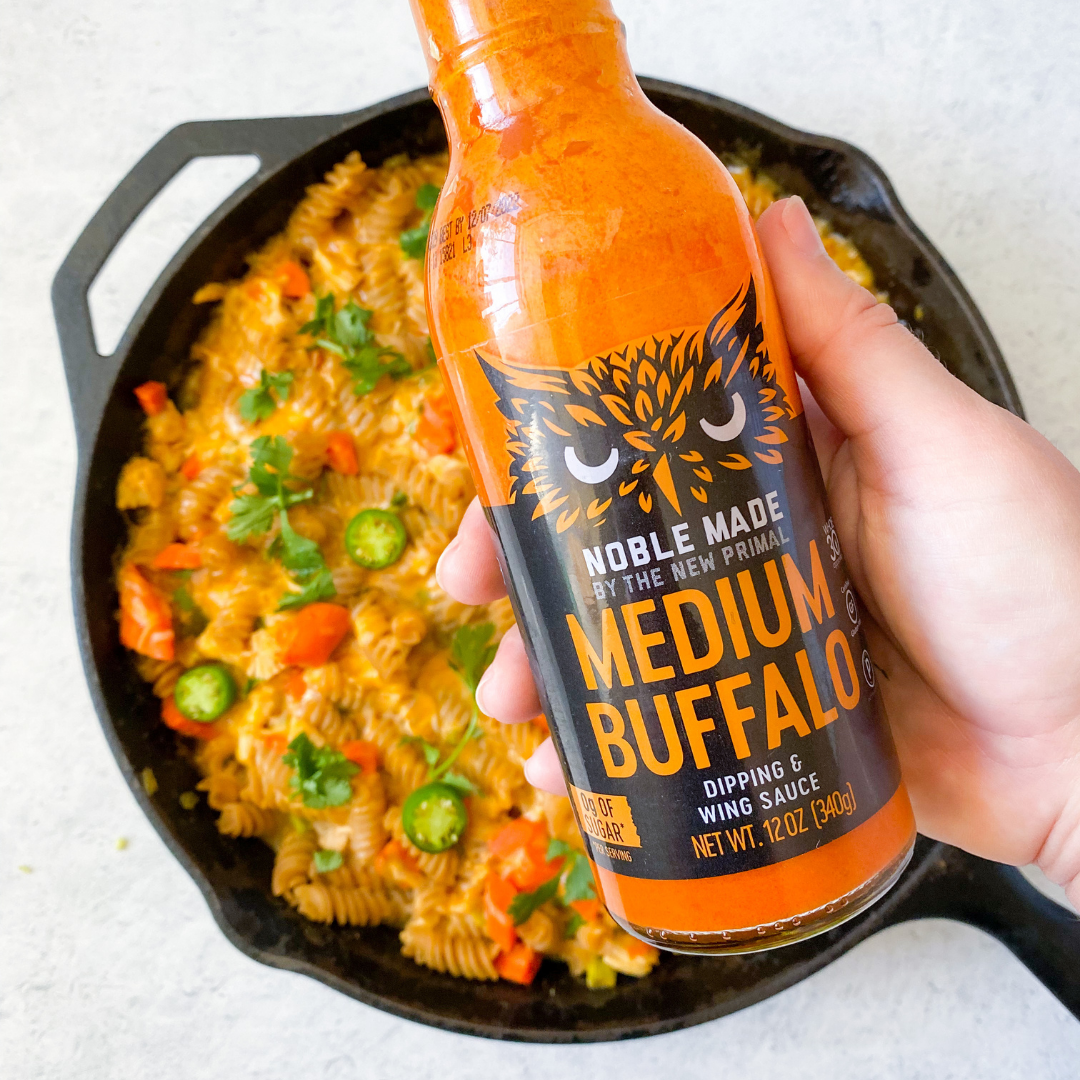 Troubleshooting this recipe
Depending on the type of pasta, whether you choose a different style, or go for a gluten free option, the amount of broth used may vary. Start with the instructed amount, 2 cups of chicken bone broth (or stock), and go from there. If your Easy Spicy Buffalo Chicken Pasta Bake looks a little dry once it comes out of the oven, add a little more. If there is too much liquid, bake it for a little bit longer, uncovered, until the broth has absorbed some more or evaporated.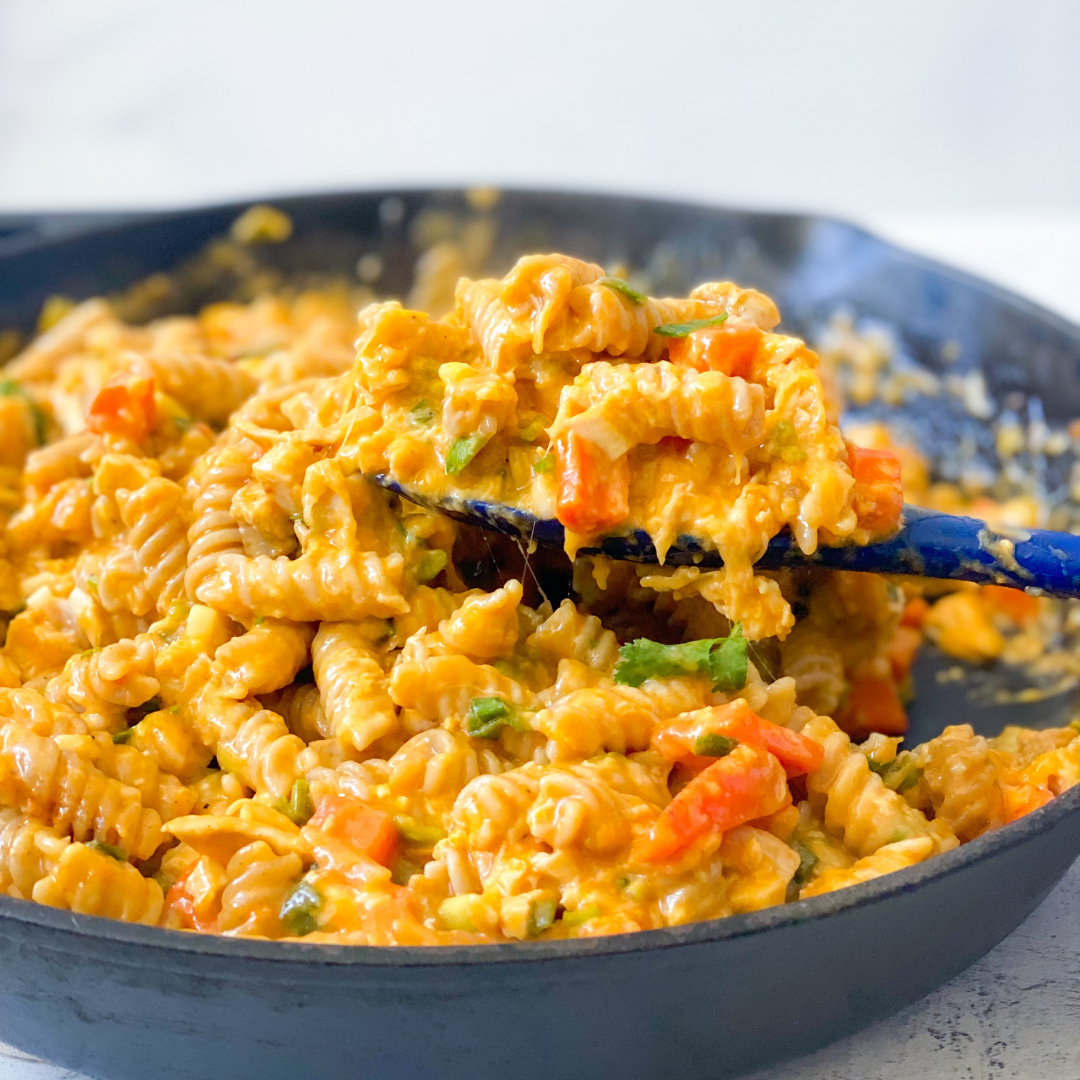 Easy Spicy Buffalo Chicken Pasta Bake
Ingredients
1lb rotini pasta (or pasta of choice)
2 cups cooked chicken, diced
1 cup roasted carrots
2 cups chicken bone broth
3 tbsp all purpose flour
1 tsp salt
1 cup green onions, sliced
2-3 jalapenos, sliced
3/4 cups buffalo sauce
2-3 tbsp grass-fed butter
8oz grated cheddar jack cheese
freshly chopped cilantro for garnish
Directions
Step 1

Cook pasta according to direction on package. Be sure to not overcook, al dente is best since you will later be baking the pasta along with the rest of the ingredients (a few minutes less than instructed). Once pasta is done cooking, strain and set aside

Step 2

Preheat overn to 375

Step 3

Chop your cooked chicken and carrots and set aside

Step 4

Slice your green onions and jalapeno and set aside

Step 5

In a large cast iron skillet (or oven save casserole dish) pour in 2 cups of chicken bone broth and add flour. Using a whisk, mix until flour is completely dissolved

Step 6

Add in your cooked pasta, chicken, carrots, green onions, jalapeno, salt and buffalo sauce into the cast iron or casserole dish

Step 7

Mix until well combined. Bake for 15 minutes. Then, remove from oven, mix again, top with cheese and bake for another 15 minutes (this time cover with parchment paper)

Step 8

When done, remove from oven and mix melted cheese into the pasta bake. Bake for an additional 5 minutes or so until bubbling and most of broth has evaporated

Step 9

Garnish with freshly chopped cilantro and extra jalapeno slices!