This site may contains affiliate links to products and/or sponsored content. Girl Appetit may receive a commission for purchases made through such links. 
Are you ready to make the best dairy free buffalo chicken dip recipe? This has been the most popular recipe on my blog right now, and for good reason! Buffalo chicken dip is one of the best appetizers you could possibly bring to a get-together. Whether it's during football season, summer months, or even Holiday parties!
I am absolutely obsessed with Buffalo sauce. My mouth is literally watering thinking about buffalo wings, buffalo dip, buffalo ranch… you get the point. So it's a no-brainer that I needed to come up with a yummy buffalo chicken dip recipe that was also friendly to those who prefer not to or can't consume dairy.
Since this is one of my favorite go-to dips, I wanted to make sure that everybody could enjoy it. The creaminess in this dairy buffalo chicken dip recipe does not disappoint. It is just as good (or perhaps even better) than the original. It's spicy, savory, zesty and so delicious.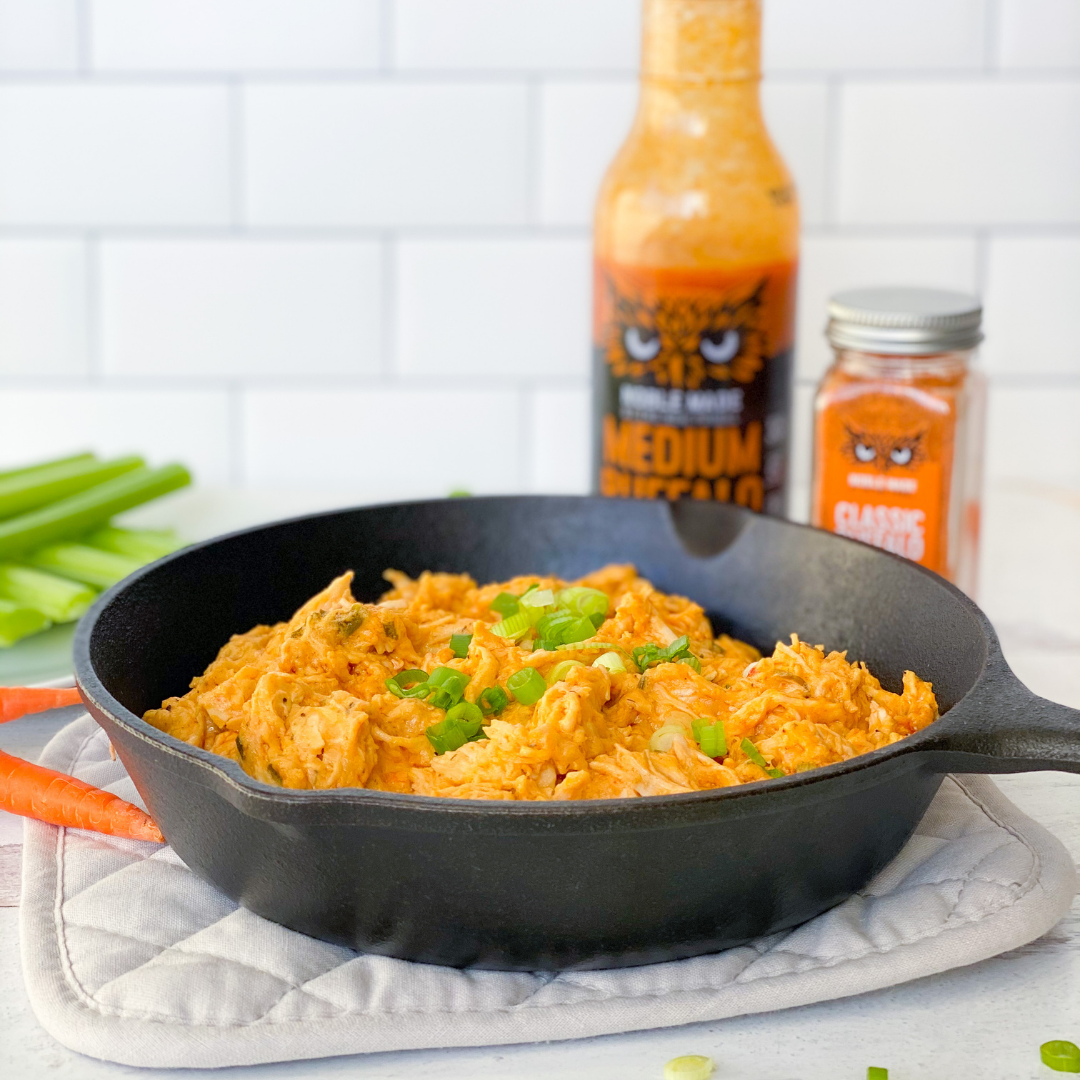 What makes this buffalo chicken dip recipe dairy free?
THE NEW PRIMAL – TNP is my favorite go-to brand for all things sauces, spices, dressings, etc. Their buffalo sauce was actually the very first product I ever bought from them. It was years ago when I tried Whole30 and needed to stock up on a few Whole30 approved products. They were at the top of the list, and I've never looked back. 
Their buffalo sauce comes in three different levels of spicy-ness: Mild, Medium, and HOT. I always go for the mild sauce because I still think it has a strong enough kick without it getting too overwhelming. But that's just me… my husband might say otherwise, as he likes his food very spicy. Their products are not only dairy free and Whole30 approved, they are also certified gluten-free and paleo-friendly. 

MIYOKOS CREAMERY – here is where the creaminess comes in. Miyokos is one of my favorite vegan brands and I love what the company stands for. Not only do they make great quality products, but they also offer a variety of dairy free alternatives that can make any dish deliciously vegan friendly. 
For my recipe, I used their original vegan cream cheese spread and the pepper jack "cheese" shreds. Any time I have ever made a classic cheesy recipe dairy free I have used Miyokos brand. 
SIR KENSINGTON – they make my favorite mayonnaise, so I was very excited to see that they came out with a ranch too! Let me tell you, I have tried many types of dairy free ranch dressings and non compare to the creaminess and delicious taste of Sir Kensington's. Definitely, something I will be adding to my kitchen must-haves.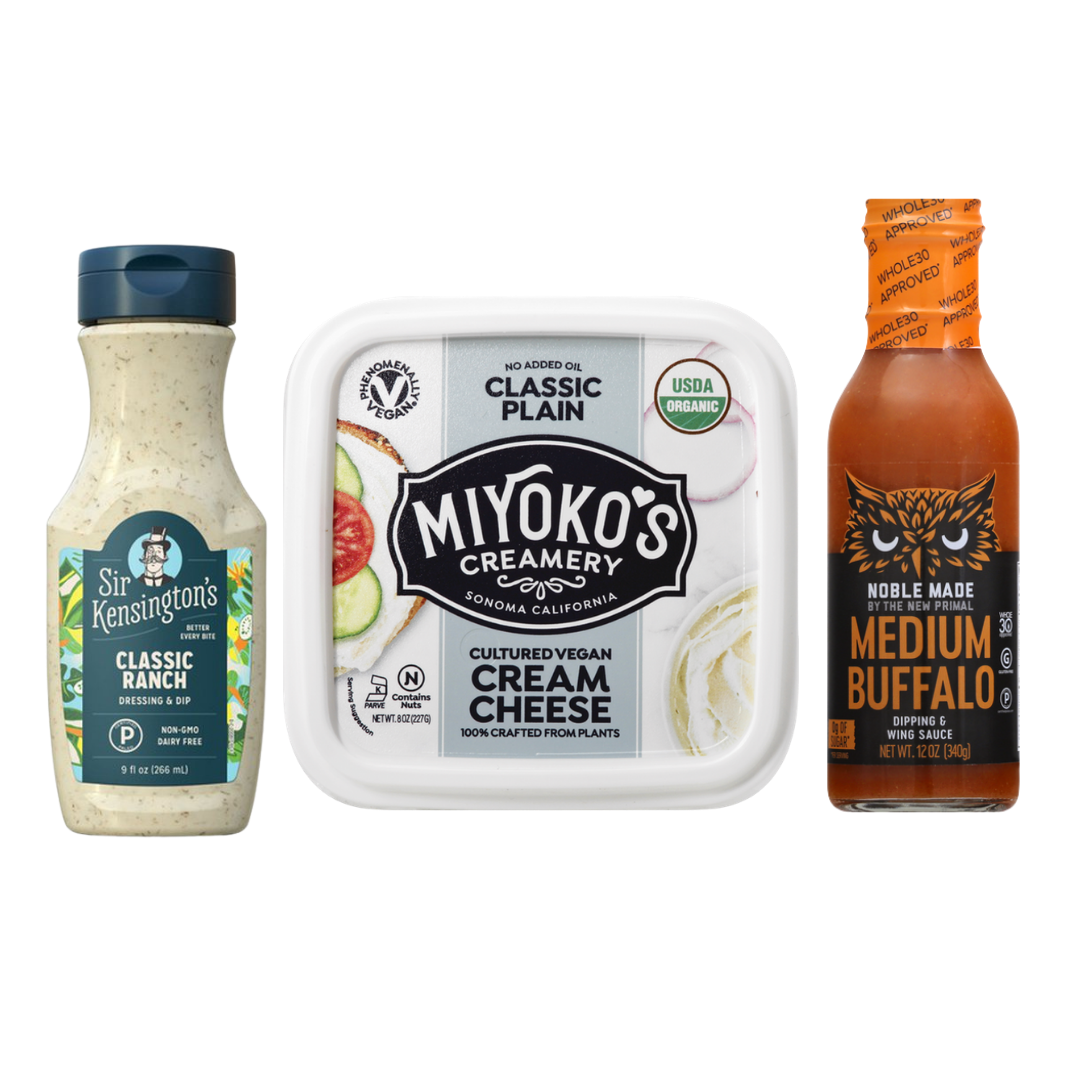 How to prep the chicken for your dip
You can easily buy already-cooked chicken breast (even shredded I am sure), but I encourage you to try making everything from scratch! This step is actually extremely easy, and won't take much time at all. Simply boil your chicken breast in a large pot of water until fully cooked! This should take no more than 5-8 minutes. 
You can check the chicken by using a thermometer, or even easier yet, take a chunk of chicken breast out of the pot and cut into it. Once your chicken is fully cooked, shred it in a large bowl using two large forks. 
How much vegan cream cheese to use in this recipe
I suggest using between 6-8 ounces of cream cheese. The Miyokos container is a full 8 ounces, so depending on how creamy you want it, will determine how much you add into the recipe. 
How to enjoy your dairy free buffalo chicken dip
Chips are always a fantastic idea for this buffalo chicken dip recipe. Some of my favorite chips include Siete Foods grain-free tortilla chips, Trader Joe's corn chip "dippers", and Late July chia and quinoa chips.
I also love serving some fresh-cut veggies along with the dairy free buffalo chicken dip. Carrots and celery are perfect for dipping and they're also so refreshing and delicious. 
How to store your leftover dip
Made too much? Don't worry, that's not a bad thing. You can store your leftover dairy free buffalo chicken dip in an air-tight container for up to four days. There are lots of other ways you can use up your leftovers too if you're not in the mood for chips:
buffalo chicken sandwich
buffalo chicken eggrolls 
buffalo chicken salad