This site may contains affiliate links to products and/or sponsored content. Girl Appetit may receive a commission for purchases made through such links. 
Sweater up and get ready for these 8 delicious soups for Fall. There is nothing better than curling up with a warm bowl of soup on a chilly Fall or Winter day. Today I'm rounding up the 8 most popular soups on my website and can't wait to hear which one is your favorite!
Soups are great because they are typically very simple to make, require just one pot to make, and can feed you for days. These 8 popular soups are perfect for any occasion. I've got a variety for you to choose from, whether you prefer creamy, hearty, or nice and light. Here is a quick peek at this round-up of my 8 popular soups for Fall.
Five Ingredient Tomato Soup

Crockpot Chicken Tortilla Soup

Curried Lentil Stew

Chicken Orzo Soup

Garbanzo Bean Soup

Dairy Free Butternut Squash Soup

Potato Leek Soup

Split Pea Soup with Turkey Bacon
Why are soups the best thing to make every week? Soup is one of my favorite things to make because I always make a big enough portion to have the following day plus freeze the rest for a rainy day.
Freezing soup is one of my biggest tricks for saving time when I am in a bind. There are weeks that days get crazy, and sometimes there isn't time to make something from scratch. Having the option to reach into your freezer and defrosting dinner is so convenient!
I love using these 32oz containers that I buy off of Amazon for freezing left over soups and sauces. They are super affordable, easy to store since they stack perfectly, and are even dishwasher safe! It's also great for whenever I am gifting family and friends with left overs from recipe testing.  They are the best containers for freezing soup!
How long can you keep frozen soup in your freezer?
To stay on the safe side, the FFS (Federal Food Safety) recommends that soup should stay frozen for no more than 2-3 months. Allow your soup to defrost on the kitchen counter until it's about half way there. I usually don't wait until it is 100% defrosted, and ill just add it to a small pot on low/medium heat and it will naturally keep defrosting as it warms up.
How to freeze your soup
When you are getting ready to freeze your soup, be sure to not let the soup sit in your fridge for more than 3-4 days. I always freeze it after we have had our second serving the day after it is made. Also, making sure that freezing soup that has been sitting in the fridge overnight (meaning it is not hot or warm) will prevent your soup from expanding which will result in damaging your container.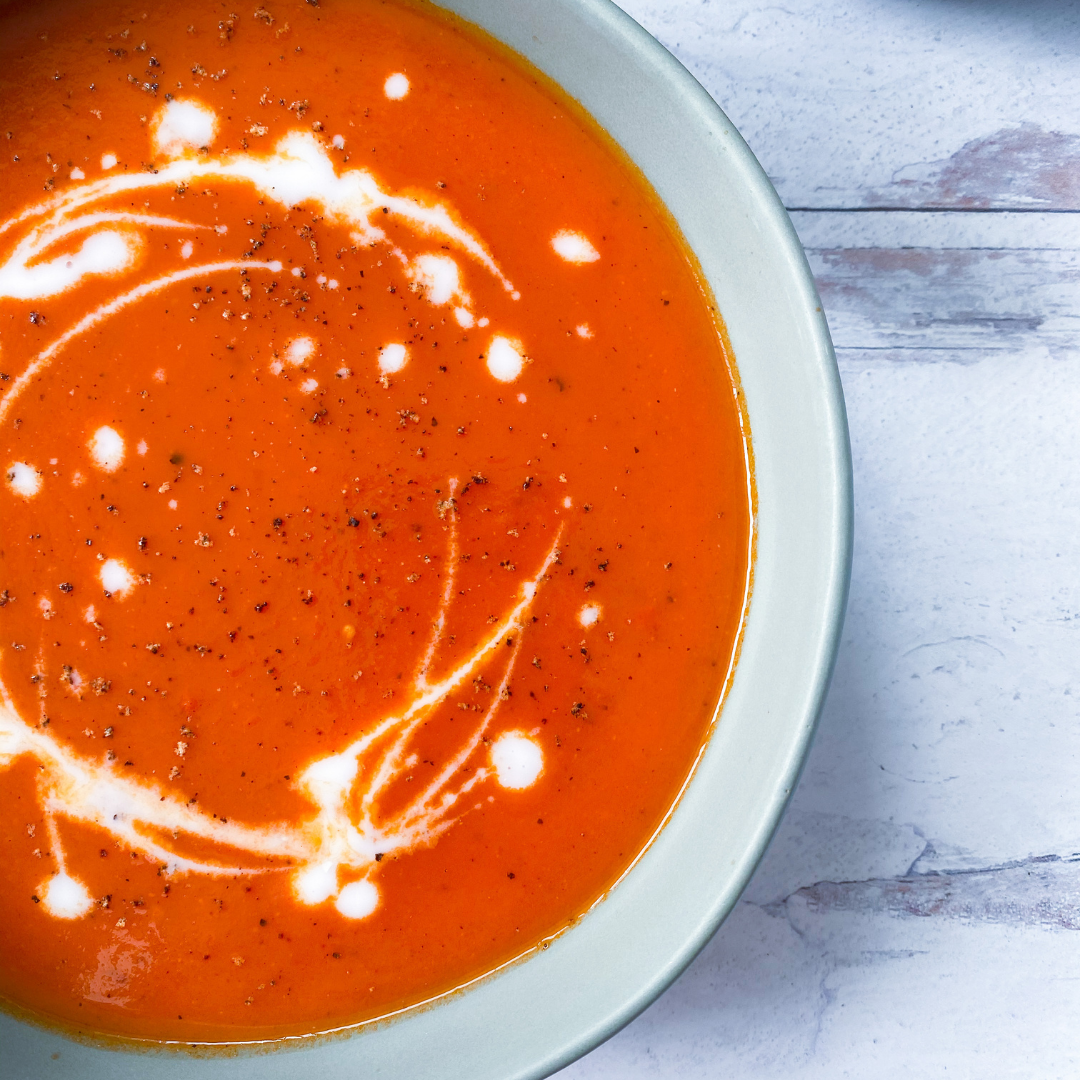 #1 on my list of popular soups is my Five-Ingredient Tomato Soup.  This is one of the easiest soup recipes you will ever make. Not only is it made with just 5 simple ingredients, but it's also ready and done in under 20 minutes. Tomato soup is one of my favorite soups, ever since I was a kid, I have always looked forward to a cup or bowl of this tasty meal.
It's typically made with some sort of dairy, but this dairy-free version is just as good (or maybe even tastier) than the original. You can enjoy tomato soup as is, by itself, or alongside an ooey-gooey grilled cheese sandwich.
This soup is very popular with the kiddos too! My four-and-a-half-year-old son loves when I make it. I always serve him a little cup to go alongside his dinner. He usually ends up drinking it straight out of the bowl!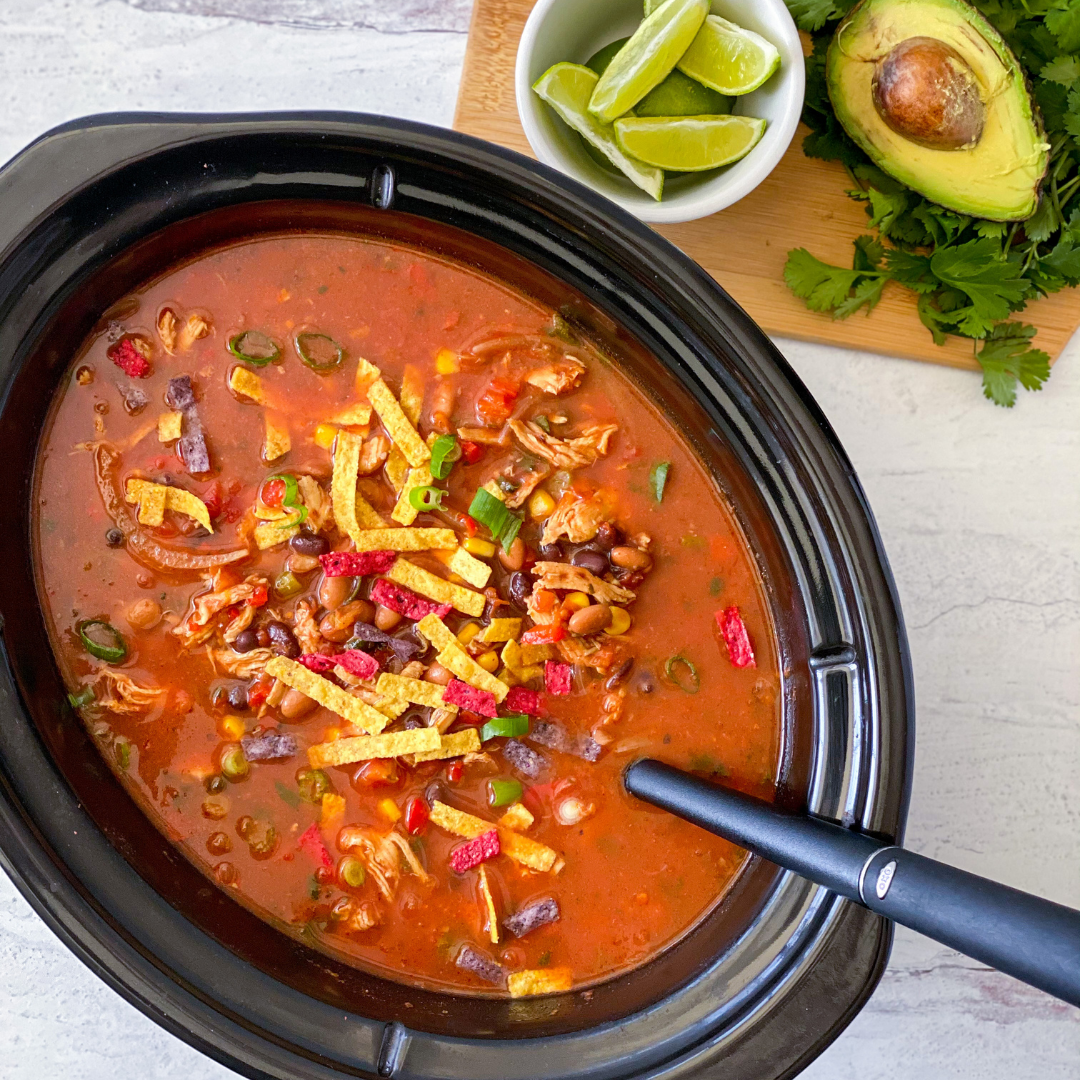 Crockpot recipes are some of my favorite recipes to make so I've got to include a crockpot soup recipe on my popular soups list. Not only is your meal cooking in one single pot – it's literally supervising itself too! This crockpot chicken tortilla soup is my husband's favorite, and it will be yours too, I'm sure of that.
It's made with so many delicious, whole food, ingredients. Any time I make a soup or stew I make sure to include lots of veggies to ensure it's packed with vitamins. Especially as the weather begins to cool down, it's important to really load up on healthy ingredients that will strengthen your immune system.
The bone broth used in this crockpot chicken tortilla soup really makes this recipe so much better. The bone broth not only brings in amazing flavor to this soup, but it also packs key ingredients for gut health and immune support.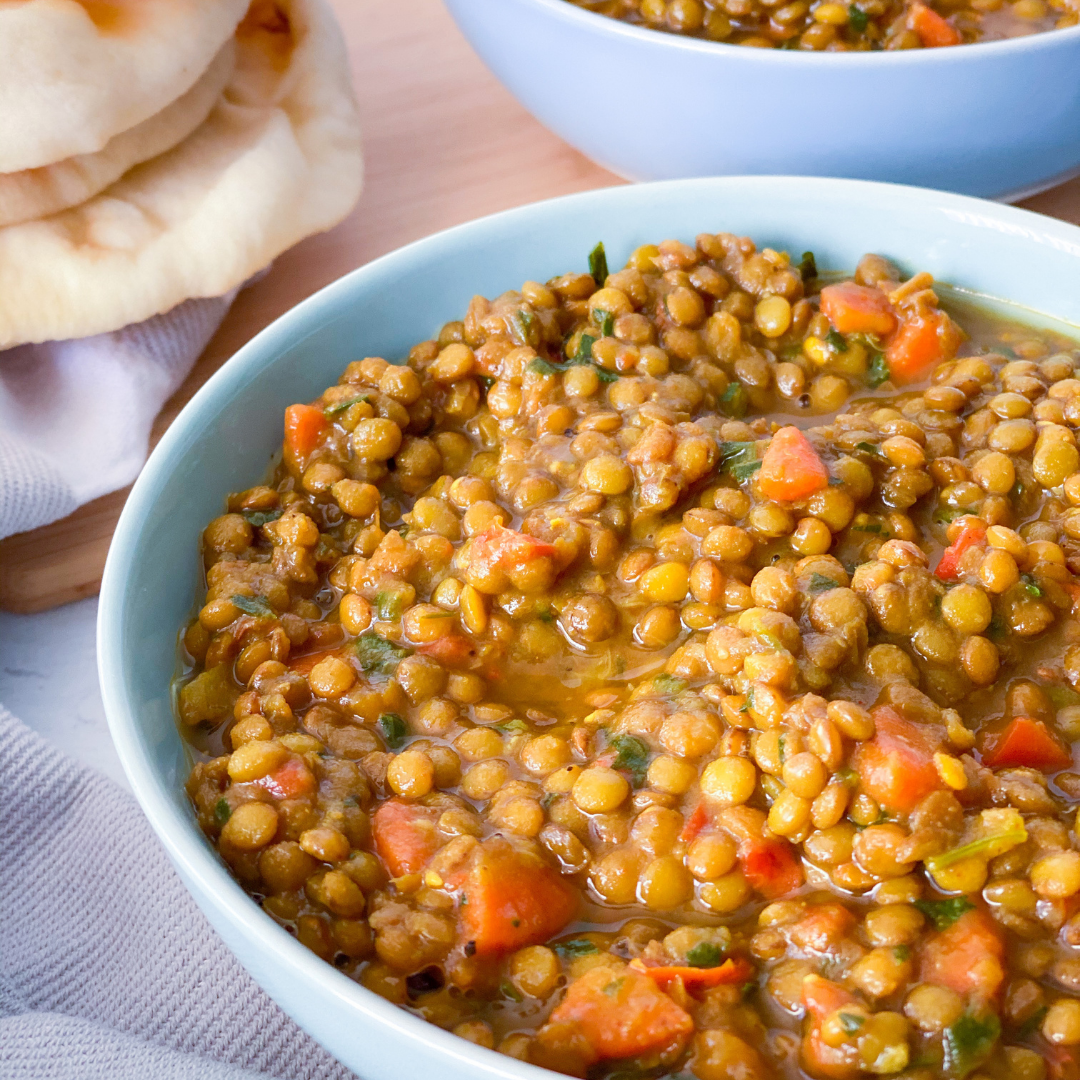 If you are looking for a recipe with a little added spice, warmth, and aromatic flavors, then this is the recipe for you! My curried lentil stew recipe is a fun twist to the lentil stew my mom used to make for us as kids.
I've always loved experimenting with spices. For a little while now I have been really enjoying using Turmeric and Curry Powder in my dishes. These two spices are what really made this curried lentil stew so amazing.
Turmeric has many scientifically proven health benefits. It's been found that turmeric may possibly help prevent heart issues and help fight against diseases such as Alzheimer's and cancer. It is also an amazing anti-inflammatory and antioxidant.
Curry powder holds many similar health benefits as Turmeric. It's so fascinating learning about what kind of support these simple spices can bring to our bodies. That is why I encourage you to explore this season and start mixing it up!

What would a popular soups list be if it didn't include chicken soup?! This is going to be your new go-to immune-boosting soup for whenever you are feeling under the weather. Or simply when you are in the mood for some comforting chicken soup!
We love chicken soup around here, but I wanted to make something a little bit different than the classic chicken noodle soup. I wanted this recipe to bring a little extra to the table, so I included ground ginger, turmeric, lots of fresh garlic, and bone broth.
Turmeric and ginger powder are both packed with so many health benefits. Both support the immune system and help fight against infection and viruses. I buy my spices from Frontier Co-Op, and I find them at my local Whole Foods. Turmeric is a potent antioxidant and anti-inflammatory. It has the potential to help prevent diseases such as Alzheimer's and cancer. Ginger contains gingerol which is an amazing medicinal component. Ginger has been used for years to help heal the body.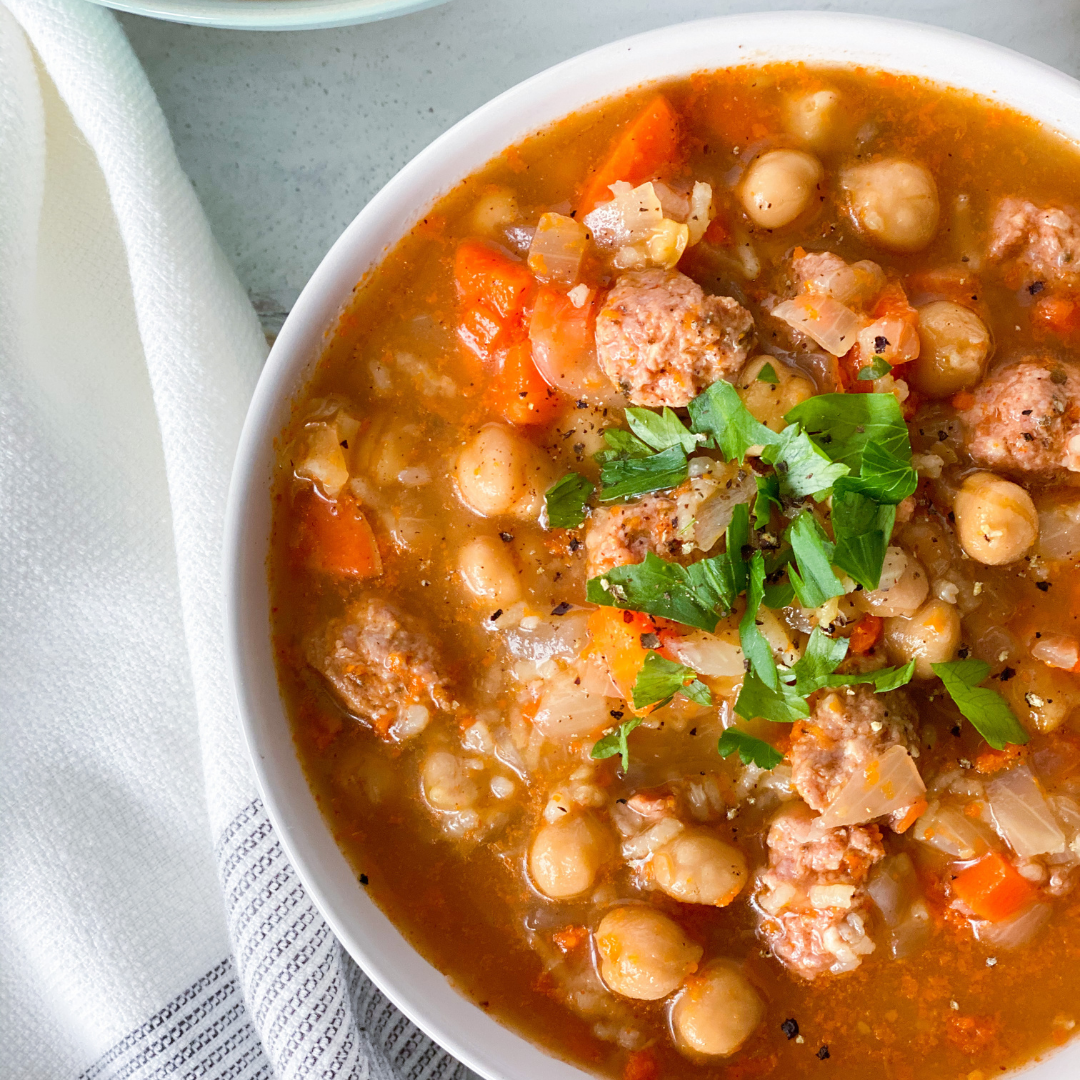 This hearty, savory and satisfying stew is perfect on any given day. Like most soups and stews it's even better served the next day. Garbanzo beans are so tasty and meaty. The added chorizo sausage totally elevates this dish to a whole new level. Smoked paprika is a key ingredient for this dish and I love using lots of it in there.
Keeping this recipe nice and simple
I used to make this recipe with dry garbanzo beans; I'd rinse them, soak them, pre-cook them then finish cooking them in the soup. Now, I do it differently, and it's a HUGE time saver. Over the last couple of years, I started using canned garbanzo beans and it has made my life a whole lot easier! By using canned beans I saved myself so much time in the kitchen which is a huge win for me these days.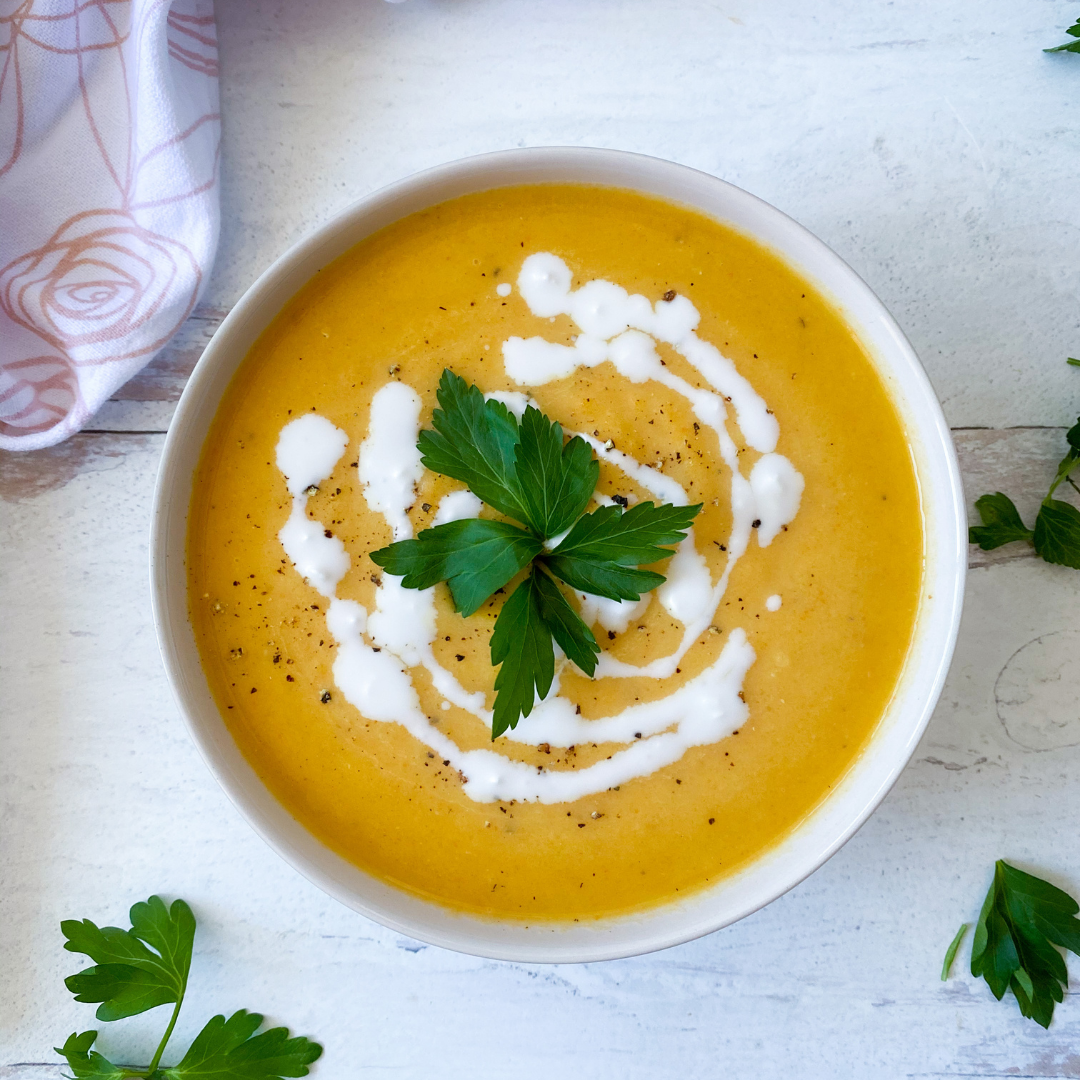 Butternut Squash Soup is one of my favorite soups and I have been making it for quite a few years now. I am always playing around with new ways to make it and it wasn't until recently that I started roasting the veggies before adding them to the soup!
I also started making it dairy-free some time ago and I have been loving it so much. You can use either frozen butternut squash or go for the already cut and prepped option from the store. If you prefer to go with the whole squash and cut it yourself, that's totally good to do as well!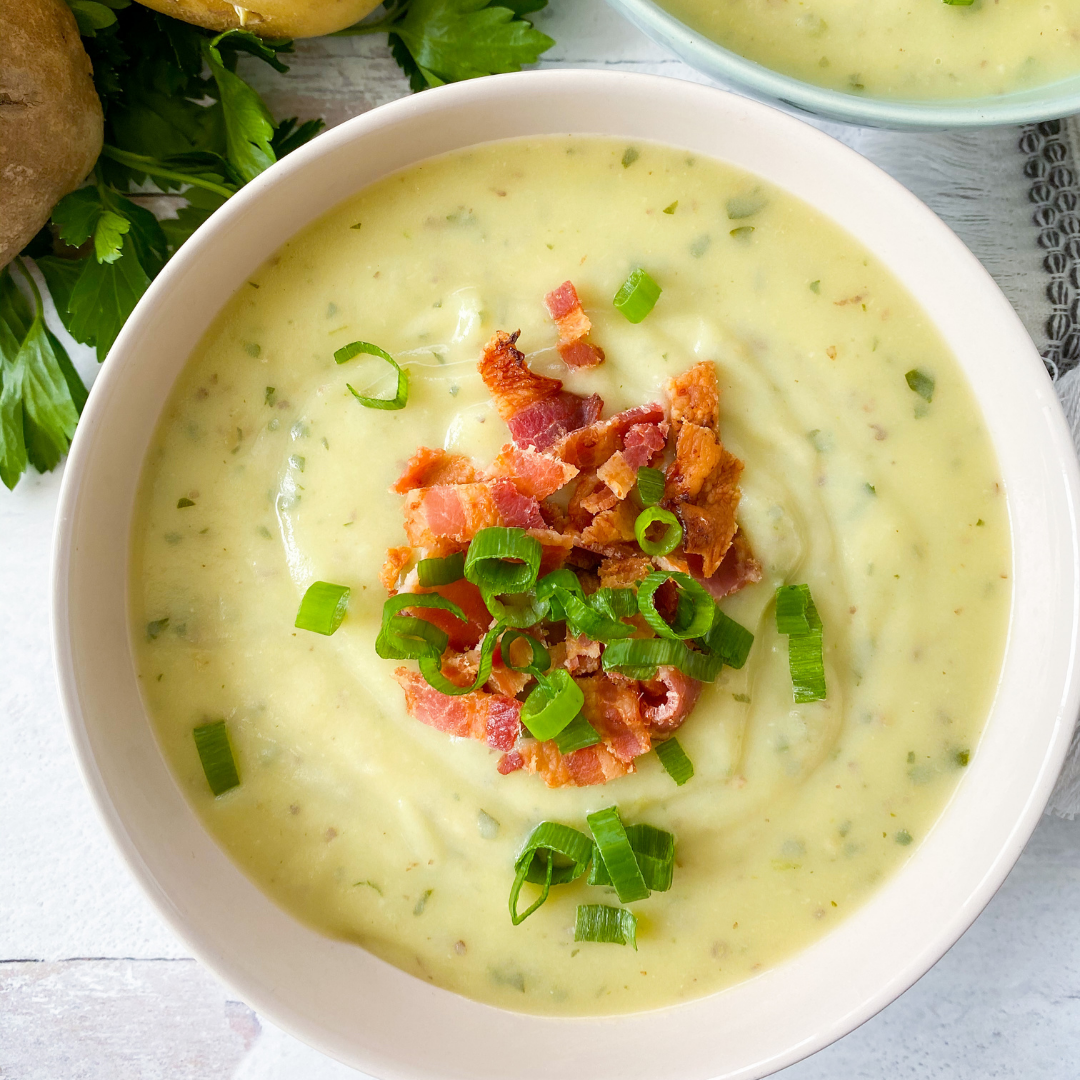 If you are going to try any soup recipe from this list, it has to be this delicious potato leek soup recipe. Creamy soups have always been my favorite and this one definitely does not disappoint. I love potato leek soup, it's so satisfying, delicious and easy to make too!
The ingredients in this recipe are super simple and very minimal as well. I use two types of potatoes for this recipe; russet and gold Yukon potatoes. I love the combination because it gives the soup a nice texture without it being too starchy. Try this recipe out the next time you are craving a comforting bowl of soup, and let me know how you like it in the comments or on Instagram!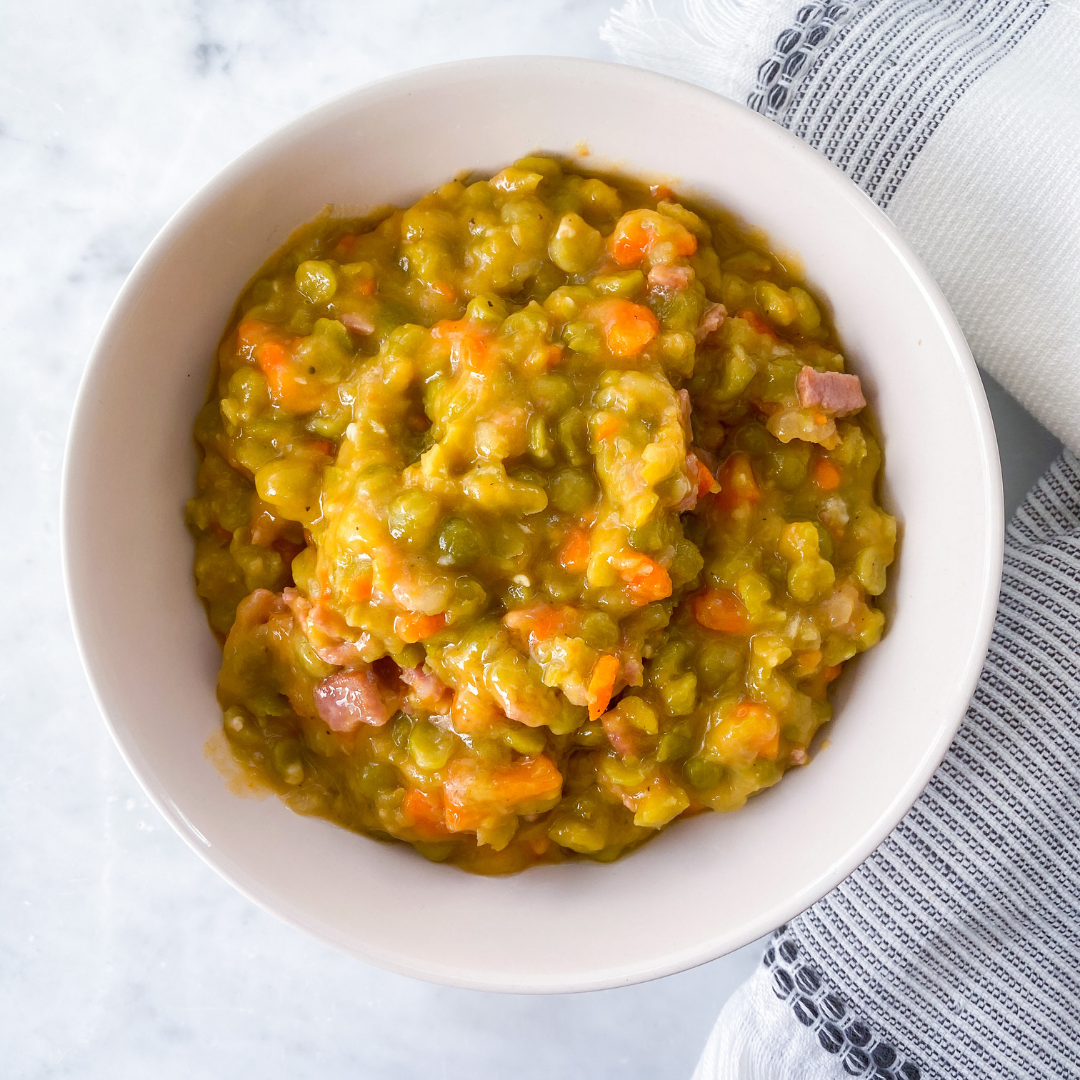 This split pea soup with turkey bacon is made with bone broth! Bone broth offers many health benefits, it can help support our immune systems, sustain joint health, provide building blocks for healthy skin, hair and nails, and maintain healthy brain function by supporting our gut health!
The turkey bacon keeps this dish light and healthy. You can also use Canadian bacon or leftover ham if you happen to be making this after the Holidays. Split pea soup is super simple to make and tastes so good. No wonder it's one of my favorite go-to meals during the colder seasons.