This site may contains affiliate links to products and/or sponsored content. Girl Appetit may receive a commission for purchases made through such links. 
It's been a while since I have used my crockpot. Every time I bring it out and make something with it I think to myself, "why am I not using this ALL THE TIME?!". I forget how easy it is to whip something up, and the fact that it pretty much makes itself is a huge plus. My husband, Matt, is a big fan of chicken tortilla soup, so I knew this would be the perfect meal to make. Using whole food ingredients is very important to me and making soups is a great way to ensure that my family and I are getting in lots of nutrients through the array of ingredients I tend to add to each pot.
Why Using a Crockpot is so Amazing…
Aren't you a fan of food making itself? If you answered YES, then you must love or will love using a crockpot. It's really a shame that my poor little crockpot doesn't see the light of day all that often. Honestly, I forget I even have one sometimes! There are so many amazing and delicious recipes out there that make excellent weeknight dinners.
Soup are probably the most common and these are so great because you can make a big ol' crockpot full to enjoy not just once, but even two to three times. I love freezing my leftovers and eat them a week or two later. This is perfect for those week nights where I don't have much time to cook something from scratch.
Using a crockpot is also a great way to reduce the mess in your kitchen. Since you are pretty much adding all of your ingredients to one thing, you don't have to worry about cleaning up a whole bunch of pans, utensils and extra little dishes.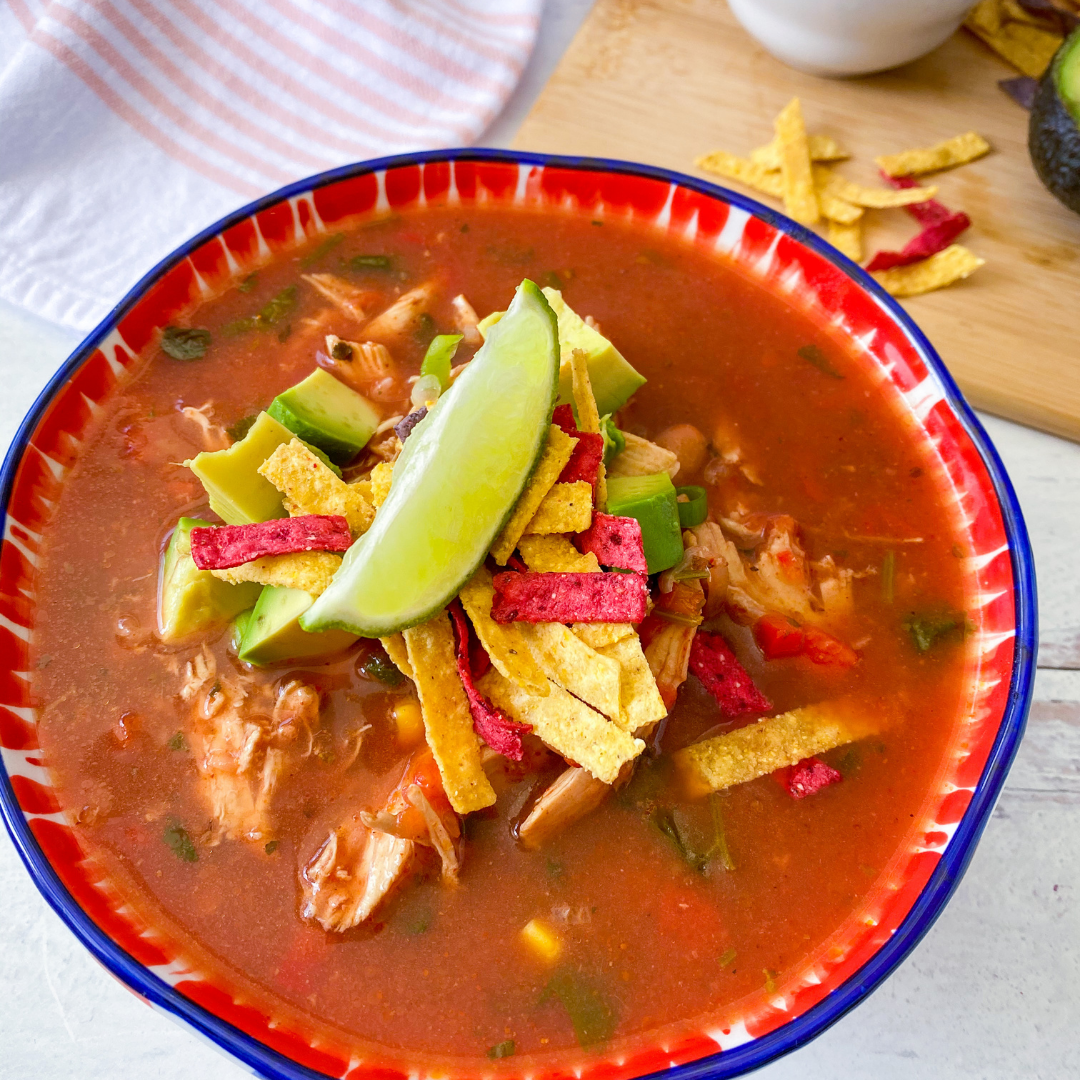 This Recipe Has SO Many Delicious Ingredients!
My favorite part about this Chicken Tortilla Soup recipe is the abundance of yummy ingredients you will find inside. I made sure to add lots of vegetables to this soup along with spices and fresh herbs. Healthy eating has always been priority for me and making sure that my family and I are getting in lots of nutrients with each meal is so important.
Crockpot Chicken Tortilla Soup
Ingredients
4 small chicken breasts (skinless boneless)
1 cup frozen corn
1 large red bell pepper, diced
1/2 large yellow onion, thin sliced
24 oz bag Bonafide Provisions chicken bone broth
4 cups filtered water
2 14oz cans crushed tomatoes
1 pack Siete Foods mild taco seasoning
3 tsp salt
1 tsp smoked paprika
1 tsp oregano
1 tbsp dry chopped onion flakes
1 tsp cumin
1 can pinto beans, drained/rinsed
1 can black beans, drained/rinsed
1 cup fresh cilantro, chopped
2 green onions, chopped
tortilla strips for garnish
Directions
Step 1

Add in chicken breast, red bell pepper, onion, bone broth, water, crushed tomatoes, taco seasoning plus all remaining spices into your crockpot. Cook on HIGH for 2 hours.

Step 2

After the 2 hours are up, remove chicken from crockpot and shred using two large forks. Return to the crockpot. Add in your frozen corn, beans, cilantro and green onions. Continue to cook everything on LOW heat (or on warm) for an additional 30 minutes.