This site may contains affiliate links to products and/or sponsored content. Girl Appetit may receive a commission for purchases made through such links. 
The tastiest chicken burgers you will ever have! These Pineapple Teriyaki Chicken Burgers are so flavorful, so juicy, we literally couldn't get enough of it. I am absolutely crazy about burgers, they are probably one of my favorite foods (aside from pizza), and it's been really fun playing around with different flavors and textures.
Chicken burgers aren't something I make all that often, but when I came up with the idea to make these pineapple teriyaki patties I was all in. I knew that I wanted to add in all sorts of goodies into the patty mixture.
I remembered that some years ago, Matt and I had tried out one of those meal subscription boxes and one of the recipes was this awesome pork burger. The recipe included finely chopped bell pepper inside the patty which turned out so good. So I was inspired to do the same for my chicken burgers.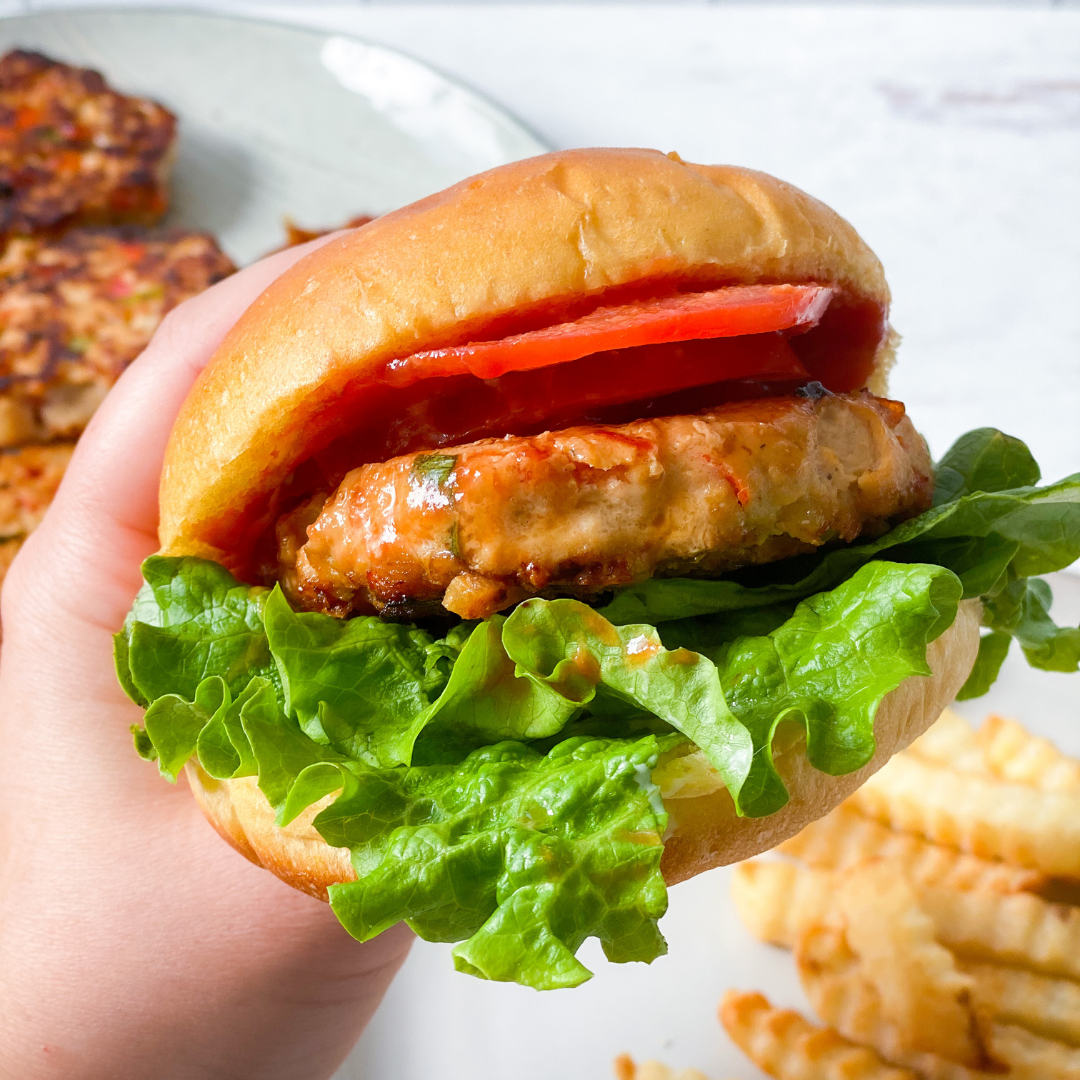 What's Inside the Burger?!
I got super creative when making this Pineapple Teriyaki Chicken Burger recipe. I added bold and vibrant red bell pepper, crushed pineapple that brought in some sweetness and tartness, green onions, ginger powder that added a little punch, and the star of the show… teriyaki sauce!
Cooking on a stove top and not on a grill
The patty mixture is quite sticky so I wouldn't suggest cooking these burger patties on a grill. I used my large cast iron skillet with some avocado oil to cook my Pineapple Teriyaki Chicken Burgers. I suggest you start with a medium heat so the patties don't stick to your skillet. You can always use a ceramic non stick pan if you do not have a cast iron.
Let's talk about the toppings!
There are so many yummy topping that can go on this burger. I decided to keep it fairly traditional with my chicken burgers this time around and decided on lettuce and tomato (no cheese since I am still opting for a mostly dairy free lifestyle). I also added a little extra teriyaki sauce on top of my patty along with ketchup and mayo.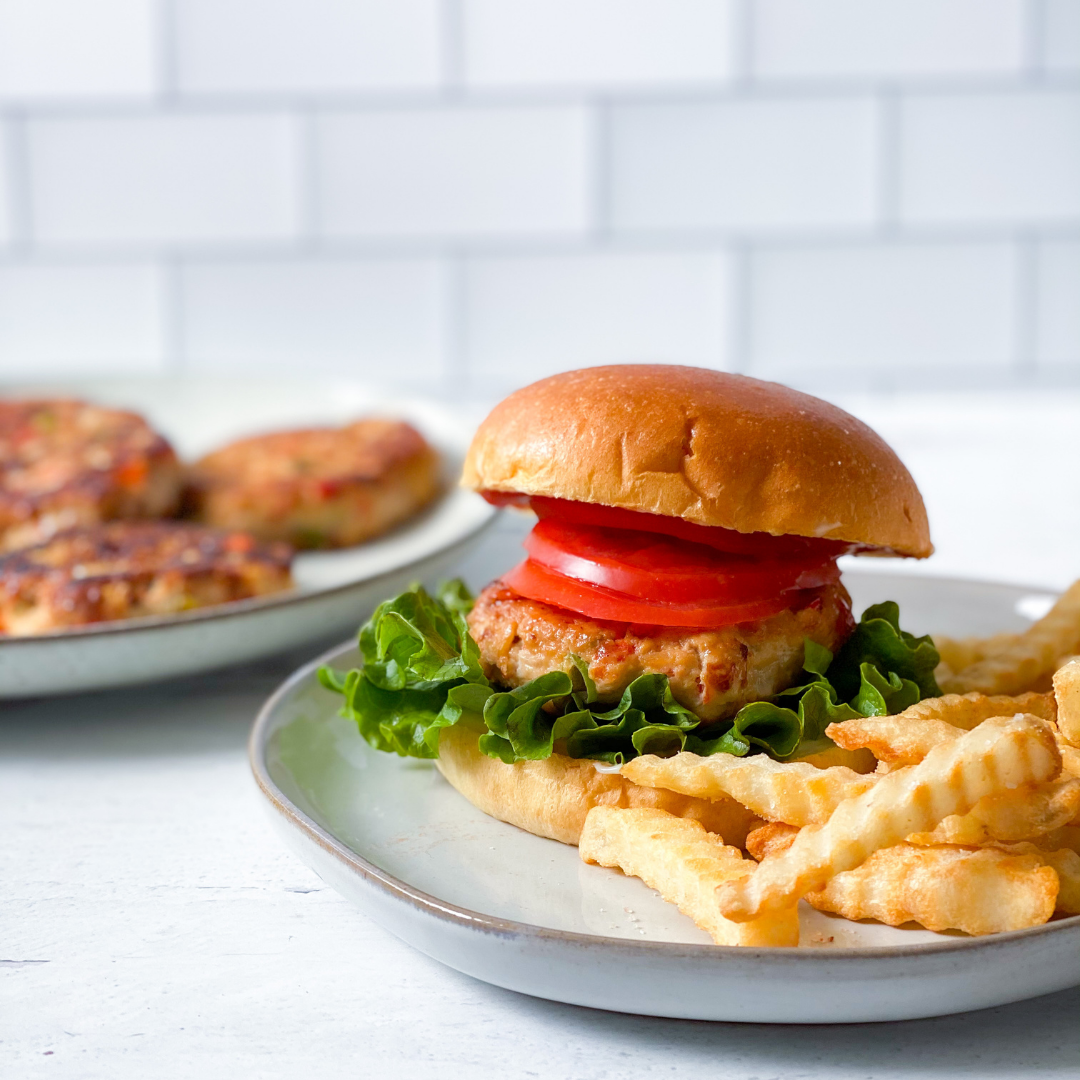 Pineapple Teriyaki Chicken Burgers
Ingredients
For the Patties:
1 lb ground chicken
1/2 large bell pepper (about 1 cup) finely diced
1/2 cup crushed pineapple (drained)
1 tsp pink salt
2 garlic cloves, crushed
1/4 tsp ground ginger powder
2 tbsp teriyaki sauce
2 green onions, sliced
avocado oil for cooking

For the Toppings:
1 small tomato, sliced
3-4 green leaf lettuce leaves
mayo
ketchup
extra teriyaki sauce
brioche burger buns
Directions
Step 1

Combine all patty ingredients in a large mixing bowl and gently mix together to combine

Step 2

Make 6 equally portioned balls out of the mixture

Step 3

Heat a large cast iron skillet or ceramic nonstick pan on medium heat.

Step 4

Once pan in hot, add in avocado oil and heat for another 3 minutes

Step 5

Once oil is hot, place each mixture ball onto skillet or pan and flatten out with spatula

Step 6

Cook for 5 minutes on each side

Step 7

Repeat process until all six patties are cooked!