This site may contains affiliate links to products and/or sponsored content. Girl Appetit may receive a commission for purchases made through such links. 
If you are looking for the ultimate meal prep inspiration I highly suggest you start making delicious and comforting soups! Making soup is one of my favorite things to do because we typically eat it once or twice and then freeze the rest for the following week! As much as I LOVE cooking (I seriously enjoy it so much) there are days that I just want to be out of the kitchen. Trust me, I spend a lot of time in my kitchen lol. Butternut Squash Soup is one of my favorite soups and I have been making it for quite a few years now. I am always playing around with new ways to make it and it wasn't until last year (or the year before to be honest) that I started roasting the veggies before adding them to the soup! I also started making it dairy free some time ago and I have been loving it so much.
Roasting the Veggies
Roasting the veggies before adding them to a Butternut Squash Soup gives this dish such an elevated flavor! I always use the same three veggies in my soup: onion, carrots and celery. I also love adding LOTS of garlic to my Dairy Free Butternut Squash Soup. It's just so simple to throw all these chopped up veggies to a baking tray, drizzle in some olive oil, sprinkle some salt and pepper, let them roast and bask in the aromas that take over the kitchen.
Coconut Milk
Originally, back in the day, I made my Butternut Squash Soup with cream. It was always either half and half, milk or heavy cream. So good, don't get me wrong, but I needed to adapt to my new dairy free ways and find an alternative. Immediately I though about Coconut Milk. There really wasn't another option in my opinion. Coconut milk or cream is the most perfect milk or cream alternative to any soup.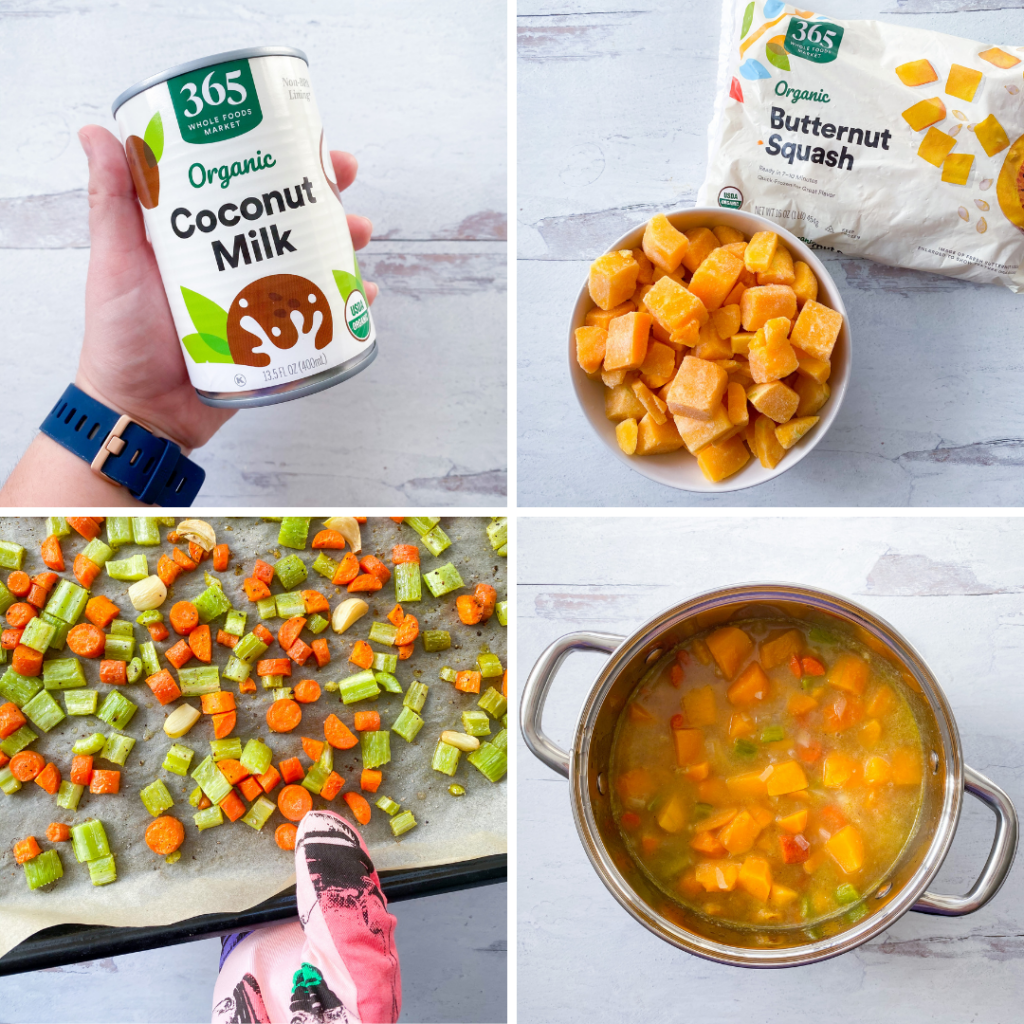 Why I Use Frozen Butternut Squash
Okay, let's be 100% honest here… spending 20 minutes peeling and slicing and dicing a butternut squash is kind of scary. I remember doing this for some time and I swear I almost chopped off my finger a couple times. Then, I decided to roast the squash first, let it cook, then I'd peel it and dice it up before adding it to the pot. This became a 45 minute process in addition to everything else. The last few times I made my dairy free butternut squash soup I decided to save myself some time and go for the frozen butternut squash. In my opinion it still tastes amazing and there really isn't that big of a difference!