This site may contains affiliate links to products and/or sponsored content. Girl Appetit may receive a commission for purchases made through such links. 
I am so excited to kick off the Fall season with my very first Holiday inspired recipe!
Who here always serves their Thanksgiving or Holiday dinner with a side of yummy green beans?? There is nothing better than green beans with bacon and some chopped onions. My version of this classic side dish is made with turkey bacon, for a lighter, healthier option.
Green beans make such an amazing side because they literally go with just about anything; meat, chicken, fish, more veggies… you name it! Let's face it, adding bacon (or in this case, turkey bacon) makes anything taste better too.
I am always the most proud of my recipes when they are made with super simple ingredients, ready in 30 minutes or less, and taste amazing. This healthy green beans with bacon recipe definitely checks all the boxes and I am so excited for you to give it a try.
French green beans vs regular green beans
You're probably wondering, what's the difference between the two? French green beans are slightly longer and skinnier than regular green beans. They are harvested a little earlier which makes them more tender and flavorful (supposedly).
In this recipe, I use French green beans, but regular green beans will do just fine.  At the end of the day, green beans are green beans.  I do, however, highly suggest that you still trim your green beans. Even through the French green beans I bought were mostly trimmed, I still had to remove a few stems before boiling them.
Why I chose to use turkey bacon instead of normal bacon
Don't get me wrong, bacon is amazing. I love bacon so much. In fact, I just texted my husband and asked him to pick up some bacon and champagne because today (as I am typing up this blog post) is my birthday.
Anyway, without getting too off track here… I had some turkey bacon in the freezer so I decided why not give this a try! (This is how most of my recipes come to be. I see what I have available and then try to come up with something new and delicious.)
Turkey bacon is definitely a healthier choice when it comes between the two. It brought amazing flavor to the dish without overpowering it. I loved how easily the turkey bacon crisped up in the cast iron, too!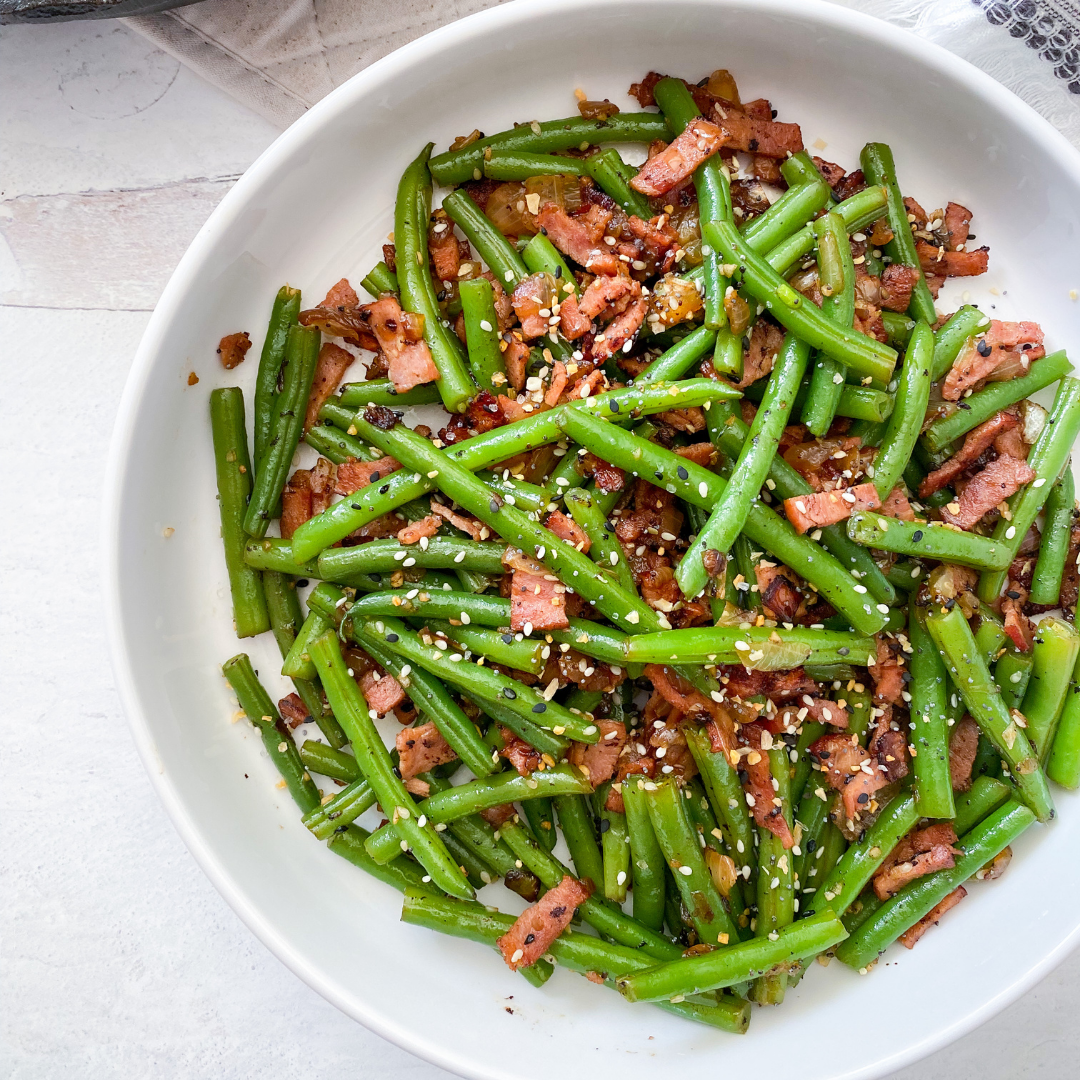 The New Primal Every Bagel Seasoning and Green Beans with Bacon
I kept the seasonings super simple for this recipe. Just a bit of salt, pepper and my new favorite Everything Bagel Seasoning from The New Primal! It's made with all the goods, everything you could possibly need inside this green beans with bacon recipe. The best part is that you don't have to think twice about it, just add it and you're done!
The New Primal is one of my favorite brands to cook with, they are USDA certified organic, Whole30 approved, certified gluten free, keto friendly and there are no fake anti-caking ingredients.
WHAT'S ISNIDE THEY'RE EVERY BAGEL SEASONING: dehydrated onion, sesame seeds, poppy seeds, sea salt and dehydrated garlic. That's it!
Why I love cooking with good quality grass fed butter
There are two forms of fat that I typically cook with. It's either going to be avocado oil or a good quality grass fed (unsalted) butter. Very rarely do I cook with extra virgin olive oil. I love cooking with grass fed butter for that added flavor some dishes need.
Grass fed butter has been shown to have a higher proportion of healthy, unsaturated fats. Studies have shown that grass fed butter contains more omega-3 fatty acids than regular butter.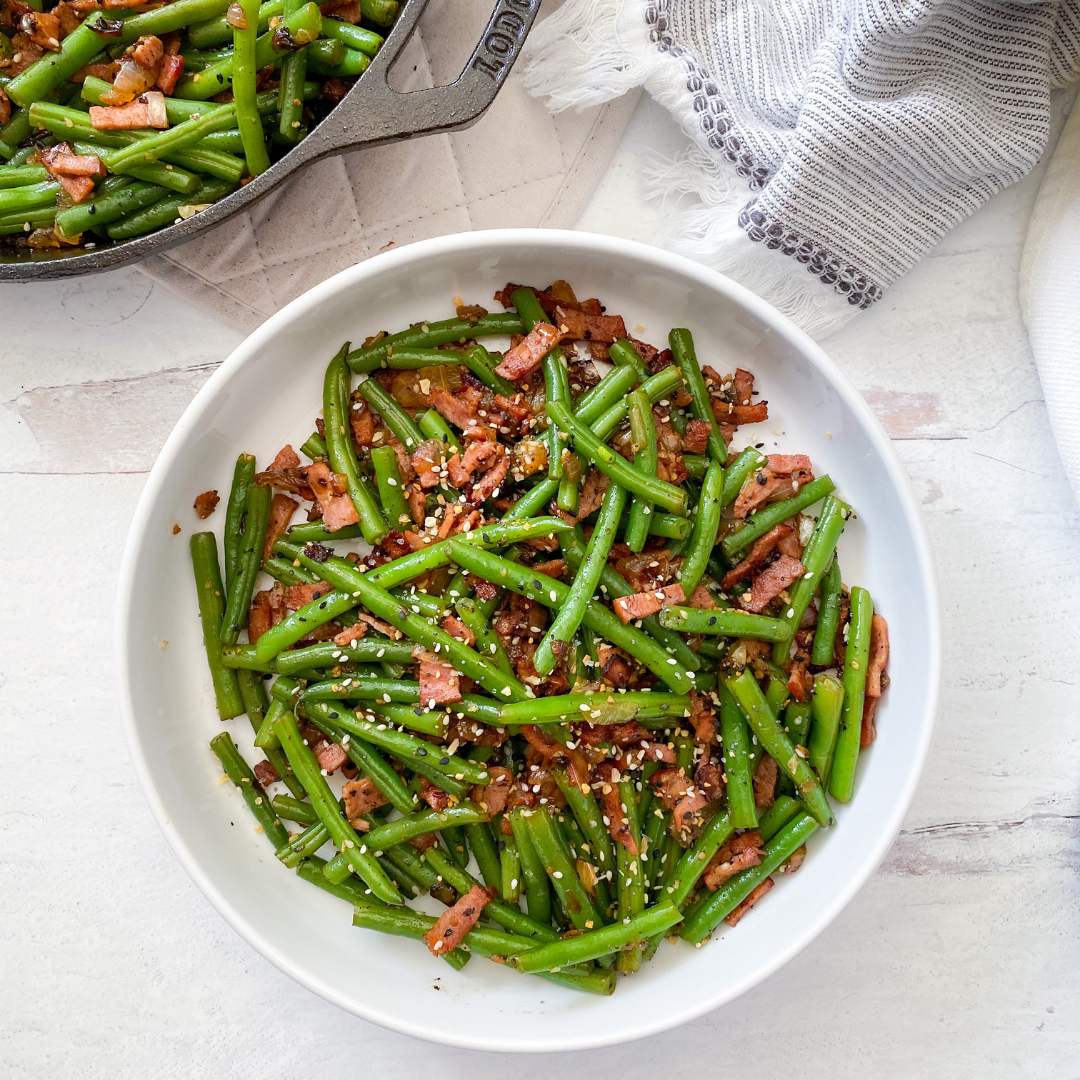 Green Beans and Turkey Bacon
Ingredients
1 lb fresh organic French green beans
8 oz turkey bacon slices
1 small yellow onion
2-3 tbsp unsalted grass fed butter
salt
pepper
everything bagel seasoning
Directions
Step 1

First, you want to go through your green beans and rinse them. Trim any stems and cut green beans in half. Place in a bowl and set aside.

Step 2

Dice your onion and set aside

Step 3

Dice turkey bacon and set aside

Step 4

Heat a medium sized cast iron skillet (or regular pan) on medium heat

Step 5

Add in buter and allow it to melt completely

Step 6

Add in onion and saute for 2 minutes

Step 7

Add in turkey bacon and fry for 5-7 minutes, until crispy

Step 8

When bacon is done, cover and set aside

Step 9

Set a medium sauce pan full of water to boil. Add in a teaspoon of salt into the water. Once water reaches a boil add in green beans

Step 10

Boil green beans for 7 minutes (or until tender)

Step 11

Once green beans are done, drain and add to skillet with onion and turkey bacon

Step 12

Season with 1 tsp salt, pepper and everything bagel seasoning to taste. Mix well together and serve!
Looking for some more Fall recipe inspiration?
Here are some of my favorite Fall recipes. Fall is my absolutely favorite season of the year, I love everything about it! It's comforting and the weather finally cools down a bit (hopefully, I mean, I do live in Southern California). I am so excited to bring more delicious and cozy recipes to the blog throughout the next few months. For now, here are a few of my current favorite Fall recipe that I think you will enjoy!