This site may contains affiliate links to products and/or sponsored content. Girl Appetit may receive a commission for purchases made through such links. 
This is one of my favorite things to make for lunch! Crunch wraps are so yummy, they're absolutely delicious, they're easy to make and they are filling. They can also be made with literally whatever you want! I'll either buy the ingredients I need specifically for the type of crunch wrap I am planning to make or I will use leftovers from taco night or a BBQ to make them. I remember going to Taco Bell after a party in my early twenties and picking up their famous Crunch Wrap Supreme. Delicious in the moment but a bomb in my stomach half hour later. Making my own crunch wraps is the way to go, I am able to use healthy ingredients, nothing is deep fried, and I keep it dairy free! Try this yummy Chicken Crunch Wrap recipe and let me know how you like it. You're going to become obsessed with these, I promise you!
My Favorite Tortilla to Use
I love making my crunch wraps gluten free, which is why I chose to buy Siete Foods tortillas when I decided to make this Chicken Crunch Wrap. Their burrito size tortillas are a bit smaller than other burrito tortillas out there and you need to wrap them up prior to using so they get soft and pliable. Makes it easier to fold in when you are ready to seal your crunch wrap. The fact that their tortillas are gluten and grain free, made with amazing ingredients, makes it totally worth the extra step.
I have also made my own tostadas from the same Siete burrito tortillas! I'll just cut out a tostada side circle from the large tortilla and quickly pan fry it until it's crispy. I've also use a taco shell lol, snap it in half and lay it flat inside the crunch wrap before sealing it. I haven't found any gluten/grain free tostadas ready-made so I usually opt for making my own.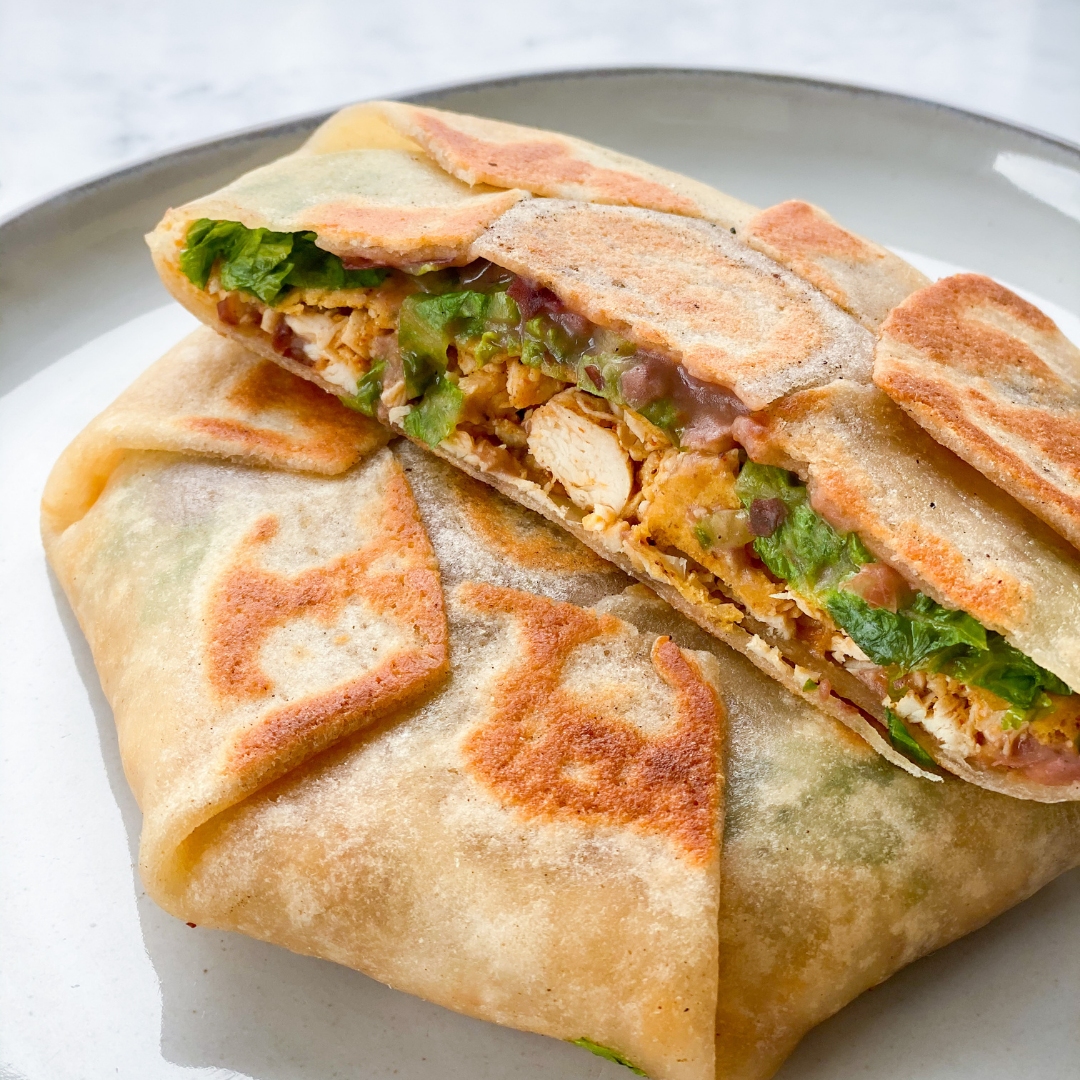 Chicken Crunch Wrap
February 9, 2021

4 crunch wraps
Ingredients
2 skinless boneless chicken breast
1 can refried beans
1 cup shredded lettuce
1 pack taco seasoning
5 large burrito size tortillas (10''-12'' in size)
4 tostadas
2 tbsp avocado oil
Directions
Step 1

Clean and dice chicken breast into bitesize pieces

Step 2

Heat a skillet or pan and add avocado oil

Step 3

Add in chicken and cook until fully cooked through, about 8 minutes

Step 4

Once chicken is cooked, add in taco seasoning. Set aside when done

Step 5

Take one of the burrito size and cut out 3-4" circles (these will be used later to ensure the crunch wrap is sealed

Step 6

To make your crunch wrap: place burrito size tortilla on counter. Spread some of the refried beans in the middle and spread it to about the size of the tostada. Add chicken. Place tostada on top. Layer on lettuce and more chicken if you'd like. Take one of the small cutouts you made previously and spread some refried beans to one side. Place cutout on top of your layers (bean side down) Begin to fold in your tortilla to seal and create your crunch wrap

Step 7

Finally, heat a skillet and add some oil. Place crunch wrap fold side down and grill for a few minutes. Flip and grill other side.