This site may contains affiliate links to products and/or sponsored content. Girl Appetit may receive a commission for purchases made through such links. 
This is pretty much one of those "everything but the kitchen sink" type of meals. I am the queen of using left overs and turning all those little scraps into something totally new and delicious. I absolutely hate letting food go to waste, so I make sure that everything gets used up and eaten by the end of the weekend. This way I am able to go grocery shopping Sunday afternoon or Monday morning and re-stock an empty fridge/freezer. My mom was the best at making bowl recipes when I was growing up, so this is a very nostalgic dish for me! You are totally able to alternate and customize this recipe with whatever you have available or you're welcome to follow my recipe and make this bowl exactly how I did it.
My Favorite Combinations
I love using basmati rice or quinoa as my base to any bowl! I always pair the grain with two to three veggies and one type of protein (typically animal protein such as sausage or whatever is left over in the fridge). If you are looking to make a plant based bowl you can opt for beans instead of animal protein. I will always use a lot of seasoning in my bowls and my newest obsession is adding Coconut Aminos into my recipes. Coconut aminos is a substitute to soy sauce and a has a sweet-salty taste to it.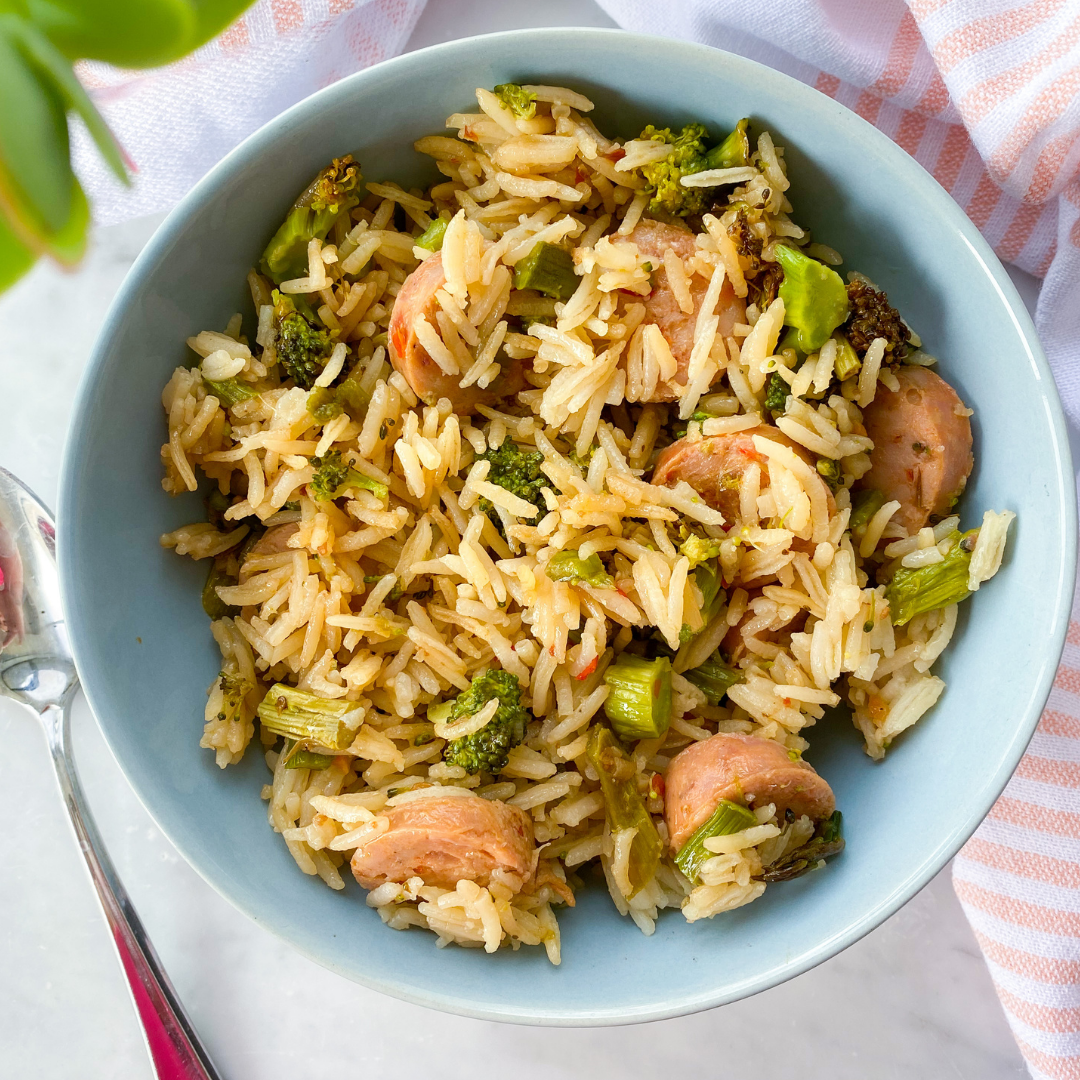 Sausage and Roasted Veggie Rice Bowl
Ingredients
1-2 cups cooked white basmati rice
1 cup broccoli florets
1 cup chopped asparagus
2 links mild or spicy Italian sausage (fully cooked)
2 cloves garlic, crushed
2 tbsp avocado oil
coconut aminos
Directions
Step 1

Preheat oven to 400 degrees

Step 2

Line a baking sheet with parchment paper and bake veggies for about 20 minutes

Step 3

Set aside when done

Step 4

Heat a large skillet or nonstick pan on medium heat

Step 5

Add oil and heat it up for about 3 minutes

Step 6

Add in crushed garlic and saute for a couple minutes

Step 7

Slice sausage and add to pan and saute for about 5 minutes until browned

Step 8

Add in roasted veggies

Step 9

Add in coconut aminos (roughly 1-2 tablespoons)

Step 10

Mix all ingredients together until well combined

Step 11

Season with a pinch of salt and pepper