This site may contains affiliate links to products and/or sponsored content. Girl Appetit may receive a commission for purchases made through such links. 
Ohhhh this soup recipe is a winner. Garbanzo bean soup is a totally nostalgic meal for me, my grandma used to make it all the time when I was a kid and I've loved it ever since! I remember going over to her apartment as a little girl , back when I lived in Chile, and getting a big hot bowl of garbanzo bean soup. It's one of my most comforting recipes I have of my grandmas cooking. The best part about this recipe is that it's extremely easy to make, and I highly suggest you make a bit batch because you will definitely be wanting left overs. I am pretty sure I have said it before, but soups are make the best meal preps because you can make a lot at once, eat it a couple times, then freeze the rest for a rainy day. I've always had garbanzo bean soup with fresh chorizo (a smokey, cured and slightly spicy sausage), lots of smoked paprika, a little rice and all the veggies.
KEEPING IT EASY
I used to make this recipe with dry garbanzo beans; I'd rinse them, soak them, pre-cook them then finish cooking them in the soup. Now, I do it differently, and it's a HUGE time saver. Over the last couple of years I started using canned garbanzo beans and it has made my life a whole lot easier! By using canned beans I saved myself so much time in the kitchen which is a huge win for me these days. This garbanzo bean soup is also made with minimal ingredients and I bet you that you might even have most of them in your kitchen already! There is no crazy tricks to making this recipe which is why I love it so much. Serve is on a rainy day with a couple sliced of toasted sourdough bread and you've got yourself the most perfect bowl of comfort food.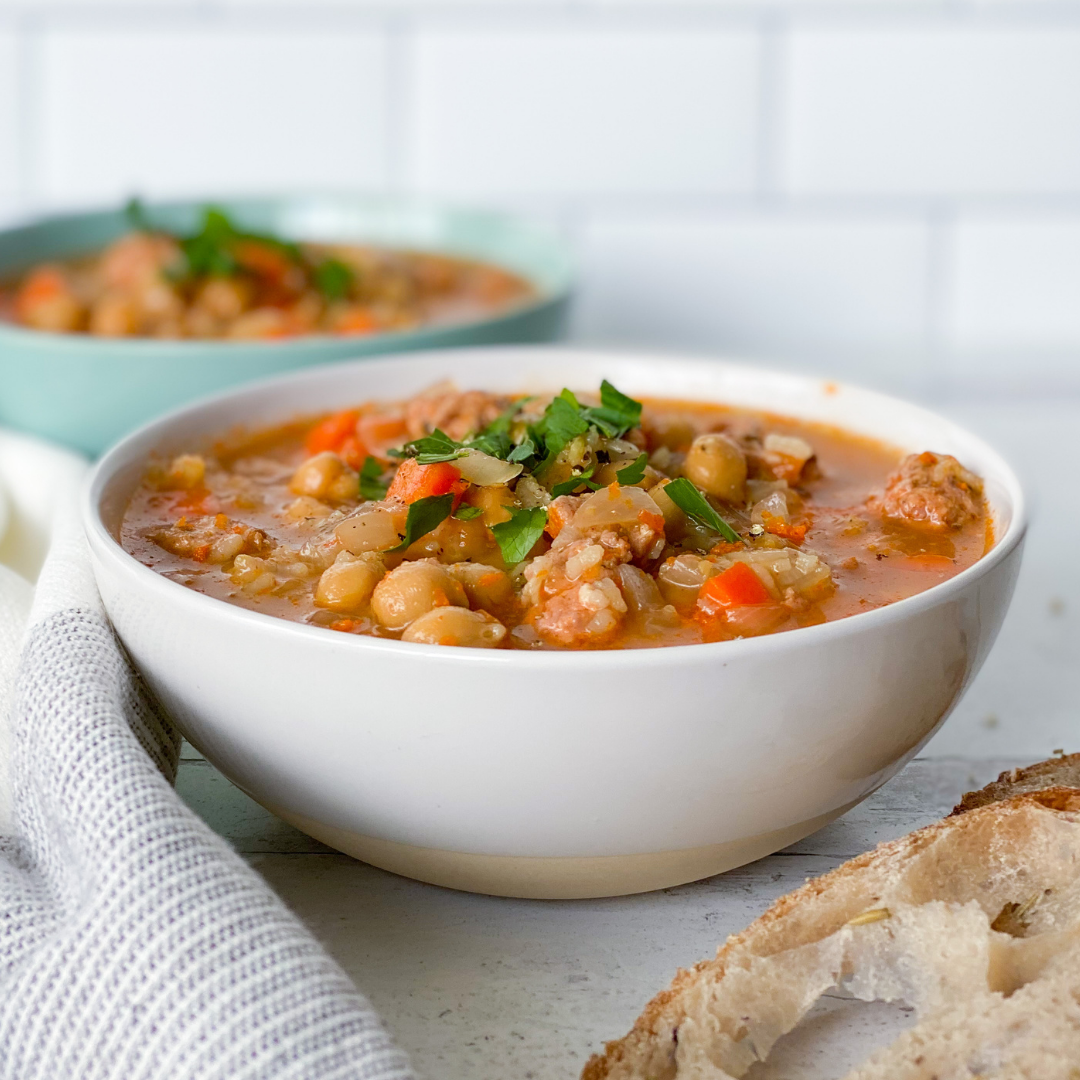 Garbanzo Bean Soup
Ingredients
1 medium yellow onion, diced
1.5 cup carrots, diced
3-4 garlic cloves, crushed or minced
2 tbsp olive oil
2 tsp salt
pepper
1 tsp smoked paprika
1/4 tsp onion powder
2 cans garbanzo beans (15.5oz each)
2 chorizo sausages, quartered
1 quart veggie broth
1 cup water
1/4 cup basmati rice
Directions
Step 1

Heat a medium size pot over medium/high heat

Step 2

Add olive oil and let it heat up for a few minutes

Step 3

Add in onion, carrots and garlic

Step 4

Saute for about 8 minutes or until onion is translucent

Step 5

Add in chorizo and saute until fully cooked

Step 6

Pour in veggie broth plus water

Step 7

Bring to a boil then lower to medium heat

Step 8

Add in your seasonings and rice and cook until rice is fully cooked. This should take about 10 minutes