This site may contains affiliate links to products and/or sponsored content. Girl Appetit may receive a commission for purchases made through such links. 
What is your favorite thing to cook during the Fall and Winter season? If you are anything like me, slow cooker recipes are absolutely perfect for the colder months.  I love slow cooker recipes because they are easy, always delicious, and also easy to clean up. If you aren't busting out your slow cooker at least once a week then you are really missing out!!  So this week I am sharing with you my Slow Cooker Harvest Chuck Roast with Butternut Squash recipe.
I was very excited to make a roast with butternut squash recipe this season, and this one does not disappoint. If you've been here for a little while now, you know that I am all about making delicious recipes with real, wholesome ingredients. Cooking with quality ingredients is what I am about, and I bring to my blog every week.
This month, Matt and I decided to try out Butcher Box for the first time. I already make a big effort to buy most of my produce (and anything else for that matter) organic and Non GMO. The one area we hadn't really focused on was the quality of animal protein we were buying. Every now and then we opted for organic, grass fed, free range, etc. but we weren't being consistent.
I'd heard a lot of great things about Butcher Box, and the quality of meat that they offered through their subscription service. So we decided to give it a try and see what the hype was all about. When it comes to food, I truly believe that it is worth spending a little bit more on certain items, and know that you are getting the best quality possible.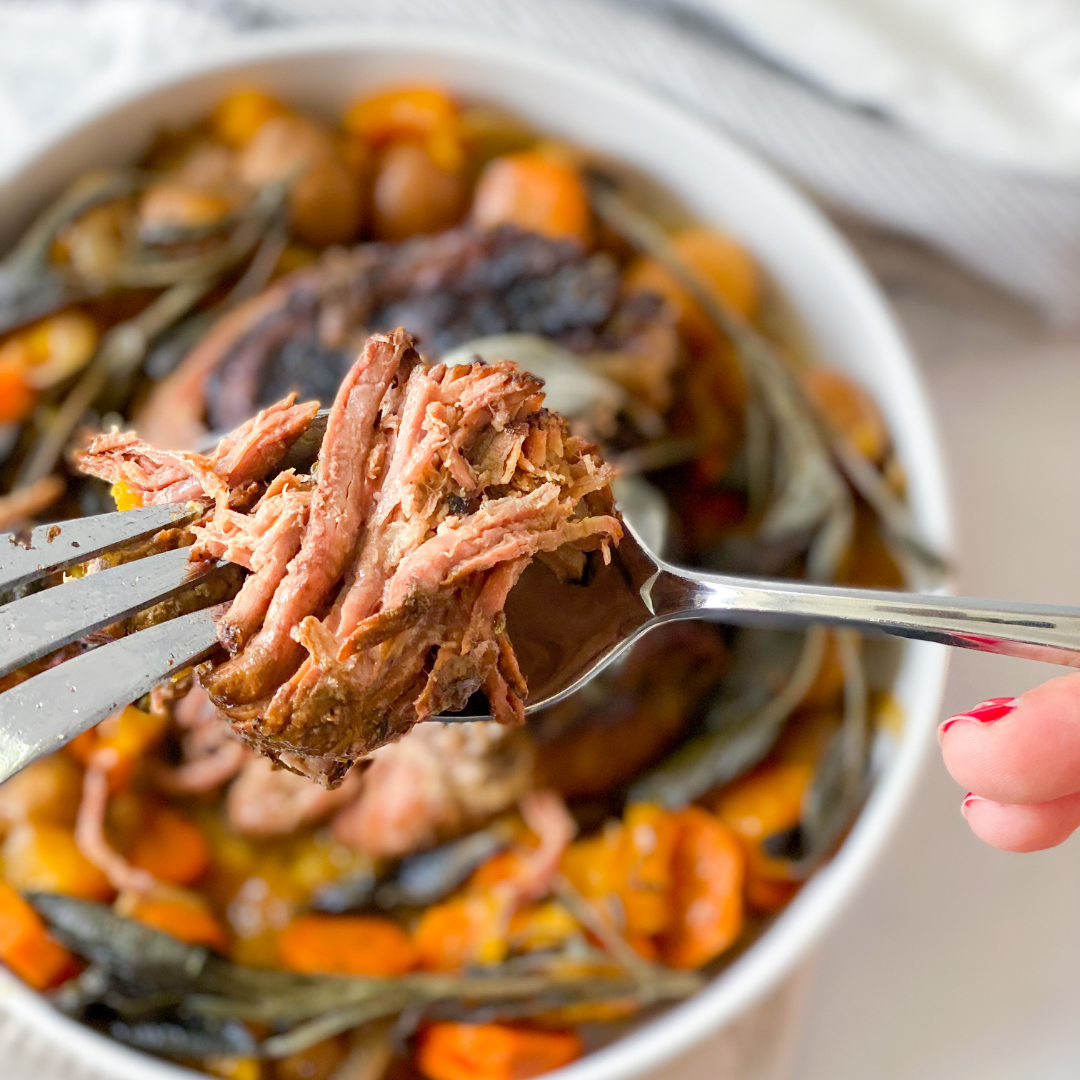 Why is grass-fed beef better for you?
Generally speaking, when you buy grass-fed / grass-finished (and free range) animal products, you are choosing to purchase meat from animals that have been fed a natural diet and kept in a healthy, natural environment. Grass-fed beef has been shown to have higher healthy fat content and is free of any antibiotics and hormones.
Not only does the meat itself taste so much better and richer, but it has also been shown to possibly reduce the risk of heart disease and cancer. Why? Because when you choose to buy grass-fed, organic, free-range, you are also choosing to not consume or absorb whatever conventionally farmed animals are being fed or given to prevent disease.
Switching over to quality meats is definitely a transition, and it doesn't happen overnight. Like with anything, it's okay to go back and forth between the two until you feel comfortable switching over completely. I am also working on this for myself and my family. Right now I can only control what we are consuming at home, but not so much when we go out to eat. And that's okay! Although it is a bit more pricy to buy grass-fed, I do think it's absolutely worth it for the sake of our health.

Now, back to the Slow Cooker Harvest Chuck Roast with Butternut Squash recipe…
My goal for this recipe was to make something that was not only delicious (of course), but also super comforting. Growing up, my favorite meal was beef stew, with a side of white rice. So I was really aiming to achieve that same nostalgic feeling, but with an original spin on it.
Butternut squash is such an amazing and versatile ingredient. You can use it in so many different kinds of recipes (one of go to butternut squash recipes has to be my Dairy Free Butter Nut Squash Soup). I also made sure to include lots of other Fall veggies for this roast with butternut squash slow cooker recipe:
carrots
mini potatoes
onions
fresh sage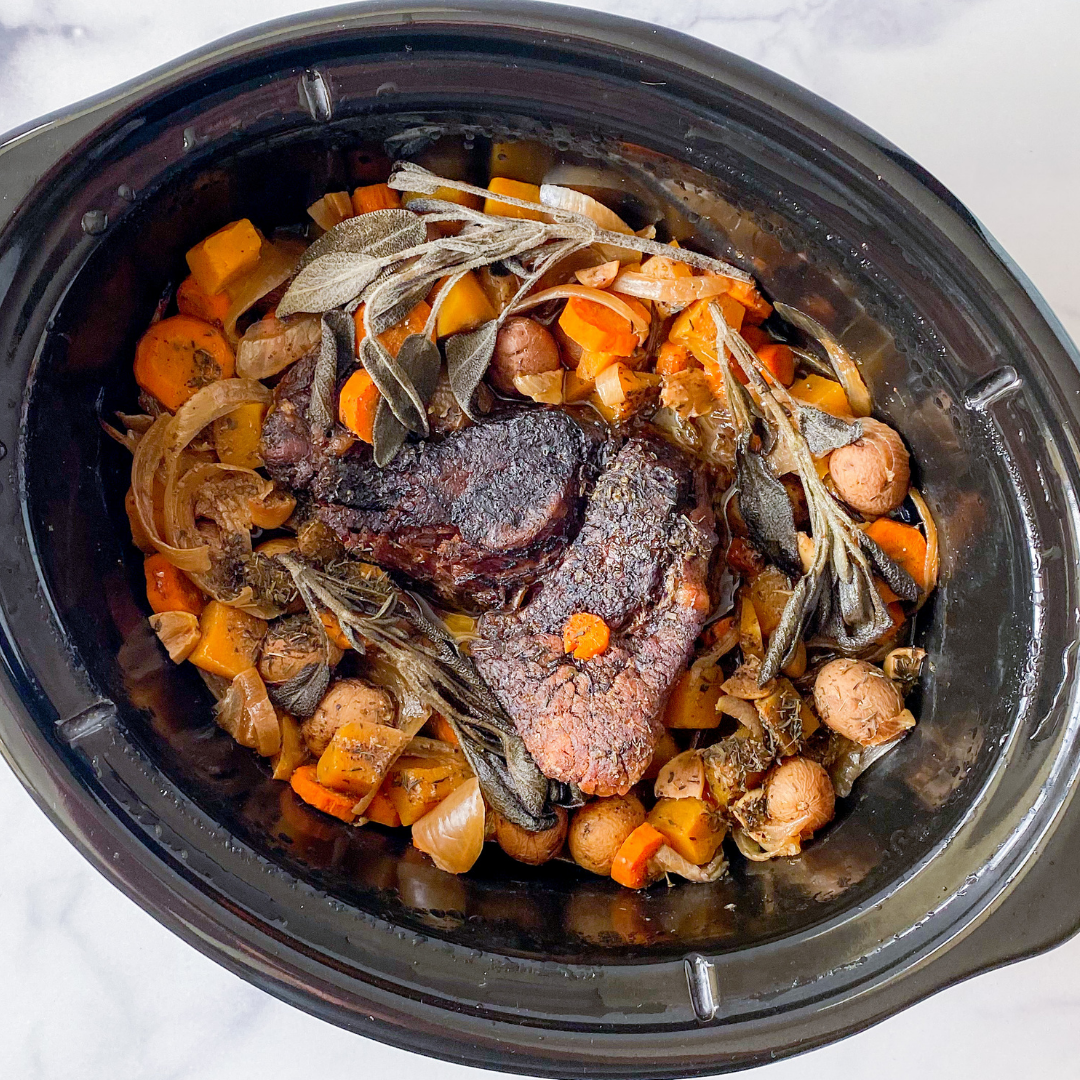 Health benefits of butternut squash
You are going to love this roast with butternut squash recipe. I promise that you will be making this dish all season long! Butternut squash is an amazing source of so many different kinds of antioxidants. This festive squash is an abundance of vitamins such as Vitamin C, E and beta-carotene (which is also found in carrots).
Why are antioxidants important? because they slow the damage to cells and may even prevent it. They also help with the reduction of inflammation and risk of chronic illnesses. Butternut Squash is also very high in potassium which may help balance blood sugars.
Roast with butternut squash – what type of roast should you choose?
For this recipe I used a chuck roast, a typical and often very affordable cut of meat that is perfect for stews and slow cooker recipes! When I say that the roast falls apart, because it's so tender, it literally falls apart. I've always loved using chuck roast for my stews, but there are definitely lots of other cuts you can use for a roast, such as round roast or briskets.
Sear your chuck roast before adding it to your slow cooker
This step is very important, and it was a step that I always used to skip. Well, not anymore! After reading a few other blogs for reference, and chatting with a few of my foodie friends online… I learned the importance of searing your chuck roast before adding it to your slow cooker.
By searing your roast, you essentially ensure that your roast will hold a lot more flavor while it slow cooks in the crockpot. Searing brings out so much flavor in the meat, you will not be disappointed.
HERE IS HOW YOU SEAR YOUR CHUCK ROAST
heat a medium to large sized cast iron or pan over medium high heat
pour down extra virgin olive oil or avocado oil down into the hot pan
once oil is hot, place your chuck roast down and sear for 2-3 minutes on each side
that's it! when you are done searing your roast, go ahead and transfer to your slow cooker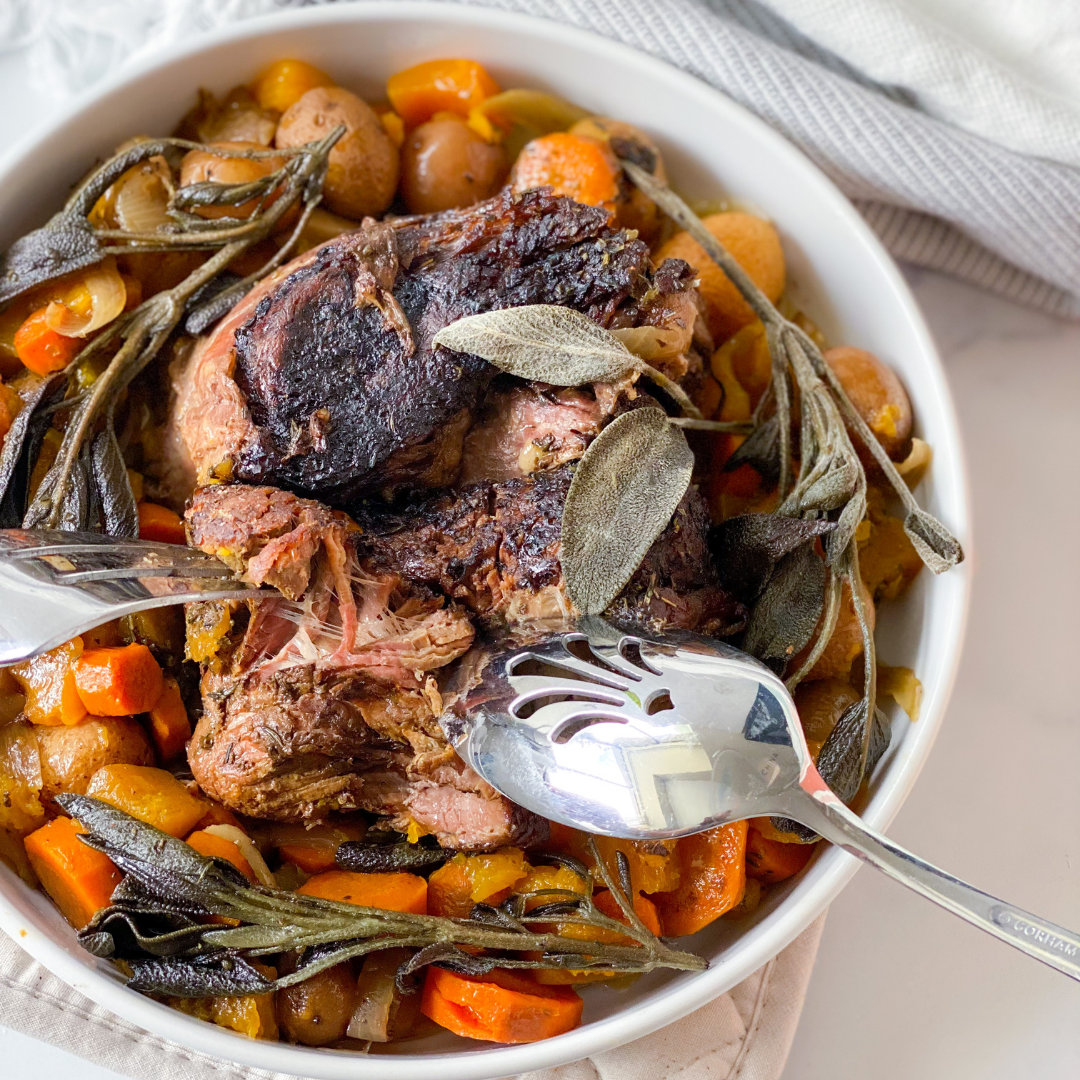 How long should you cook your roast with butternut squash for in the slow cooker?
There was a little bit of a debate with this one for me. I was between 8 and 10 hours cooking time for my roast with butternut squash recipe. The longer you cook your roast, the more tender it will be. That's for sure. I didn't want it to be SO tender that it would completely fall apart, so I decided to cook it for 8 hours on LOW.
Yes, it still came out tender enough that no knives were required, but I was still able to serve it in chunks on a plate along side the veggies and some yummy white basmati rice. My roast was about 2.25 pounds.
Slow Cooker Harvest Chuck Roast with Butternut Squash
Ingredients
2.25 chuck roast
2-3 medium sized carrots, sliced into 1/4 inch discs
1 medium brown or yellow onion, sliced
15 oz container raw, cubed, butternut squash
2 cups mini potatoes
1 cup low sodium veggie broth
1 tsp dry oregano
1 tsp salt
3-4 sprigs fresh sage
pepper
4 garlic cloves, cut into quarters
1 tsp dry thyme
Directions
Step 1

First you want to sear your chuck roast: heat a medium to large sized cast iron skillet or pan on medium/high heat. Once hot, pour down 2-3 tbsp extra virgin olive oil or avocado oil. Once oil is hot, place chuck roast into skillet and sear for 3 minutes. Repeat on all sides.

Step 2

Place seared chuck roast into a large slow cooker.

Step 3

Add in all of your veggies: carrots, onion, butternut squash, and mini potatoes.

Step 4

Add in all your herbs and seasonings: salt, pepper, dry oregano, dry thyme, fresh sage, garlic.

Step 5

Pour in veggie broth.

Step 6

Cook on LOW setting for 8 hours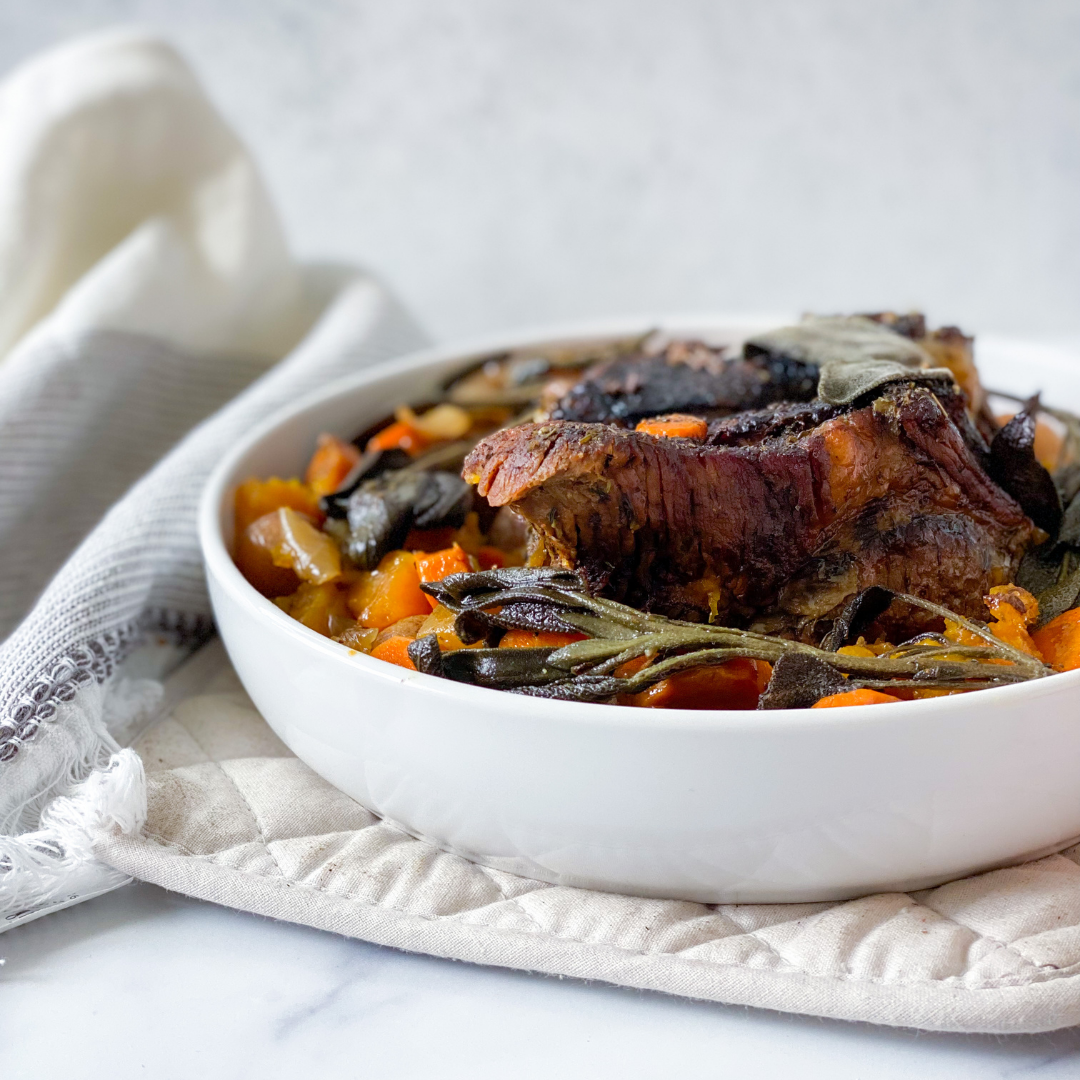 I would love to see how your roast with butternut squash turns out. Please feel free to let me know how you liked it in the comments below, or go ahead and tag me on Instagram! I love connected with you guys on social media.
Before we end this post I want to leave you with a few of my favorite Fall recipes. It's been so fun developing new and cozy recipes this season and we've all been enjoying them so much. If you are looking to make a chicken next, I suggest you check out my Easy Whole Baked Chicken recipe. If you're in the mood for more Butternut Squash recipes, check out my Dairy Free Butternut Squash Soup or my popular Butternut Mac n Cheese recipe!
Check out the newest FALL RECIPES on Girl Appetit: Creamy Pumpkin Pasta Sauce and my Healthy Green Beans with Bacon