This site may contains affiliate links to products and/or sponsored content. Girl Appetit may receive a commission for purchases made through such links. 
It's officially October and Fall is here! We've already decorated our entire apartment in Halloween decorations and I am ordering a pumpkin cold foam every week at Starbucks. Yup, I am fully embracing the new season this year and I am loving it!
I am so excited to share this brand new creamy pumpkin pasta sauce recipe with you. You're probably already aware of how obsessed I became with my Vegan Alfredo Sauce recipe, which I made back in April. When I first thought of this new recipe, I definitely had my alfredo sauce in mind, but my creamy pumpkin pasta sauce is totally having a moment right now.
Pumpkin is all the rave right now, and there are so many yummy ways you cook with it. Right away I knew that a creamy pumpkin pasta sauce was exactly what I wanted to make. There is nothing better than a delicious, simple and quick to make sauce that is perfect for any pasta dish.
Of course, I wanted to keep this recipe as healthy as possible so I kept it dairy free. This creamy pumpkin pasta sauce is made with whole raw, unsalted, cashews. To get that cheesy goodness I used The New Primals brand new Nutritional Yeast which made this sauce just perfect.
The secret ingredient to this creamy pumpkin pasta sauce recipe was NUTMEG! It brought the warmth and spice that this dairy free sauce needed to bring in the perfect Fall flavor I was craving.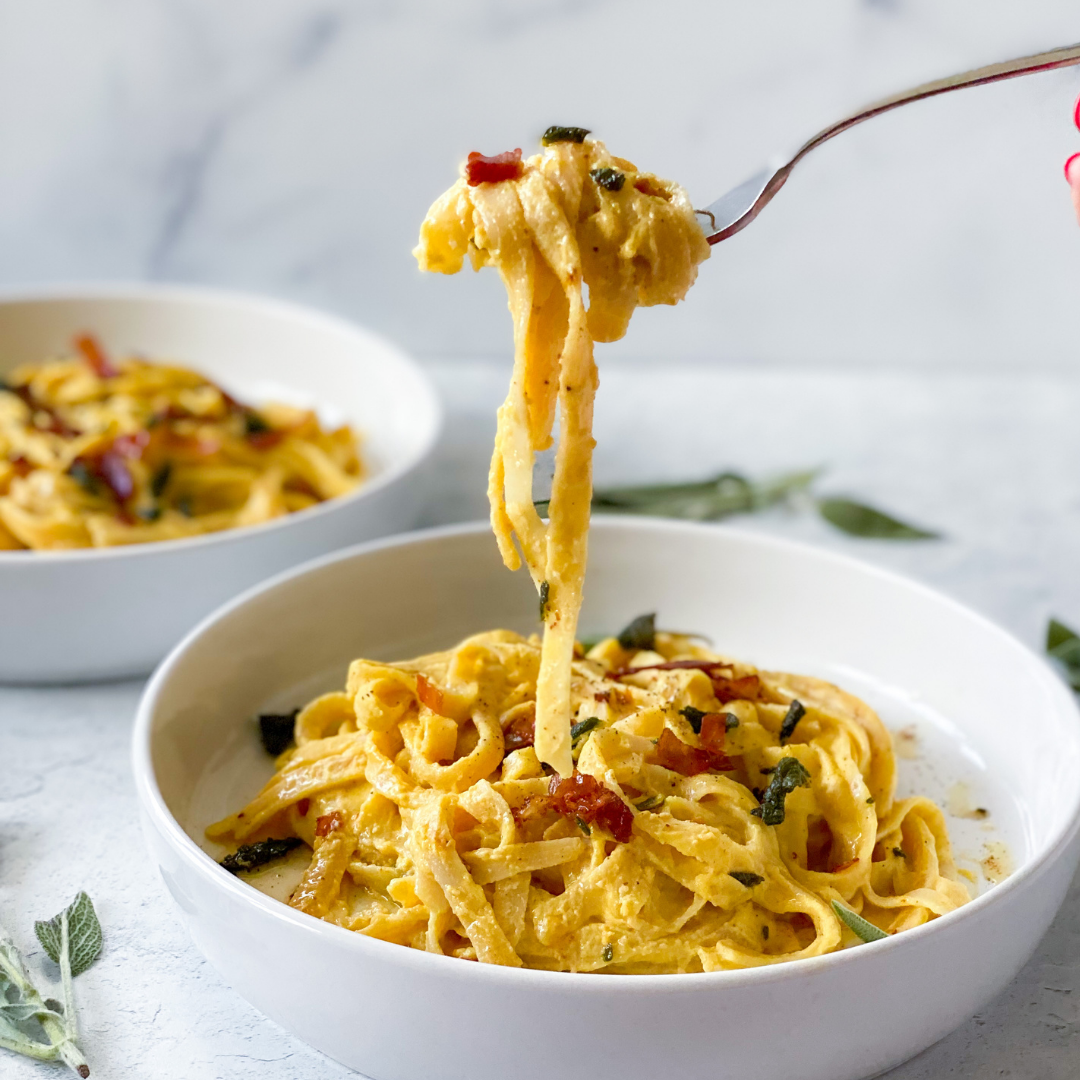 Using raw cashew for a perfect dairy free sauce that is so creamy
Once I discovered how easy it was to use cashews for that perfect creamy, dairy free, sauce, I became obsessed. Cashews are so versatile, and there are endless combinations and flavors you can achieve. You want to make sure that you are using raw unsalted cashews, preferably organic if available, whenever you are about to make a sauce. Roasted and unsalted will not bring you the same versatility that raw and unsalted would.
Cashews have a naturally nutty and cheesy texture to them, which is why they are so great for these types of dairy free recipes. They are also an amazing healthy alternative. Cashews are naturally low in sugar, high in fiber and rich in healthy fats. They are an amazing source of protein which makes them king to any plant based recipe.
How to prep your cashews for this creamy pumpkin pasta sauce
Soak your cashews overnight – simply place 1 CUP of raw, unsalted, cashews in a bowl of water and allow them to soak overnight. Soaking cashews overnight creates a beautiful creamy texture for a variety of recipes. Soaking cashews may also boost their nutritional value as phytic acid is removed which results in better absorption of everything they offer.
Soak your cashews for ONE HOUR in boiling water – forgot to soak your cashews overnight? Don't worry, I do it too. Luckily there is an alternative way to get your cashews ready. Soak them in boiling water for one hour and you are good to go!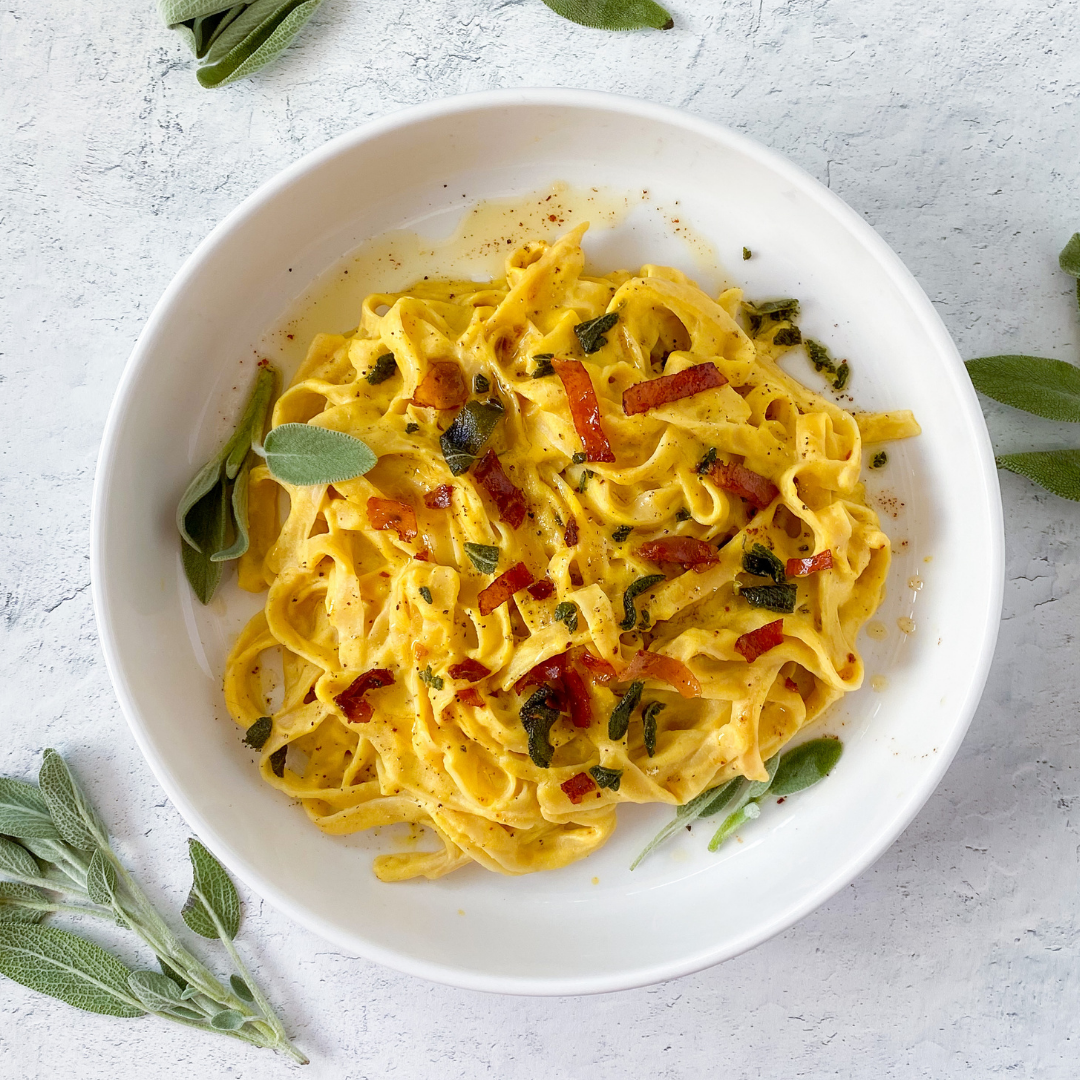 Canned pumpkin vs fresh pumpkin
You are more than welcome to use fresh pumpkin. But honestly, that is a whole lot of work. For my creamy pumpkin pasta sauce recipe I used canned pumpkin. Canned pumpkin puree is so easy to find, extremely affordable, and EASY! If you are able to, try to go for organic and non-GMO, but if not that's okay too!
I honestly debated using fresh pumpkin for this recipe, but for that I would have had to take so many extra steps. There is the slicing and cutting of the pumpkin. If you've carved a pumpkin on Halloween before, you know how tricky it is! Then there would have had to be a roasting process, etc.
Don't get me wrong, I am sure that would have been absolutely amazing, but not necessary for this recipe. I love to keep my recipes as simple as possible, so anyone feels comfortable and confident making them!
Nutritional yeast and nutmeg, the secret ingredients!
The cheesiness of this recipe doesn't just come from the cashews. Nutritional yeast is an amazing ingredients to use when making dairy free or vegan "cheesy" dishes. I have been loving The New Primal's nutritional yeast, which just came out this year!
Nutmeg was a last minute decision, and I am so happy I went for it. Nutmeg brings a warm and woody flavor to any Fall dish. Be careful though, a little bit goes a long way! Just a quarter teaspoon in this creamy pumpkin pasta sauce recipe and you're goo to go.
How to quickly make this creamy pumpkin pasta sauce recipe
Using a high speed blender for this creamy pumpkin pasta sauce recipe is key. It will blend your sauce perfectly, giving you a rich, smooth and creamy consistency. As much as I would love to recommend the Vitamix (aka the Ferrari of high speed blender), I don't personally have one, but I will rave about my Ninja Chef blender!
I have owned my blender for a while now and I really love it. It is perfect for making smoothies and sauces, so it will be a breeze to make my creamy pumpkin pasta sauce recipe. Simply add all of the ingredients to the blender and blend for 2-3 minutes. That's it!
Here's what inside the sauce
raw, unsalted, cashews
light coconut milk
fresh garlic
pumpkin puree
nutritional yeast
nutmeg
salt
lemon juice
Crispy Prosciutto and Sage Butter
Although my creamy pumpkin pasta sauce recipe is 100% vegan friendly, this recipe isn't. But you can absolutely make it completely vegan if you wanted to!
I topped this dish with crispy prosciutto cooked in sage butter. Sounds fancy, I know, but trust me it is so simple to make. I was debating between bacon and prosciutto and was so happy with my decision. I personally feel that prosciutto has a milder flavor than bacon, but that might just be me. Both are amazing, I literally love bacon, but I was excited to change it up a bit and go with something new.
How to make Sage Butter – I thought this was going to be a little bit more complicated than it actually was. All you need to make this is a cast iron skillet (or any non toxic pan), 3-4 tablespoons of grass fed butter and fresh sage. Heat your skillet on medium/low heat and melt the butter. Once the butter is melted, raise the heat to medium and add in diced prosciutto. Fry for a few minutes before adding fresh sage to the pan. Fry for about 5 minutes until both prosciutto and sage are crispy. Set prosciutto and sage aside and SAVE THE LEFT OVER BUTTER. You can drizzle it over your finished dish and OMG it's amazing.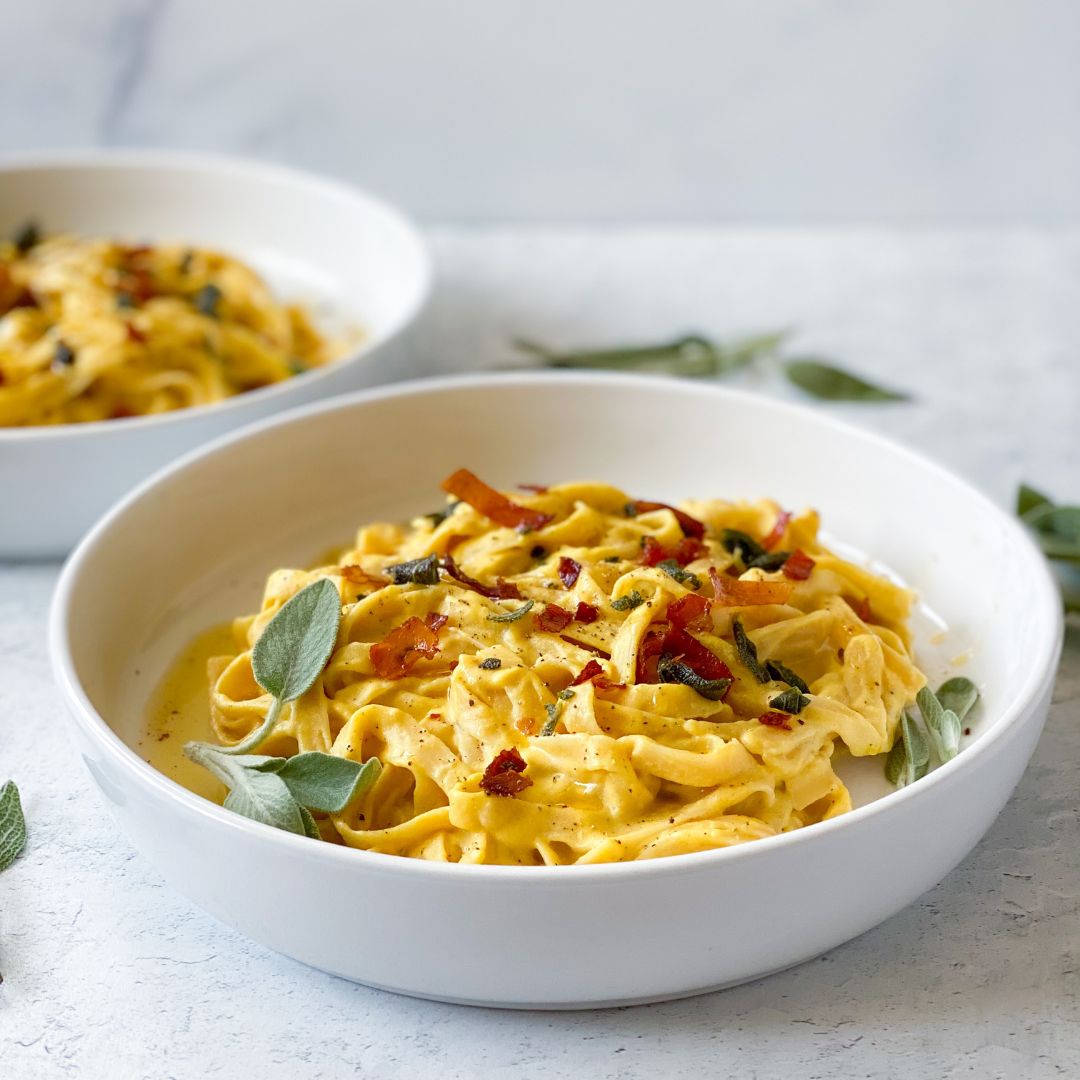 Creamy Pumpkin Pasta Sauce
Ingredients
1.5 cup light coconut milk
1 cup cashews, soaked overnight (or at least 8 hours) (or 1 hour soaked in very hot water)
3-4 garlic cloves
3 tbsp nutritional yeast
1/2 tsp pink salt
1/2 lemon juiced
1/4 tsp ground nutmeg
1 cup pumpkin puree
Directions
Step 1

Combine all ingredients in a high speed blender

Step 2

Blend for 2-3 minutes until smooth and creamy

Step 3

You can heat your sauce on low heat or pour straight over hot pasta

Step 4

Serve with garnish of your choice or add in protein. But I highly recommend you try out the crispy prosciutto and sage butter!!
Until Next Week!!!
I am so excited for you to try out my creamy pumpkin pasta sauce recipe. I am so happy with how good it turned out and can't wait to make it again and again this season.
As always, I would absolutely love to hear from you, so if you get a chance to make this recipe let me know what you thought of it in the comments below! I'd also love to see your final results so be sure to tag me on Instagram.
Hope you are all having an amazing day! I love and appreciate you for taking the time to check out my blog post and can't wait to have you back here again next week! And while I still have you here, be sure to check out some of my other recipes perfect for the season: