This site may contains affiliate links to products and/or sponsored content. Girl Appetit may receive a commission for purchases made through such links. 
Have you ever made risotto before? I used to think making risotto was super scary and complicated, but in reality is actually quite simple. The truth is it's one of those recipes that takes time and supervision. So this isn't one of those recipes that make themselves. But trust me when I say that you are going to become obsessed with how delicious this Vegan Creamy Mushroom Risotto recipe turns out. 
Don't let any of that intimidate you though, because once you're done making your risotto you are going to be proud and so happy with it! I love risotto, the creaminess, the bold flavors, it's so satisfying and so delicious. 
There are so many different types of risotto recipes out there, but there is something so classic and delicious about a creamy mushroom risotto. In true, Girl Appetit fashion, this recipe is dairy free and made with real simple ingredients. 
What Exactly IS Risotto, Anyway?
Risotto is a classic creamy Italian rice dish. Unlike regular rice that you simmer in a pot of hot water, risotto is slowly made and water is added little by little throughout the cooking process. 
The perfect risotto is creamy and savory and typically made with broth, white wine and parmesan cheese. But don't worry, this vegan version of the classic Italian risotto is just as creamy and delicious as the real thing.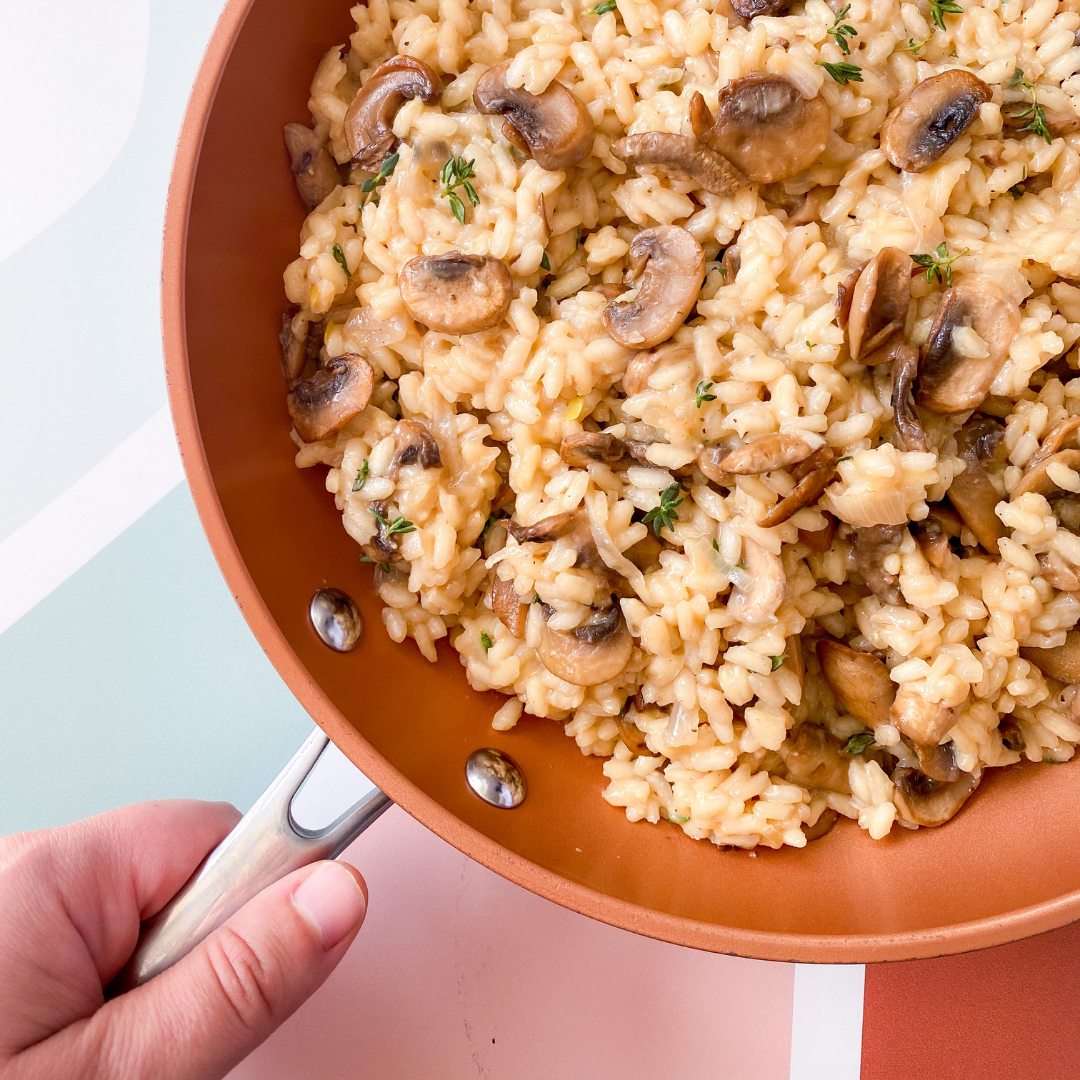 What type of rice should you use when making mushroom risotto?
For this recipe, I have used Carnaroli rice which has been nicknamed the "king" or "caviar" of risotto rice. There are two types of rice that are typically used when making risotto; Carnaroli and Arborio. You are probably wondering, what's the difference? Carnaroli rice has a medium grain that is short and thick and is almost impossible to overcook. Because it is so high in starch, Carnaroli rice leaves a nice creamy texture when cooked which is why it's so perfect for risotto.
Tips on how to make the perfect vegan creamy mushroom risotto
Prep ahead all of the ingredients you will be using for this dish. Mince, chop and measure out everything you need so there is no stress during the cooking process. 

Risotto requires you to use

warm

broth, so make sure that you have heated your broth ahead of time and it is ready to go.

Be patient! My recipe calls for 4 cups of vegetable broth. Initially you will add in 2 cups of warmed broth, but you will be adding in the rest ½ cup at a time. 

Only add in the next ½ cup of broth once the previous ½ cup has absorbed/evaporated

Make sure you babysit your risotto as you are making it. You'll need to frequently mix your risotto as it cooks to ensure it doesn't stick or burn.
Why I cook the mushrooms separately
I like to make the mushrooms separately because I prefer to have them perfectly sautéed and crispy before adding them to the creamy vegan risotto. You are more than welcome to cook it right into the pot along with the rest of the risotto ingredients, but I highly suggest you do it this way!
When you're cooking lots of mushrooms at once they can easily get watery and mushy, so it's a good idea to cook them gradually and avoid over crowding the pan right off the bat. I also suggest you avoid salting them as they will release a ton of liquid once salt is added to them while they cook.
Directions to make the buttery mushrooms
Heat a large nonstick skillet over medium heat. Add in 2-3 tbsp vegan butter and melt down.

Add in about ⅓ of the sliced mushrooms and cook down for about 4 minutes occasionally mixing. 

Add in the rest of the mushrooms little by little. Every 3 minutes or so until you have added in all of the sliced mushrooms. 

Be sure to not overmix the mushrooms as they cook to avoid them releasing too much water. 

Since you are making a large quantity of mushrooms you want to continue cooking until any liquid has evaporated and mushrooms have slightly browned and crisped up. 

Once done, set aside (do not cover so they don't get soggy).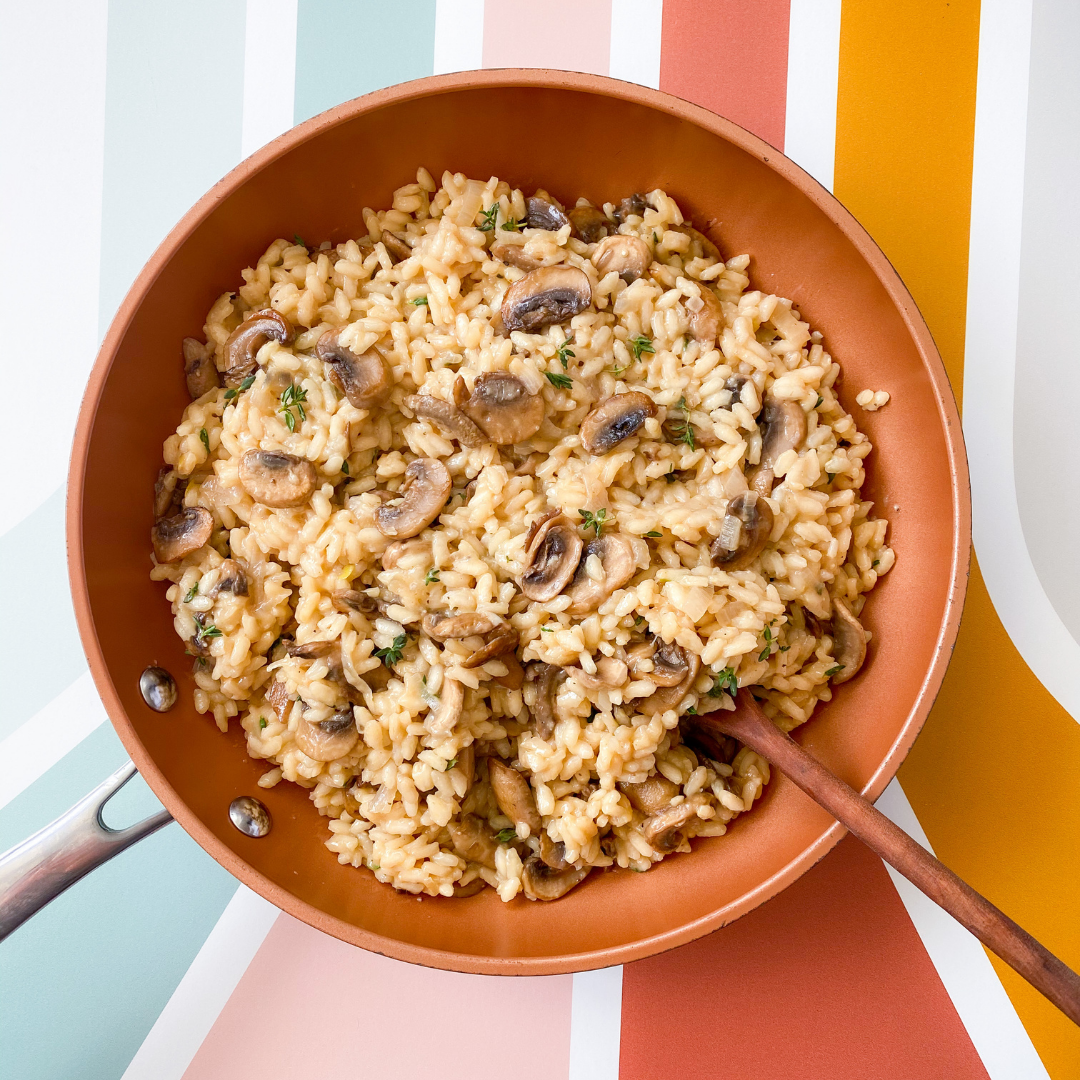 Vegan Creamy Mushroom Risotto
Ingredients
16oz pack of white mushrooms, sliced
2-3 shallots, thinly sliced
3 garlic cloves, crushed
5-6 tbsp vegan butter
½ cup dry white wine
4 cups vegetable broth
1.5 cups risotto rice
1.5 tbsp fresh thyme
2 tbsp white miso paste
1.5 tsp salt
Pepper to taste
Directions
Step 1

In a small saucepan, heat up vegetable broth and set aside. Be sure to keep the broth warm!

Step 2

Heat a large nonstick dutch oven or skillet over medium heat. Add in 3 tbsp vegan butter and melt lowering heat a bit if necessary to avoid burning the butter

Step 3

Throw in sliced shallots and saute for about 3 minutes. Then add in crushed garlic and saute everything for an additional 5 minutes or so stirring frequently

Step 4

By this point shallots should be slightly browned and tender

Step 5

Now it is time to add in your risotto rice. Add in the full 1.5 cups of risotto rice into your dutch oven or skillet

Step 6

Saute for about 5 minutes until rice is slightly browned

Step 7

Add in 2 tbsp white miso paste and mix into the rice and shallot mixture. Don't worry if the miso paste doesn't blend in right away, once you add in the white wine it will blend in seamlessly

Step 8

Quickly add in salt and pepper to taste

Step 9

Pour in the white wine and cook down for about 3 minutes or so until you have successfully deglaze the pan (meaning all of the brown stuck at the bottom of the pan has come unstuck) and the wine has evaporated

Step 10

Now it is time to add in some of the vegetable broth. Pour in 2 cups of the warm broth into your risotto. Once it is simmering, lower the heat a bit. Be sure to mix frequently to avoid any sticking or burning

Step 11

Add in remaining broth, half cup at a time, every 5 minutes or so. Be sure that the previous ½ cup of broth has mostly absorbed before adding in the next half cup. Continue cooking and mixing for a total of 25-30 minutes

Step 12

Add in the fresh thyme once you've added your last ½ cup of veggie broth

Step 13

Risotto should end up al dente and not mushy. Lastly add in cooked  mushrooms and combine