This site may contains affiliate links to products and/or sponsored content. Girl Appetit may receive a commission for purchases made through such links. 
Behold, my new favorite recipe right now. I can't express how obsessed I am with this Vegan Alfredo Sauce recipe, it's that good. For a while I wanted to experiment with a good, plant based, alfredo recipe but wasn't sure where to start.
After a few tries I finally got it down and it is now ready for you. It has been 29 days since I embarked on a plant based lifestyle experiment and was excited to see what new flavors I would discover. A delicious alfredo sauce was at the top of my list and it was one of the first recipes I went for.
When it comes to plant based cooking I am seriously such a newbie in the kitchen. I've been cooking for over a decade but nothing compares to the challenges and level of creativity that comes with plant based cooking.
Using Cashews as a Base
I've heard a lot about using cashews as a base for creamy vegan sauces but I didn't realize how versatile these nuts could truly be! The trick with using cashews for sauces is to soak them overnight (or at least 8 hours) in cold water. Don't worry though, if you happen to forget you can still soak them in hot water for one hour.
You should also have a high speed blender (such as a Vitamix or a Ninja Chef which is what I use) when making any type of cashew sauce. A good food processor will also work just be mindful of the limit on liquid you can pour into the processor. I experienced this mistake first hand… I was making the vegan alfredo sauce for the first time and didn't pay attention to the max limit of liquid I could put into my processor. Needless to say, there as sauce EVERYWHERE!
What Goes Into a Good Cashew Based Sauce
Naturally, you are probably making a cashew sauce because you're aiming for a creamy or cheesy sauce to add to pasta or use as a dip. Nutritional yeast is a very common and very necessary ingredient to achieve a "cheesy" taste.
Spices and herbs also contribute to a good cashew based sauce. For my vegan alfredo sauce I found that garlic and fresh thyme really elevated the flavor and made this sauce almost identical to the real thing.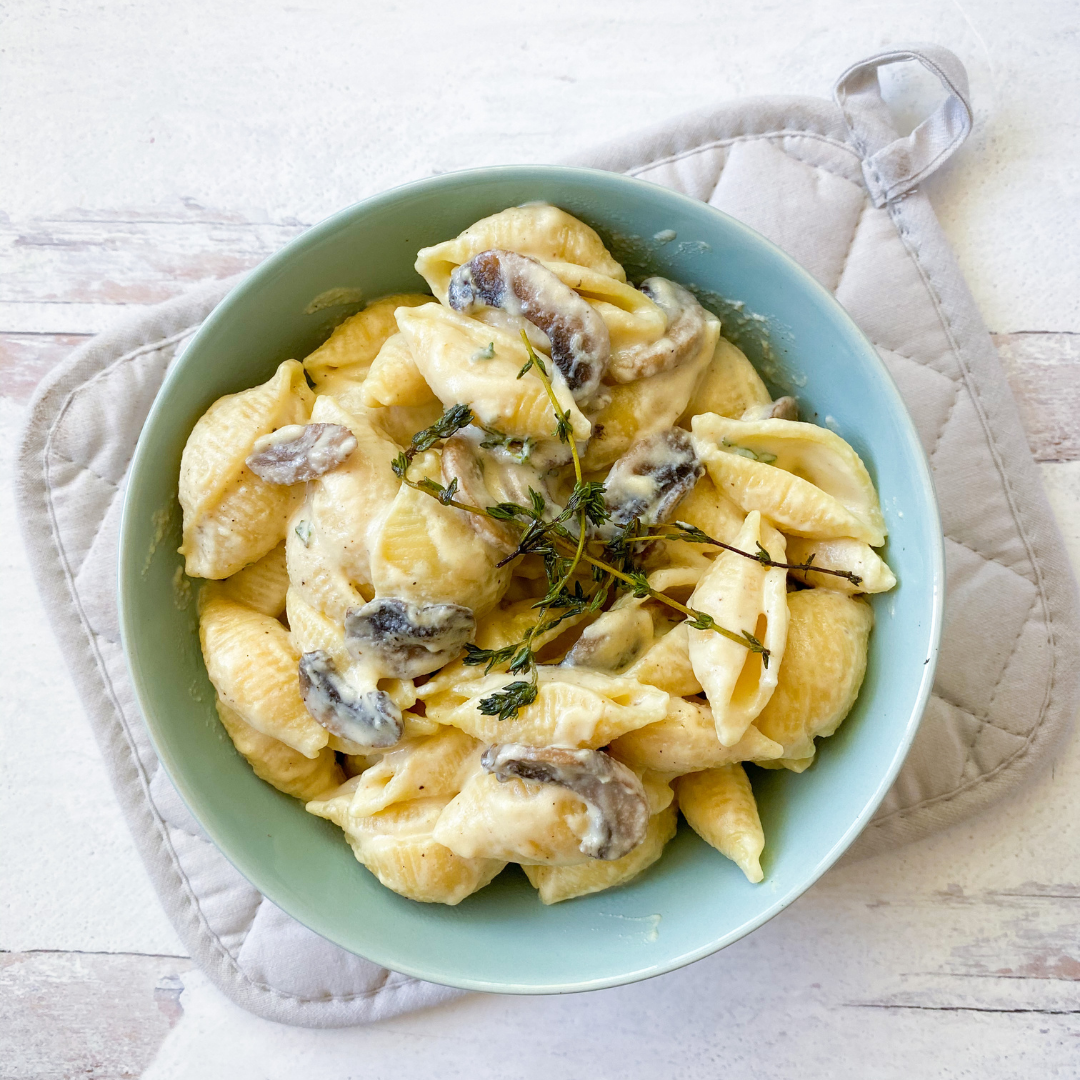 Types of Pastas You Can Use for Vegan Alfredo Sauce
I know what you're thinking. Why didn't I use the classic fettuccine pasta for this dish? Honestly, because it's kind of a pain in the butt to mix it in with the sauce. Sure, you can definitely serve the pasta first then add the sauce on top, but I love pre-mixing my pasta and sauce before serving.
I really love using shell pasta for my Vegan Alfredo dish, they're super fun to eat, they fill up with sauce, and who are we kidding… it's very preferable amongst the kiddos lol. You really are free to use any type of pasta. Pick your favorite and go for it!
Dish Add-Ons
There is a lot you can add to this yummy Vegan Alfredo Sauce recipe. I opted for buttery mushrooms and fresh thyme for my version and I am so happy with it! Mushrooms can be tricky to cook some times, so I've got a few tips for you!
be sure you are using a pan that's large enough to keep the mushrooms from crowing
if you crows the mushrooms on the pan they are more likely to get slimy and watery
avoid salting your mushrooms! (at least until the very end)
whenever I am making mushrooms to add onto a dish, I don't bother salting them at all
use butter instead of oil
throw in some fresh herbs such a s thyme or rosemary for an aromatic punch
avoid over mixing while they are cooking, allow them to fry a little bit for great texture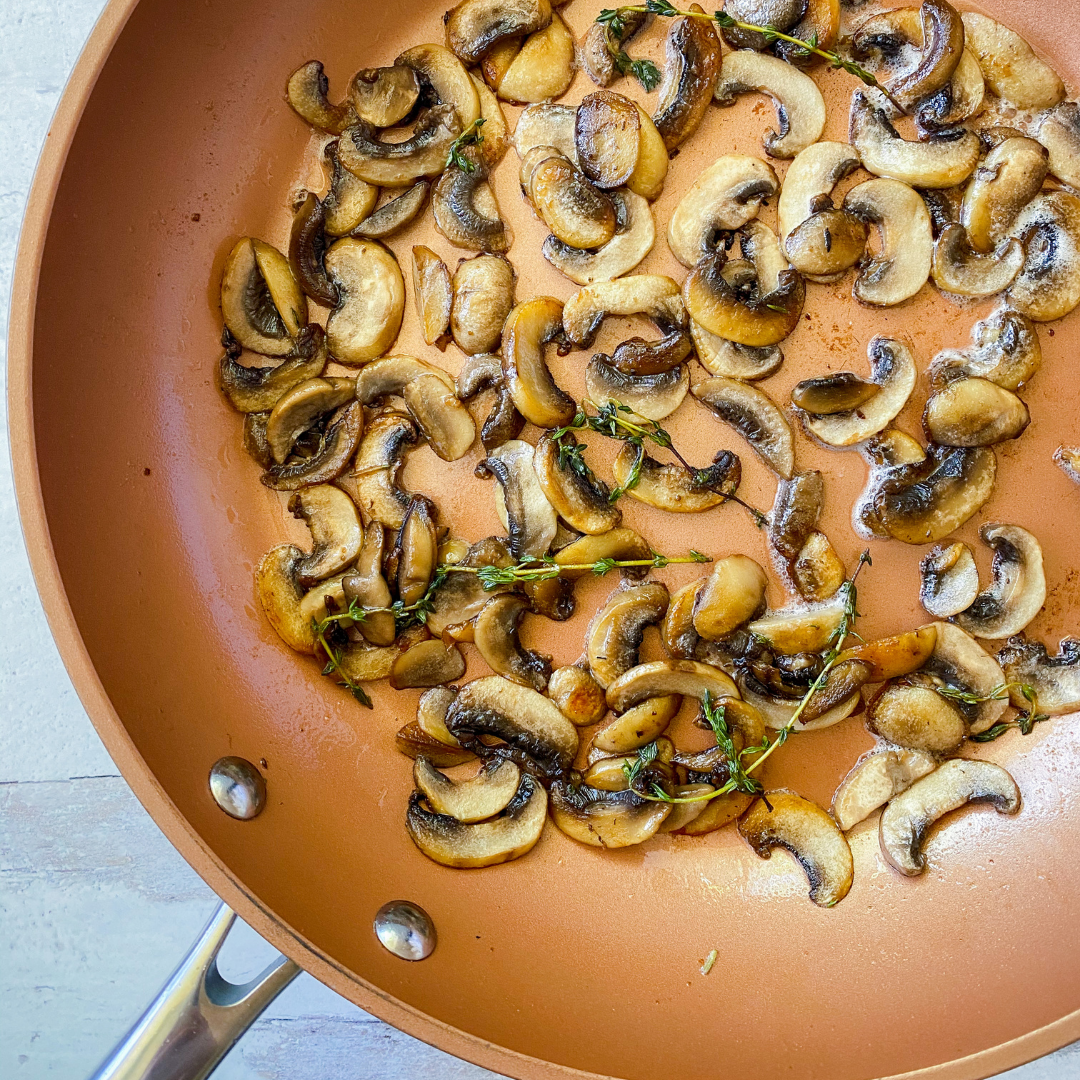 Vegan Alfredo Sauce
Ingredients
1 cup light coconut milk
1 cup cashews, soaked overnight (or at least 8 hours) (or 1 hour soaked in very hot water)
3-4 garlic cloves
3 tbsp nutritional yeast
1 tsp cornstarch
1/2 tsp pink salt
1 tbsp fresh thyme (no stems)
1/2 lemon juiced
Directions
Step 1

Add all ingredients (except thyme) to a high speed blender and blend for 2 minutes

Step 2

Cook pasta of choice according to directions

Step 3

Once pasta is done save about 1.5 cups of the pasta water

Step 4

Drain paste

Step 5

Add pasta back into the pot and pout in your vegan alfredo sauce

Step 6

Sprinkle in thyme and mix together well

Step 7

Use the pasta water you saved if needed. I personally will always add about 1/2 cup or up to a full cup to smooth out the vegan alfredo sauce

Step 8

Finally top with your cooked mushrooms (see cooking directions below for mushrooms)
Buttery Mushrooms
Ingredients
8oz pack of white mushrooms, sliced (no stems)
3 tbsp Miyokos vegan butter (or butter of choice)
3-4 sprigs of fresh thyme
Directions
Step 1

Heat a large non-stick skillet on medium heat

Step 2

Once hot, add in your butter and melt completely

Step 3

Add in thyme and cook for just a minute or two

Step 4

Add in your sliced mushrooms and spread out on pan

Step 5

Sauce for a totaly of 5-8 minutes total, stirring occassionally

Step 6

TIP: if you still have lots of melted butter left on the pan continue to cook mushrooms. I typically will continue to cook until most of butter is gone.