This site may contains affiliate links to products and/or sponsored content. Girl Appetit may receive a commission for purchases made through such links. 
Summer is just around the corner which means that we are officially approaching BBQ season! One of my favorite summer traditions include firing up the grill, cook outs and lots of delicious side dishes to be enjoyed outside with family and friends. Potato Salad is one of my favorite recipes to make because it's easy, minimalistic and always a hit!
What Goes Inside Potato Salad?
There are so many types of veggies and herbs you can add to your potato salad, I really love how create you can get when it comes to this classic side dish. Personally, I love keeping it simple, with just a few simple ingredients you will end up with a delicious potato salad that everyone is going to love at your next BBQ!
FRESH VEGGIES AND HERBS
celery gives potato salad a fabulous crunch and it's definitely a must when it comes to ingredients you have to include in your potato salad
pickles are a great addition, they give this potato salad recipe a punch of flavor and added crunch too!
green onions and fresh parsley add so much flavor to this recipe
dill, thyme and oregano round up the aromatic herbs that will take this potato salad to the next level
What Type of Potatoes are Best?
I love using Yukon gold potatoes. Personally I think they make the best potato salad. Their skin is a lot thinner than russet, so if you aren't planning on peeling your potatoes I highly suggest you go with the Yukon potatoes. They are very rich in flavor and aren't as dry and fluffy as other potatoes.
Cooking Tips
peel your potatoes to get the perfect potato salad texture
make sure to bring the water to a boil before you boil the potatoes
when your potatoes are done be sure to allow them to cool completely before adding the rest of your ingredients
to avoid mashing your potatoes while you are mixing be sure to add in all your remaining ingredients and fold in carefully
refrigerate your potato salad before serving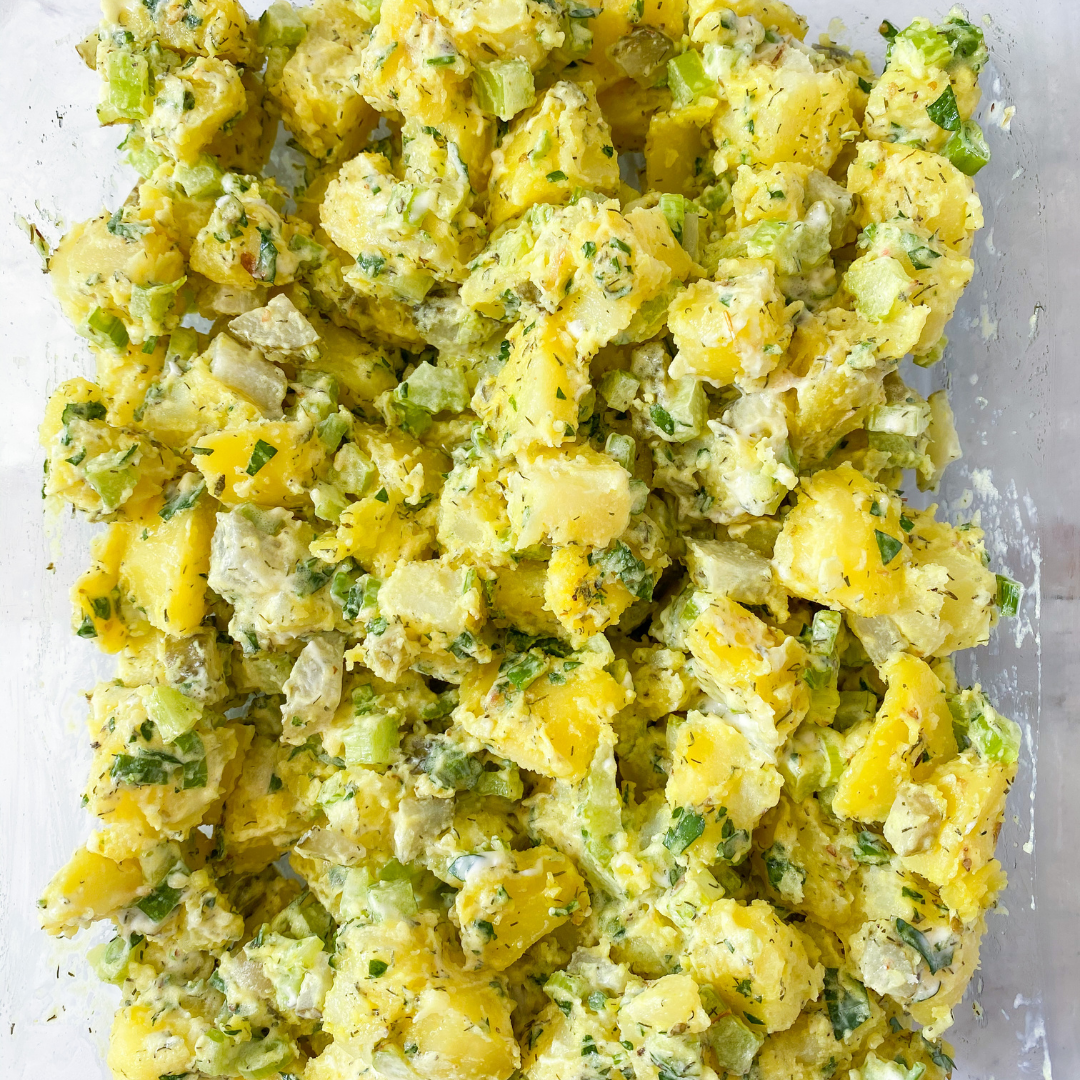 Classic Potato Salad Recipe
Ingredients
5-6 Yukon golden potatoes
2 celery ribs, diced (about 1 cup)
1/3 cup diced pickles
3 green onions, sliced
1/3 cup Italian parsley, chopped
1/2 cup mayo
2 tbsp yellow mustard
1 tsp pink salt
pepper to taste
1 tsp dry dill
1/2 tsp dry thyme
1/2 tsp dry oregano
Directions
Step 1

Wash and peel potatoes

Step 2

Cut potatoes in half. You want to ensure that all potatoes are the same size so that they cook evenly

Step 3

Bring a large pot of water to boil

Step 4

Once water is boiling add in your potatoes

Step 5

Boil might die down so bring water back to a boil then down to a high simmer

Step 6

Simmer for about 20 minutes until you are able to stab each piece through with a sharp knife

Step 7

Do not overcook your potatoes!

Step 8

When done, remove from water and allow potatoes to cool completely

Step 9

Once potatoes have cooled down cut into bite size pieces and put in a large mixing bowl

Step 10

Add in all remaining ingredients and carefully mix your potato salad

Step 11

Fridge for about half hour, serve and enjoy!