This site may contains affiliate links to products and/or sponsored content. Girl Appetit may receive a commission for purchases made through such links. 
If I could eat appetizers every day for every meal I probably would. These stuffed mushrooms are so good and super easy to make too! They take a little bit of time (mostly the stuffing part), but trust me when I say it will all be worth it in the end.
We love stuffed mushrooms around here, and these sausage stuffed ones are heavenly. Make these for your next get together, or for your family on a Friday night and you'll have everyone begging for more!
DAIRY FREE CREAM CHEESE
I love the simplicity of this recipe and the fact that I also made it dairy free makes it even that much better. I used Miyokos Creamery Vegan Cream Cheese, which is my favorite to use for a lot of my creamy dairy free recipes.
WHAT TYPE OF MUSHROOMS SHOULD YOU CHOOSE?
When it comes to choosing your mushrooms, you really could go for whatever floats your boat. I find that the typical white mushrooms work great for this recipe. You could also opt for the baby bellas, but I personally like using white mushrooms for this recipe.
THE SPICES & HERBS
I decided to keep the spices super simple for these stuffed mushrooms. Salt and pepper with fresh Italian parsley and garlic… easy and full of flavor. You could definitely get creative and add other spices such as a little rosemary, thyme or oregano! One thing I always encourage others to do is to not be afraid of seasoning. Start with a little bit, taste test as you go and get creative!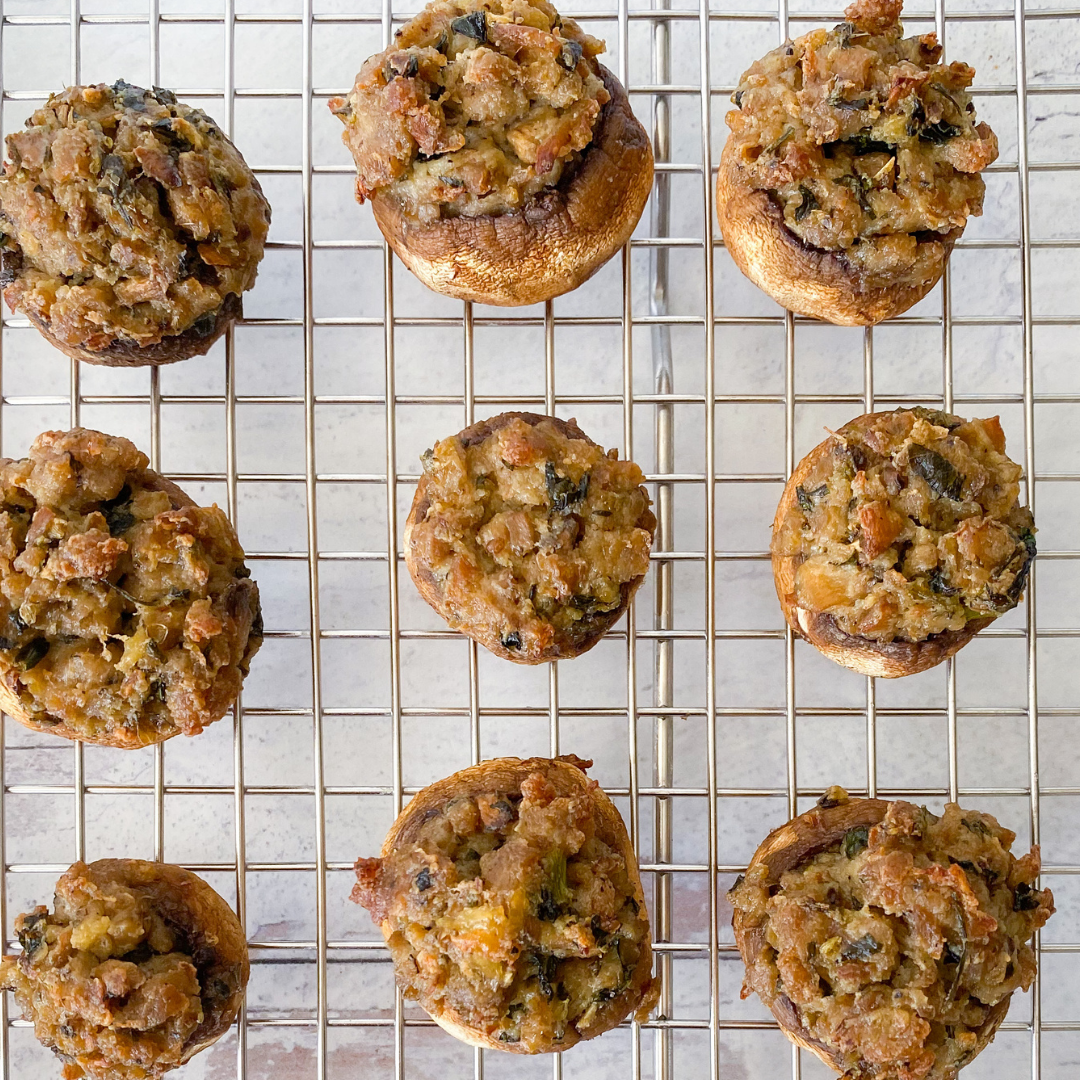 Sausage Stuffed Mushrooms
Ingredients
8 oz pack white mushrooms
1/2 lb ground Italian sausage
2 tbsp avocado oil
2-3 garlic cloves, crushed
1/2 tsp pink salt
pepper to taste
1 tsp dry oregano
1/4 cup Italian parsley, chopped
1/4 cup vegan cream cheese (I used Miyokos brand)
Directions
Step 1

Wipe your mushrooms clean with a dry paper towel. You don't want to rinse your mushrooms with water, or use a wet paper towel, because mushrooms will absorb liquid then get watery and soggy when cooked.

Step 2

Separate stemps and caps (do not toss stems!). Finely chop the stems and set aside.

Step 3

Heat a medium pan on medium heat and pour in oil.

Step 4

Once oil is hot throw in your finely chopped mushrooms stems and saute for a 3-5 minutes.

Step 5

Add in ground sausage and continue cooking until sausage is fully cooked.

Step 6

Add in crushed garlic, salt, pepper, oregano, parsley and vegan cream cheese.

Step 7

Lower heat a bit and mix everything together until cream cheese has melted.

Step 8

Preheat oven to 375 degrees.

Step 9

Stuff each mushroom cap with your filling.

Step 10

Bake for 30 minutes and enjoy!