This site may contains affiliate links to products and/or sponsored content. Girl Appetit may receive a commission for purchases made through such links. 
Another delicious and super easy recipe for you today! Just like my Chicken Fajita Tray Bake, this variation is sure to become a new staple in your home. The combination between the aromatic Italian sausage, rustic veggies and fresh herbs really makes this tray bake one of my absolute favorites.
The Teeny Tiny Potatoes are probably my favorite part about this entire recipe. First of all, they adorable and second of all, they're delicious! They are also great or making my amazing garlicky Smashed Potatoes. This dish is also extremely budget friendly which is always important to me. When making homemade meals on a daily basis, I really try to keep cost low whenever possible. These tray bake recipes really help keep me on track and on a budget.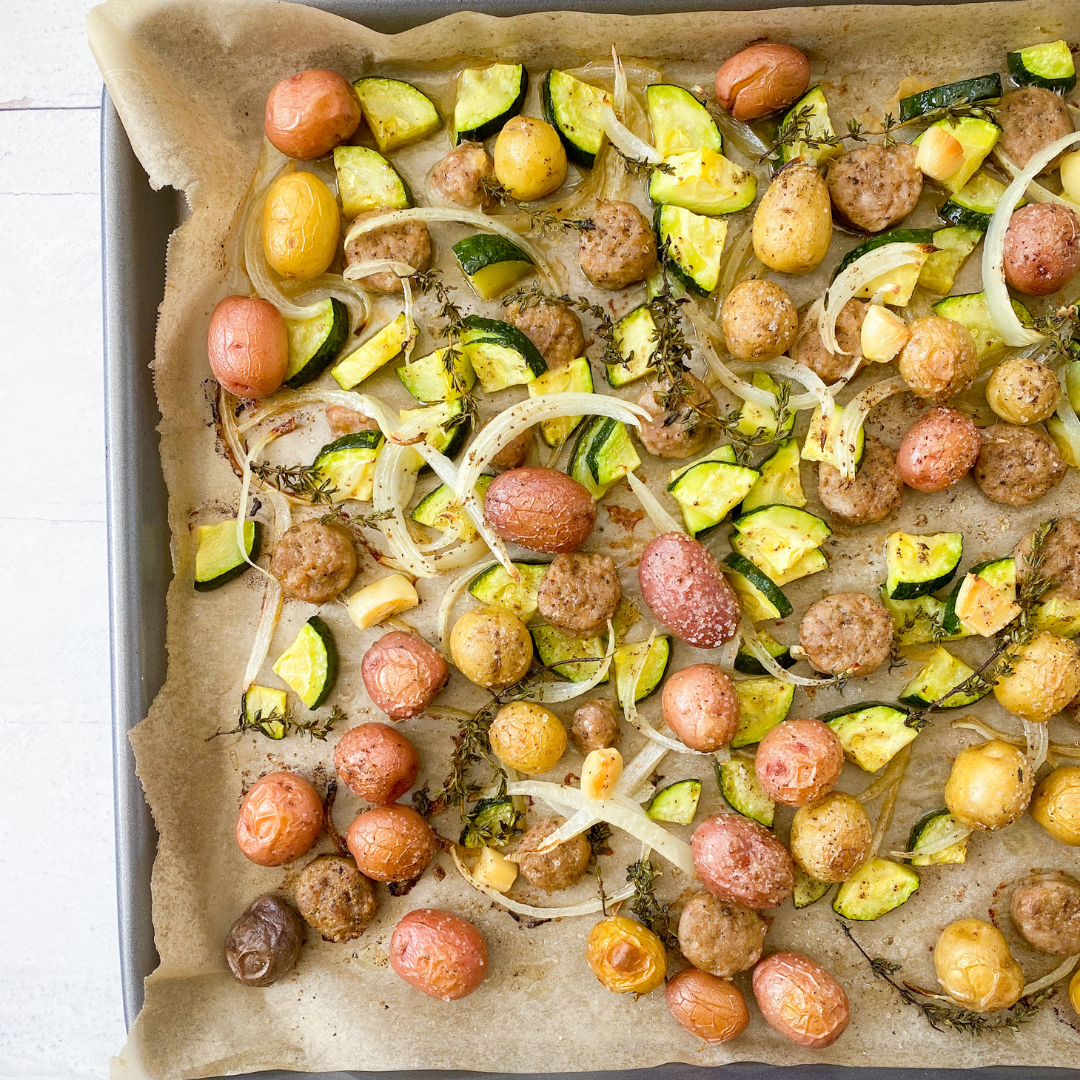 Roasted Veggie + Sausage Tray Bake
Ingredients
1/2 lb (about 2 links) Italian sausage, sliced into 1/4 inch slices
1 large zucchini, quartered
1/4 large brown onion, sliced
5-6 garlic cloves, cut in half
5-6 sprigs of fresh thyme
1 lb tiny potatoes (the kind that come in the net)
2 tbsp avocado oil (or oil spray if you have it)
1 tsp pink salt
pepper to taste
Directions
Step 1

Preheat oven to 400 degrees

Step 2

Line a baking sheet with parchment paper

Step 3

Place all your ingredients on the baking sheet. Pour or spray avocado oil over ingredients.

Step 4

Bake for 20-25 minutes