This site may contains affiliate links to products and/or sponsored content. Girl Appetit may receive a commission for purchases made through such links. 
These Roasted Brussel Sprouts make the perfect holiday side dish, but I personally think it's amazing any time of the year. Growing up I wasn't a fan of Brussel sprouts, I don't think most kids are. But as an adult, I seriously love them so much! There are so many different ways you can make them; roasted, steamed, raw in a salad, you name it!
I was looking to come up with a recipe that would spark some joy on these sometimes overlooked veggie. For years I only made them one way, roasted and seasoned. I figured don't change something that's already so good, right?
All that changed when I came up with this recipe. These Roasted Brussel Sprouts with Candied Pecans and Raspberry Vinaigrette are a total game changer. There is so much flavor packed into this side dish, this will probably be the only way you make them from now on.
How to Prep Your Brussel Sprouts
I like buying Brussel Sprouts that are on the large side. Sometimes when they are too small, they over cook and become too bitter. Preferably I like to buy them loose, that way I can make sure I am picking the right size. If your grocery store doesn't sell them like that just make sure you pick the bigger ones.
always wash your veggies before cooking them / eating them
line a baking sheet with parchment paper
when roasting Brussel sprouts I prefer to preheat the oven to 400 degrees
cut the stems off the Brussel and then cut in half length wise
naturally some of the leaves will come off, that is ok
tare off any leaves that are ugly
place flat side down on your baking sheet
spray or drizzle over them and lightly season with salt and pepper
bake between 25-30 min
How to Make Candied Pecans
There are so many recipes out there on how to make candied pecans. You really only need a few ingredients and you're good to go. I hopped on Pinterest and found a super simple recipe by Susan Cooks Vegan – here is what you need:
pecans
brown sugar
cinnamon
water
salt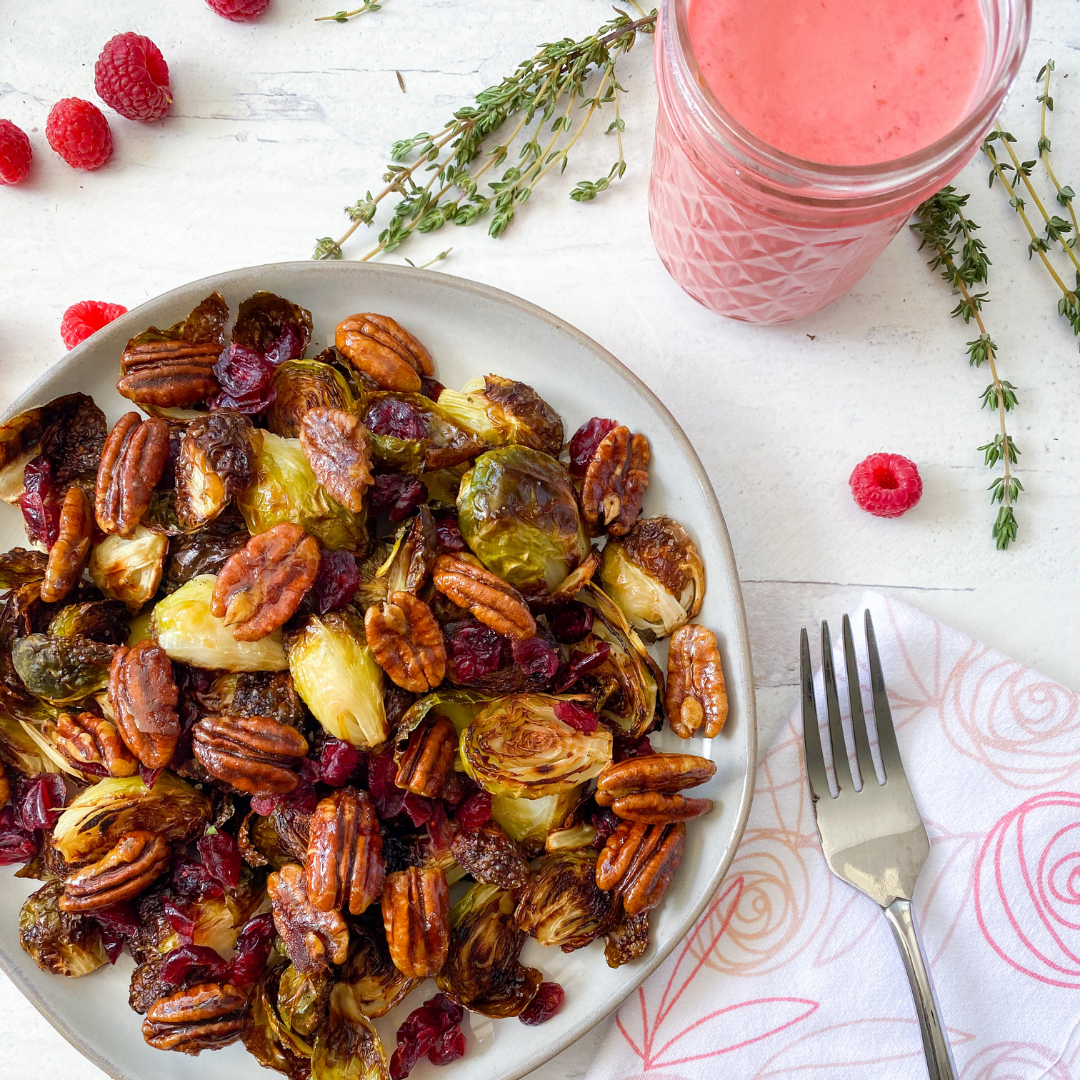 Making the Raspberry Vinaigrette
When coming up with this recipe, I knew I wanted to dress the roasted Brussel Sprouts with some type of vinaigrette. There are so many options out there, but when I came across some photos of raspberry vinaigrettes I knew that was the way to go. I love how pink it turned out, and the fact that they are made with fresh organic raspberries make this dressing that much more delicious.
You can make your own raspberry vinaigrette with just a few simple ingredients and a food processor or magic bullet blender
1 cup fresh organic raspberries
1/4 cup olive oil (or avocado oil for milder taste)
1 tbsp white wine vinegar
1/2 lemon juiced
1/4 tsp salt
1 tbsp water
Blend all ingredients together and enjoy! Store your homemade dressing in these awesome jars
Roasted Brussel Sprouts with Candied Pecans and Raspberry Vinaigrette
Ingredients
1lb brussel sprouts, cut in half length wise
pink salt
pepper
dried cranberries

FOR THE PECANS
1 cup pecan halves
1/2 cup brown sugar
1/4 tsp cinnamon
1/4 tsp salt
2 tbsp water

FOR THE VINAIGRETTE
1 cup fresh organic raspberries
1/4 cup olive oil or avocado oil
1 tbsp white wine vinegar
1/2 lemon juiced
1/4 tsp salt
1 tbsp water
Directions
Step 1

Preheat oven to 425

Step 2

Line a baking sheet with parchment paper and place Brussels sprouts flat side down

Step 3

Spray or lightly drizzle avocado oil over Brussels

Step 4

Lightly season with salt and pepper

Step 5

Bake for 20-25 minutes

Step 6

CANDIED PECANS: see link for full recipe and instructions

Step 7

RASPBERRY VINAIGRETTE: put all ingredients in blender and blend until well combined

Step 8

To serve place roasted Brussel sprouts on a serving dish, sprinkle dried cranberries on top, candied pecans and drizzle vinaigrette