This site may contains affiliate links to products and/or sponsored content. Girl Appetit may receive a commission for purchases made through such links. 
There are so many amazing spices and herbs out there that can completely enhance your cooking. But the questions it, which ones do I need in my pantry? I totally understand that feeling, standing in front of the spice rack at the grocery store, wondering what you should add to your shopping cart. The best way to get started is to explore little by little until you find yourself with these must have spices and herbs.
The Basics
When I first started cooking I must have had about 5 or so spices in my cabinet that I continuously rotated between.  Salt, pepper, garlic powder, dry oregano, cumin and smoked paprika were my go-to that I always used when cooking. These are some of my favorite ones and definitely some that you should start with when getting these must have spices and herbs.
If I was makin a Mexican style dish  I went for the garlic powder, cumin and smoked paprika, salt and pepper. If I wanted to achieve an Italian flavor I used dry oregano, garlic powder, salt and pepper.
These SIX spices are what I like to call "The Basics". They aren't totally intimidating, they are very versatile and also very affordable.
How Much Do Spices Cost?
Prices on different spices and herbs varies. They can be as cheap as a couple dollars or as expensive as $15 or more! When you are just getting started, definitely go for the more affordable spices and herbs. Typically, you are going to run into your basics which will make it easy for you.
What I did when I was getting started on stocking up my pantry, I went ahead and bought 4 spices/herbs that I knew I would use a lot right off the bat. Then I would buy a single spice/herb each week when I went out for my grocery haul.
What I bought also depended on what I was cooking. If there was a recipe I was curious on making, but it required too many herbs and spices, I maybe though about saving it for another time because I didn't want to have to buy so many things in one trip.
Storing Your Herbs and Spices
It's important to be aware of how to properly store your dry herbs and spices. Trust me, I too have found (and even used) an herb or spice that had been sitting in my pantry for more than a year.
There is a big misconception that spices will "last forever". Although they may not mold or look like they went bad, there is still a general time frame that dry herbs and spices should be used up.
Whole spices, which is any type of spice that is not ground, may last up to two years when stored in a dry cool place. Ground spices on the other hand should be consumed within six months.
I've read that you should also keep your red spices, such as paprika or red chili, in the fridge. It's said that it may help keep their color and flavor fresh for longer. Personally, I don't do this and haven't really had an issue with my spices.
28 Must Have Spices and Herbs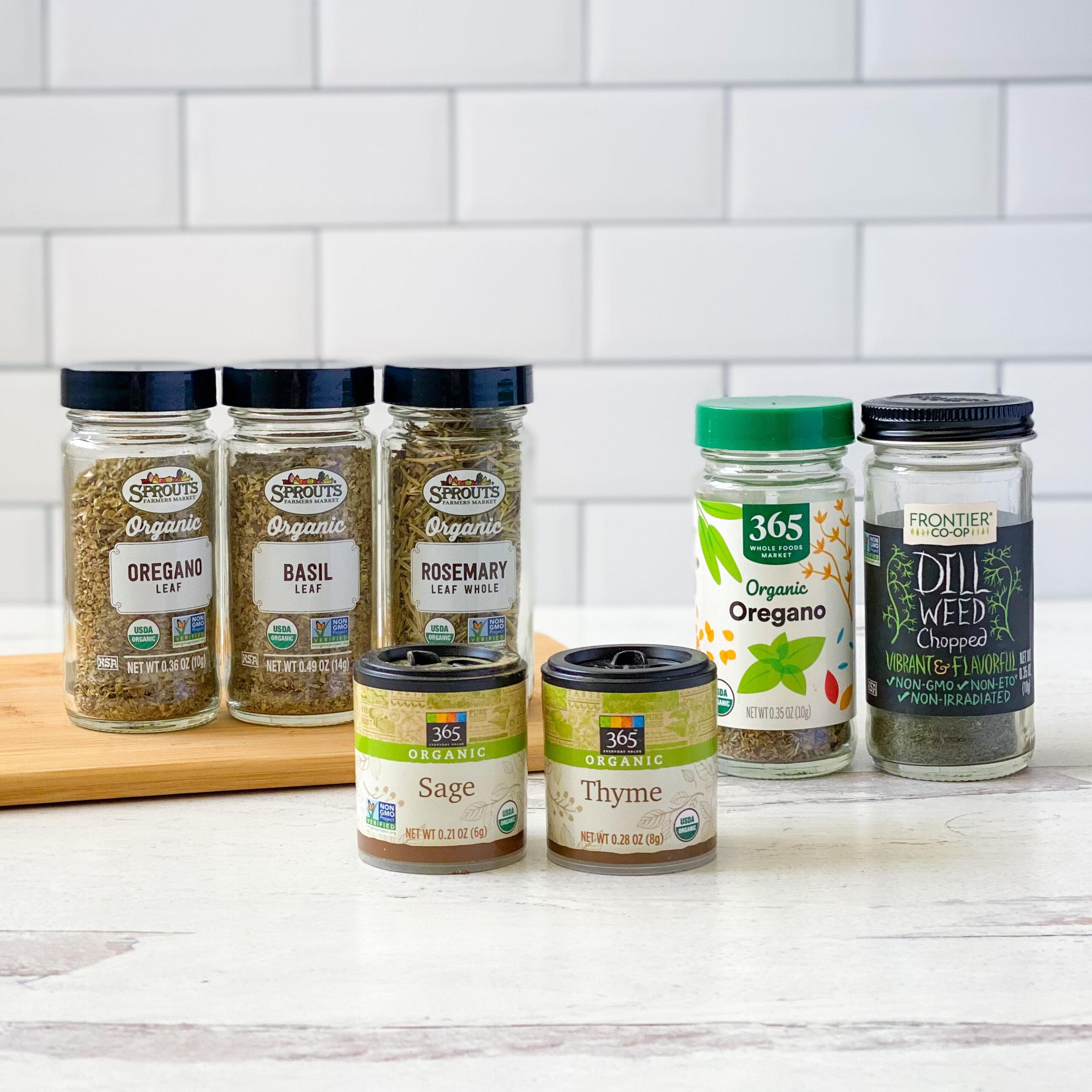 Seven Must Have Dry Herbs
oregano – oregano leaves are very pungent with a peppery and slightly bitter taste to it. It is extremely versatile and can be used for many types of recipes, like Mexican and Italian dishes.
basil – dry basil leaves have a very different flavor than the fresh herb. They do not have the prominent anise flavor to it as it does when it is fresh. Dry basil is a little bit sweeter and typically used on pizza sauces, but can be used in marinara (along with other Italian style herbs), salads, dressings, pasta dishes and more!
rosemary – this is something I had to tell myself once upon a time, but be careful with rosemary. This herb is amazing with very bold flavor, but it can take over a dish if you are not careful. Rosemary has a very strong lemony-pine taste to it and can sometimes be a little bitter when cooked. This dry herb is very fragrant and aromatic.
sage – I love using sage in dishes when I am looking for a rich and bold flavor. Dry sage has an earthy and slightly peppery taste with hints of eucalyptus and lemon. It's best to start light when using this herb as it can easily overpower a recipe.
thyme – this is another one of my favorite herbs to use when cooking because it blends in so well with others. I love using both fresh and dry thyme, but the dry herb is very subtle in flavor which makes it extremely forgiving.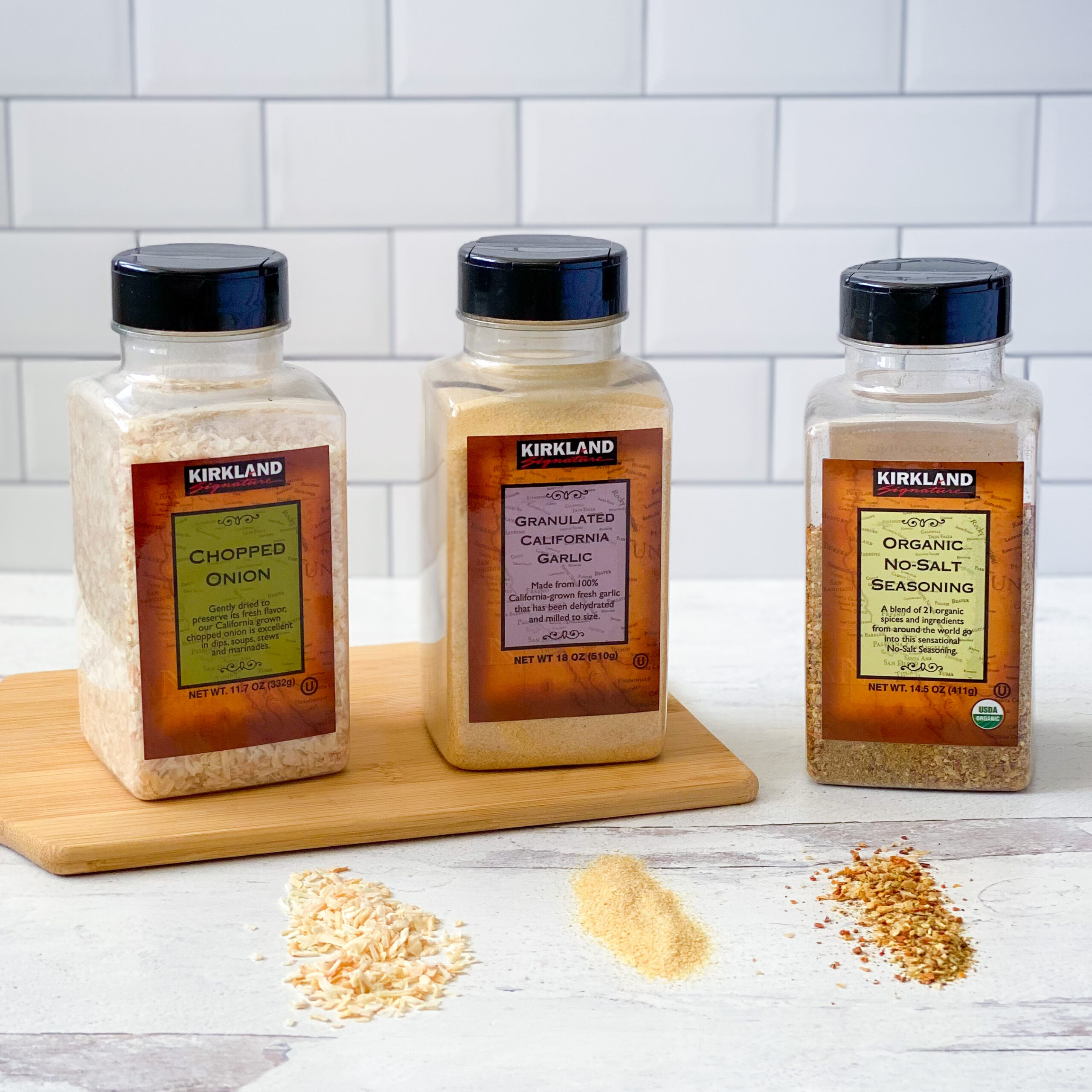 Spices I Like to Buy in Bulk
There are a few spices that I like to buy in bulk (aka Costco size). Typically I get all of my spices and herbs from the regular grocery store because I know that I am not going to be using them daily. But these three above are my go-to spices that I like to keep on hand and lots of it.
chopped onion – this is a new one that I started using recently. I love the flavor that it brings to dishes and it can be used for so many different recipes. You can add chopped onion to soups/stews, sauces or dips. Unlike fresh onion, dry chopped onion almost has a sweeter taste to it that I love.
garlic powder – if you are going to buy any spice in bulk it has to be garlic powder. Maybe it's just me, but I love adding this spice to literally every single dish I make. It's amazing and can't say enough good things about it. Be sure you are buying garlic powder and not garlic salt.
no salt seasoning – this was a fun spice mix that I bought on a whim. For a long time I stayed away from buying spice blends because you really never know the quality of spices and herbs you are going to get. Blends also tend to be filled with salt which I am not a fan of. This blend in particular is salt free and actually brought a lot of flavor that has been super versatile.
Tips on Buying Spice Blends
If you are looking to buy spice blends be sure that you are reading the labels. There are so many brands out there that pack their blends with a ton of salt and preservatives.
My rule of thumb is that if you can recognize the name of each spice/herb listed on the back of the bottle or container, you are good to go. So many brands out there hide harmful additives such as MSG in their blends.
Preferably, you should also avoid blends that contain salt. A lot of the times brands are using the cheapest and worst kind of sodium in their products that can be harmful.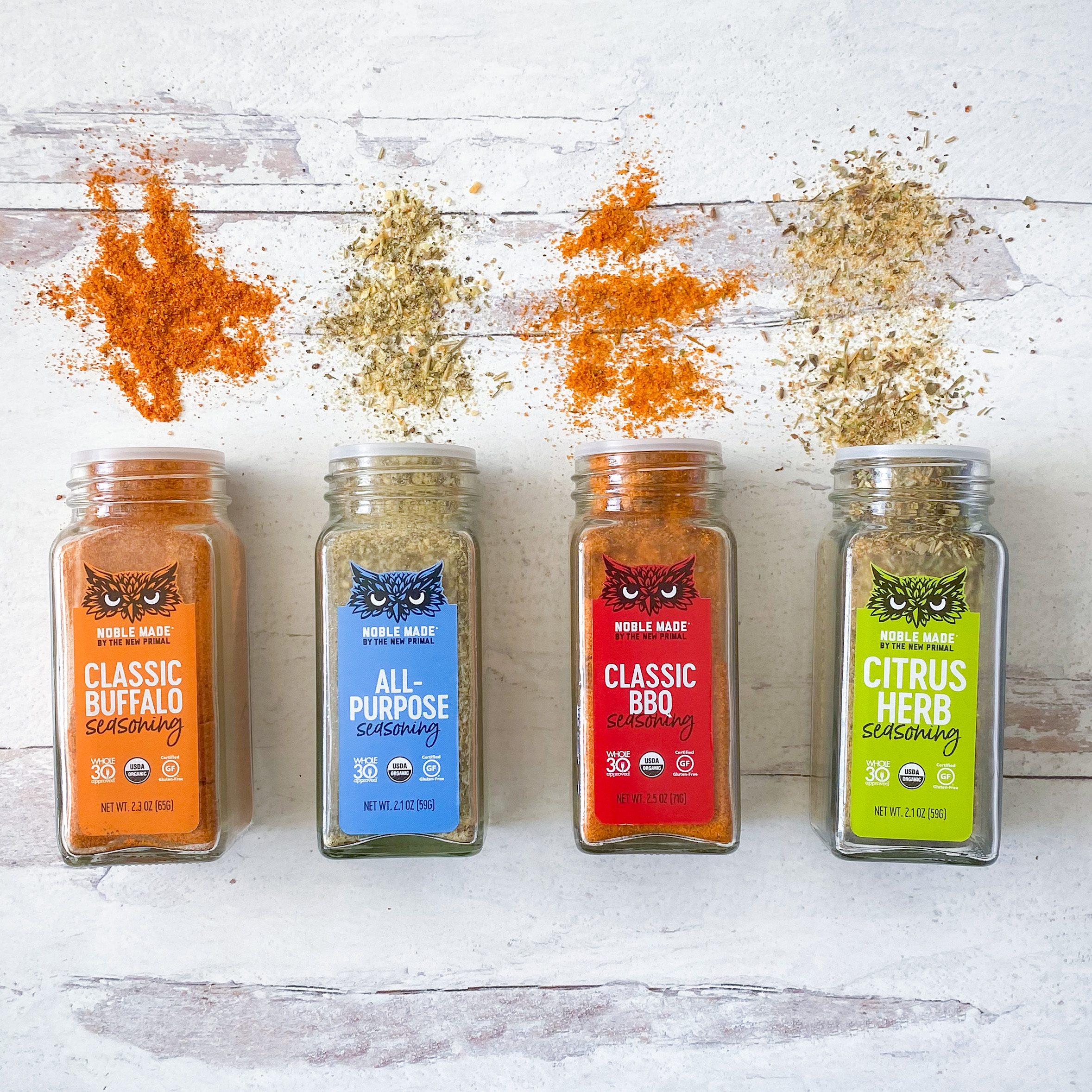 Four of My Favorite Spice Blends from The New Primal
The New Primal recently came out with their own blends that I have been loving so much! They are a brand that I totally stand behind because they use great quality ingredients in every one of their products. Now that they are part of my 28 Must Have Spices and Herbs, I will probably always have them in my pantry.
The very first product I ever tried from TNP was their Buffalo Sauce which I think deserves it's own blog post lol. They make tons of other sauces too, such as BBQ, ranch and salad dressings. I've used their spice blends in so many of my recipes, some of my favorites include my Buffalo Chicken Wings and my popular Dairy Free Buffalo Chicken Dip

classic buffalo seasoning – this seasoning is perfect on chicken, in dips, sauces, you name it!
all purpose and citrus seasoning – I love using both of these regularly in my recipes. Their all purpose seasoning includes all the basic spices and herbs you need to enhance flavor in any dish. The citrus seasoning brings all the basics plus a little lemon peel punch for additional goodness.
classic BBQ seasoning – this amazing blend is the perfect seasoning for any and all BBQ occasions. Whether you are marinating beef or chicken, you can also sprinkle some on top of veggies ready for the grill.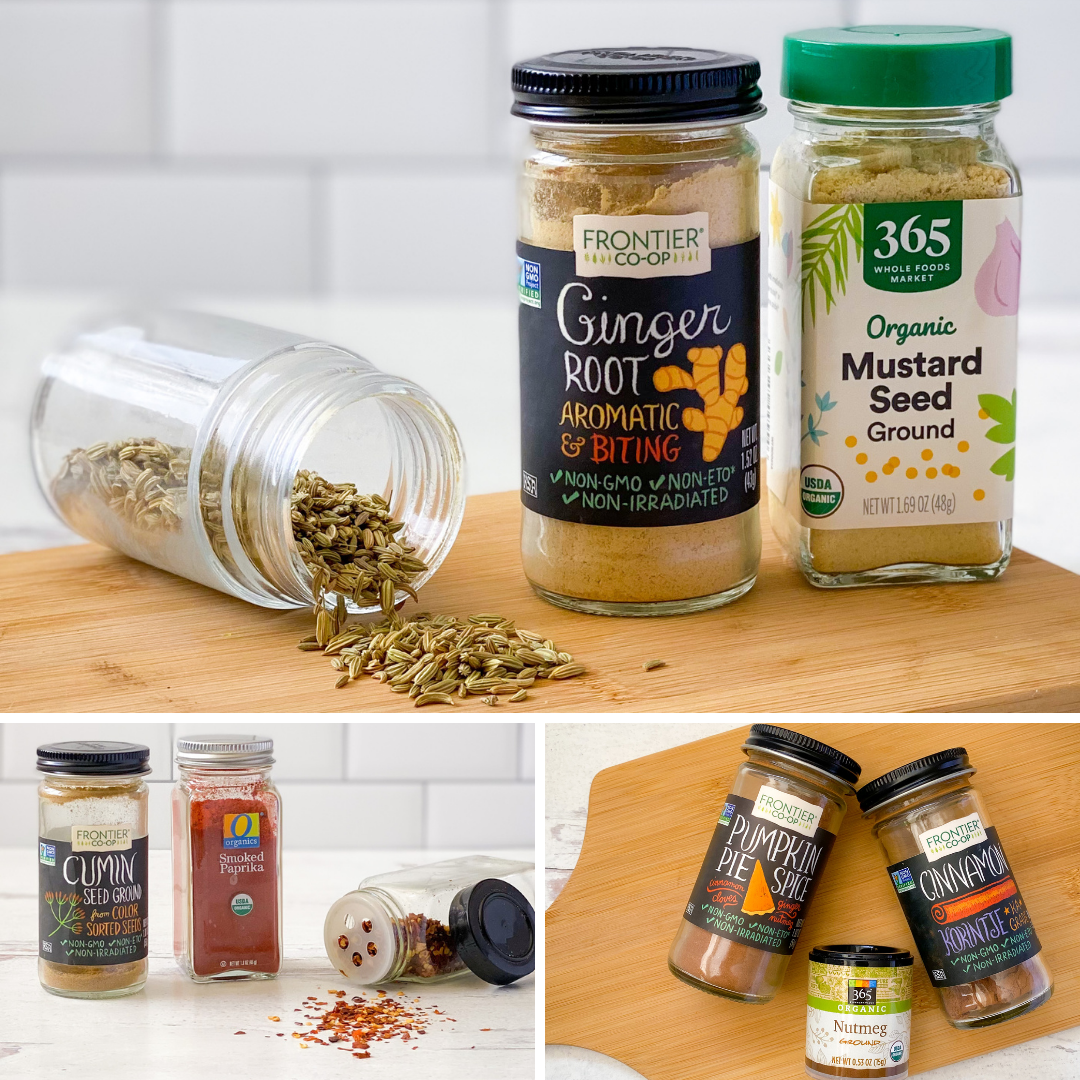 Nine Additional Spices and Herbs to Enhance Any Dish
fennel seeds – these whole seeds are typically used in European, Middle Eastern, Indian and sometimes Chinese dishes. They are used to bring a warm and sweet aromatic taste to dishes when cooked with.
ginger root powder – I love using ginger powder is many of my Asian inspired recipes, such as my Pineapple Teriyaki Chicken Burgers, Sweet Chili Sauce, and Ground Pork Eggrolls. Ground ginger has a very bold and pungent taste and smell to it and a little bit goes a long way.
ground mustard seed – typically I do not used this spice very often, but it's comes in very handy when I am putting together a salad dressing or sauces. Ground mustard is tangy and sharp in flavor.
cumin – this spice is perfect for many Mexican dishes. It holds a warm and earthy taste that goes perfectly in soups, stews, meat dishes and veggie dishes as well.
smoked paprika – this is probably one of my favorite spices. Smoked paprika will give any dish that perfect rich smoky flavor. It's perfect for soups and stews and I love using it in my Curried Lentil Stew recipe.
chili flakes – these are great when you're looking to add some heat to a recipe. It's a very versatile spice, but be careful because a little bit goes a long way.
cinnamon – sweet, woodsy with a slight note of citrus, cinnamon is definitely a must have spice. Typically you think of cinnamon as a spice that is added to baked goods, oatmeal or even coffee, but you can also add it to savory dishes. When I make Indian recipes, I sometimes like to add a dash of cinnamon to white basmati rice.
nutmeg – with it's traditional nutty taste, nutmeg can be used for both savory and sweet dishes. Nutmeg is very aromatic and gives off a hint of clove flavor when added to a recipe.
pumpkin spice – let's be honest, this spice will probably come out of your cabinet maybe a handful of times each year. Pumpkin spice is amazing in coffee and baked goods. Pumpkin spice is a blend of cinnamon, nutmeg, cloves and ginger.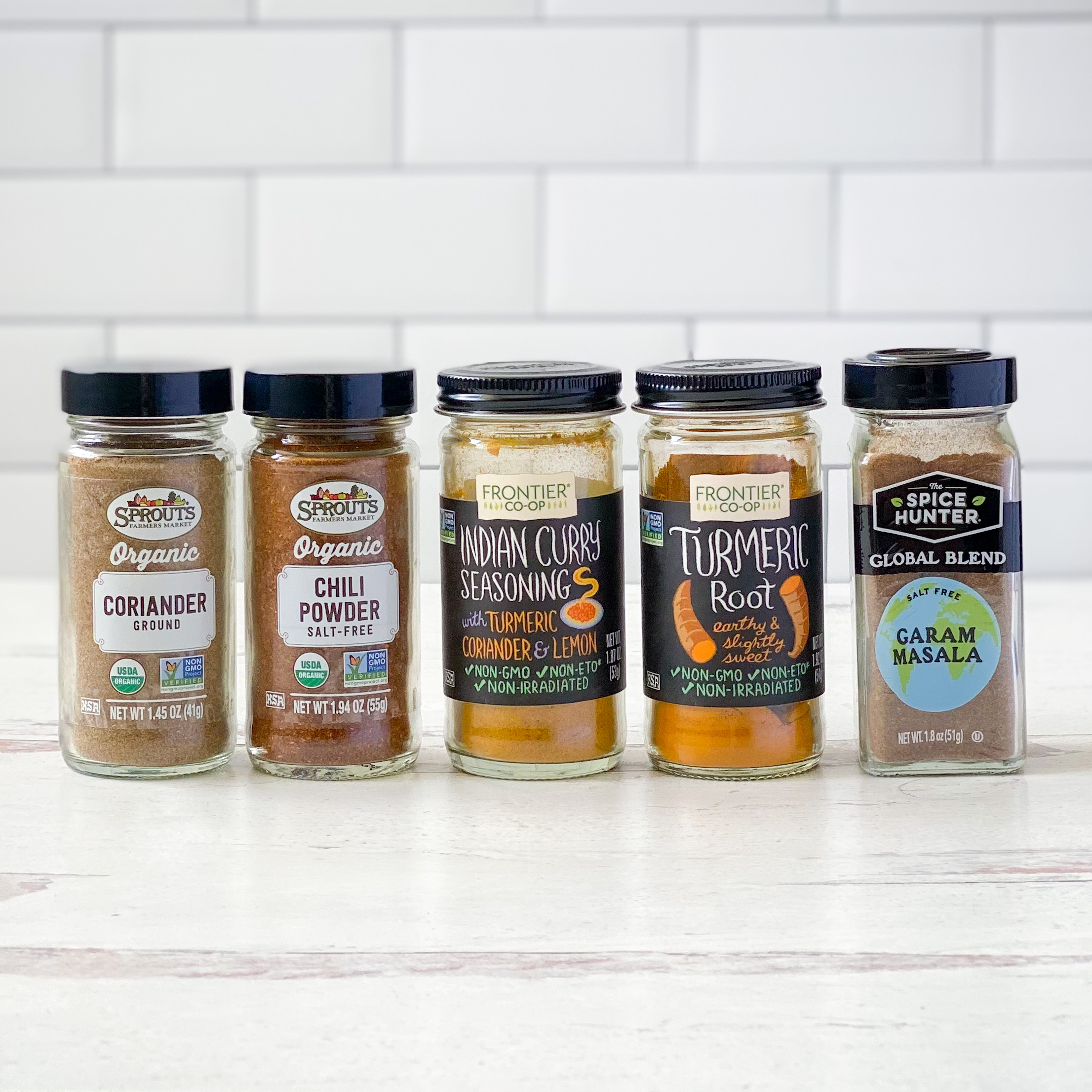 Five Spices for Any Indian or Middle Eastern Recipe
The five spices listed below are the ones that took me a while to get to. They are all beautiful, aromatic and bold spices that will take any dish to the next level. Turmeric and Curry Powder are two of my favorite spices to use, but just recently I have been exploring cooking with coriander, chili powder and garam masala.
coriander – this spice is made from the seeds of the cilantro plant. It offers a refreshing and also sweet like flavor to food. It is popular in curries, soups and stews. But you can also explore using it in salad dressings or sautéed dishes.
chili powder – this spice offers a relatively mild spice, depending on how much cayenne pepper is added into the blend. It is very aromatic and can be added to any recipe for an added kick.
Indian curry powder – there are many types of curry powders to choose from, so be sure to read the label to see what spices are included in each blend.
turmeric – with it's bold earthy, musky and peppery taste, turmeric is a beautifully aromatic spice to cook with. It's a very strong spice to incorporate into recipes because the flavor will definitely be pronounces. Turmeric offers amazing health benefits and it is one of my go-to spices when I am making an immune boosting recipe such as my Chicken Orzo Soup.
garam masala – it literally means "hot and warm spices" and it is made from a blend of cinnamon, peppercorn, cardamom, cumin, and coriander.