This site may contains affiliate links to products and/or sponsored content. Girl Appetit may receive a commission for purchases made through such links. 
This is probably one of my most exciting recipes so far. I don't know why, but I love making egg rolls! They are super easy to make, they're fun and they are so damn tasty. It had been a really long time since I last made egg rolls, so when I was putting together my March recipes I knew that I had to include this tasty appetizer (or meal, no judgement here) on the calendar. Simple is my motto, and I wanted to make sure that this recipe was as simple as it could be. Meaning, limited amounts of chopping, minimal ingredients and efficient cooking time. Matt and I were joking at how quickly I was able to make these egg rolls… we compared it to "as easy as making a peanut butter and jelly sandwich".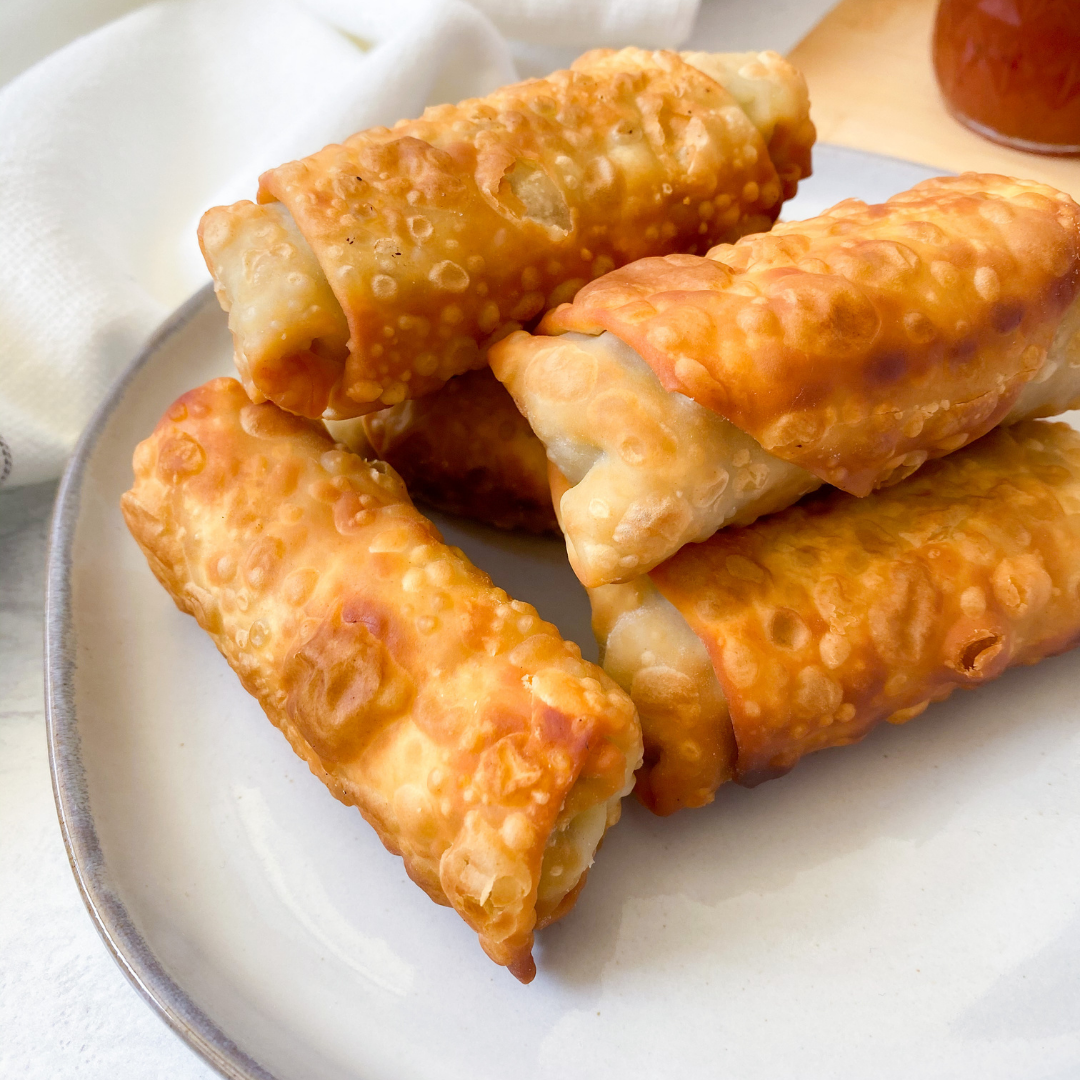 My Homemade Sweet Chili Sauce
There is nothing better than dipping delicious, crispy egg rolls in spicy sweet chili sauce. I've tried a fair share of store bought sauces, and a lot of them have been really good! But as you may have come to figure out about me, I love to make things myself from scratch. Sweet Chili Sauce is SO easy to make and you will know for sure that there won't be any hidden additives.
HERE IS MY SIMPLE SWEET CHILI SAUCE RECIPE
1 cup sugar
1 cup water
2 tbsp corn starch
1 tbsp chili paste
1 tsp ground ginger powder
1/2 tsp pink salt
1 tbsp rice wine vinegar
1 tbsp ketchup
Combine sugar and water in a small sauce pot and simmer until sugar has completely dissolved. This will create a simple syrup.
Once sugar has dissolved, begin whisking the simple syrup and carefully add in corn starch one tablespoon at a time. Whisking constantly.
Continue to whisk frequently (on a low heat) until simple syrup begins to thicken. This should take about 5 minutes or so.
Once the simple syrup has become thick, remove sauce pan from heat.
Add in remaining ingredients and mix together until well combined.
Allow sauce to cool down to room temperature before using.
Store in an air tight container (such as a mason jar!)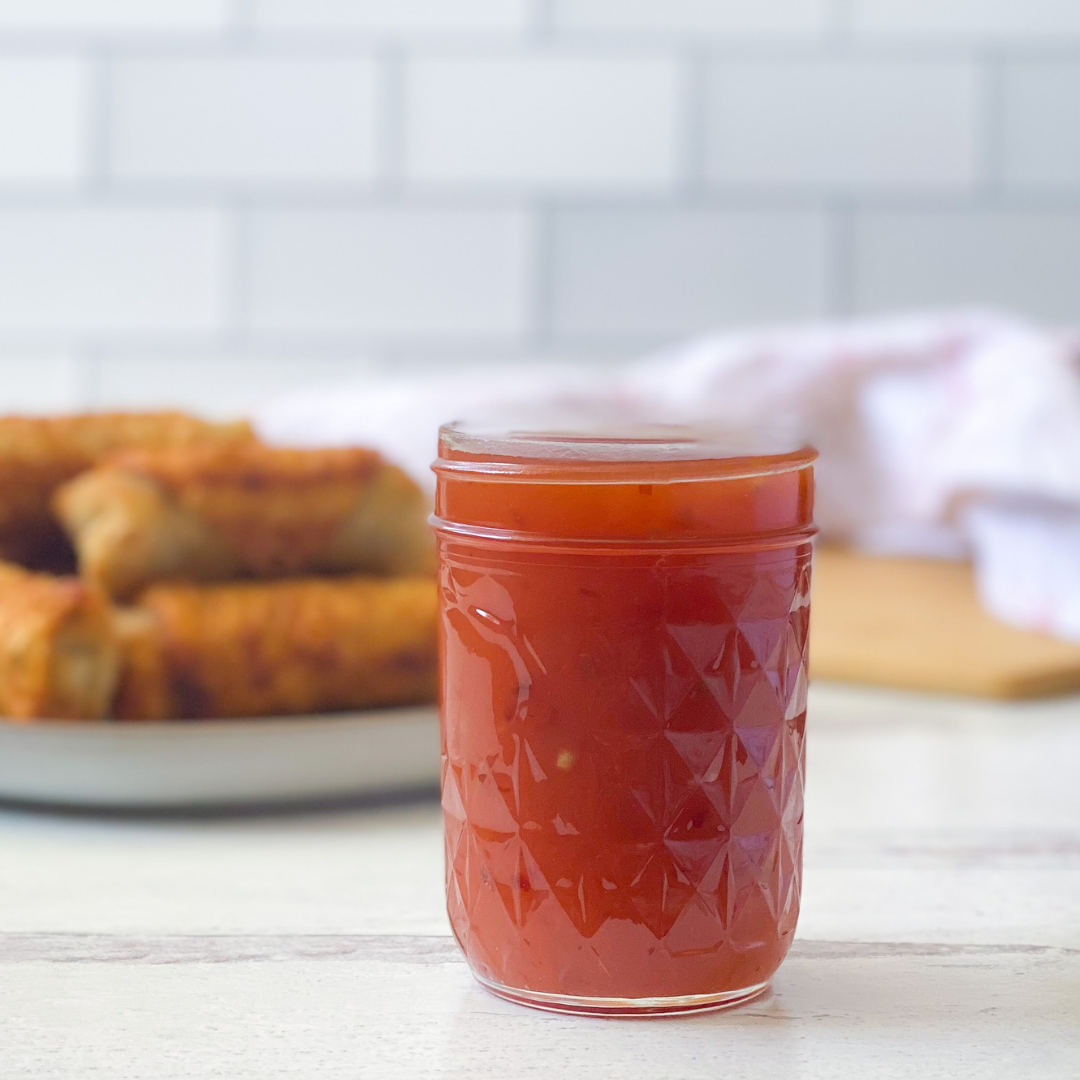 Now that you have made your delicious and simple Sweet Chili Sauce, it's time to make the egg rolls. These little guys will be a hit at any gathering or for a fun Friday night dinner. I decided to go for the pre-made coleslaw mix rather than buying the ingredients individually and putting it together myself because let's be honest, we want to cook something that won't take a ton of time! I used about half the bag for this recipe and saved the rest for another occasion.
Which Egg Roll Wrappers Should You Buy?
I just went for whatever my grocery store had in stock which was the Twin Dragon Brand. I believe I bought them at my local Albertsons store (same as a Vons or Pavillions) but at the end of the day, any type of egg roll wrapper will do the trick. Just be sure you are buying actual egg roll wrappers and NOT wonton wrappers. Wonton wrappers are much smaller and will not work for this recipe. Unless, you want to make teeny tiny egg rolls which would be kind of cute lol.
Ground Pork Egg Rolls
Ingredients
1 lb ground pork
Half of a 12oz bag of coleslaw mix
3 tbsp coconut aminos (or low sodium soy sauce)
2 green oninos, sliced
1/2 tsp pink salt (maybe a little less if you're using soy sauce)
1/2 tsp ground ginger powder
2 garlic cloves, crushed or minced
1 cup avocado oil (for frying)
2 tbsp avocado oil (for cooking filling)
1 pack egg roll wrappers (you'll be using 12-14 wrappers)
Directions
Step 1

Heat up 2 tbsp avocado oil in a large skillet or pan

Step 2

Add in pork and garlic. Cook on medium heat until pork is fully cooked (there should be no pink visible)

Step 3

Add in coleslaw mix and continue to sauce until veggies are tender. Should take about 5 minutes or so

Step 4

Add in green onions, salt, ground ginger powder and coconut aminos (or soy sauce)

Step 5

Mix everything together until well combined

Step 6

Let filling cool down to room temp before filling your egg rolls

Step 7

Use about 2 tbsp of filling to each egg roll wraper

Step 8

Fold in your egg rolls according to diagram posted below this recipe

Step 9

Once you've got all your egg rolls ready to go heat a large deep pan for frying

Step 10

Add in 1 cup avocado oil and let it get hot before you start frying your egg rolls (keep heat at about medium temp)

Step 11

When the oil is ready, carefully begin adding your egg rolls into the hot oil and fry each side until golden brown

Step 12

When they're ready, remove from oil and place on a cooling rack

Step 13

Allow your egg rolls to cool down a bit and enjoy!