This site may contains affiliate links to products and/or sponsored content. Girl Appetit may receive a commission for purchases made through such links. 
A simple and easy to make Vegan Olive Tapenade recipe for charcuterie night! I love olives so much and I always tend to forget about tapenade, so I thought it would be fun to make a homemade version of this yummy spread. It was surprising to see how easy it actually is to make your own olive tapenade. Tapenade is basically a spread or topping typically made up of pureed or finely chopped olives, capers and anchovies. Personally, I decided to not use the anchovies for this version because I wanted a vegan-friendly recipe. Olive Tapenade goes on just about anything; crackers, crostini, pita chips, bread… you can incorporate it into other recipes such as pasta dishes, stuffed mushrooms, etc.
What to Add to Your Charcuterie Board?
FRUIT – fruit is one of my favorite things to add to any and all charcuterie boards. They're delicious, fresh and bring a bit more health to the spread. My favorite fruits to use are typically berries such as: strawberries, blueberries, blackberries and raspberries. You can also opt for other types of fruits such as apples, oranges and even pears!
CRAKERS & BREAD – you can go for some sliced French bread or sourdough, but you can also toast them up to make crostini (which basically mean "little toasts"). If you are going for crackers, there are so many options to choose from! You can go with the typical snacking crackers (the yummy round ones, such as Ritz), you can opt for a rice crackers or other cracker thins such as Nut-Thins. I love buying those little ones that look like tiny toasts and are usually made with cranberries and other seeds. The possibilities are endless.
MEAT & CHEESE – although I do opt for a dairy free lifestyle, I do enjoy some delicious cheeses from time to time. Especially if we are talking about a charcuterie board! When it comes to the meat and cheese for your board, I recommend going for cured meats like salami, prosciutto, pepperonis, mortadella, Calabrese or Capocollo. My go-to cheese options are cheddar, Brie, Havarti, Gouda and even fresh Mozzarella. You can also go with goat cheese or blue cheese (personally I'm not into those).
SPREADS AND JAMS – there is a lot to choose from when it comes to spreads and jams. You can always go with, you know it… Olive Tapenade, fig jam and other types of jams. You can also choose from all types of mustards; stone ground, spicy, Dijon, classic, etc.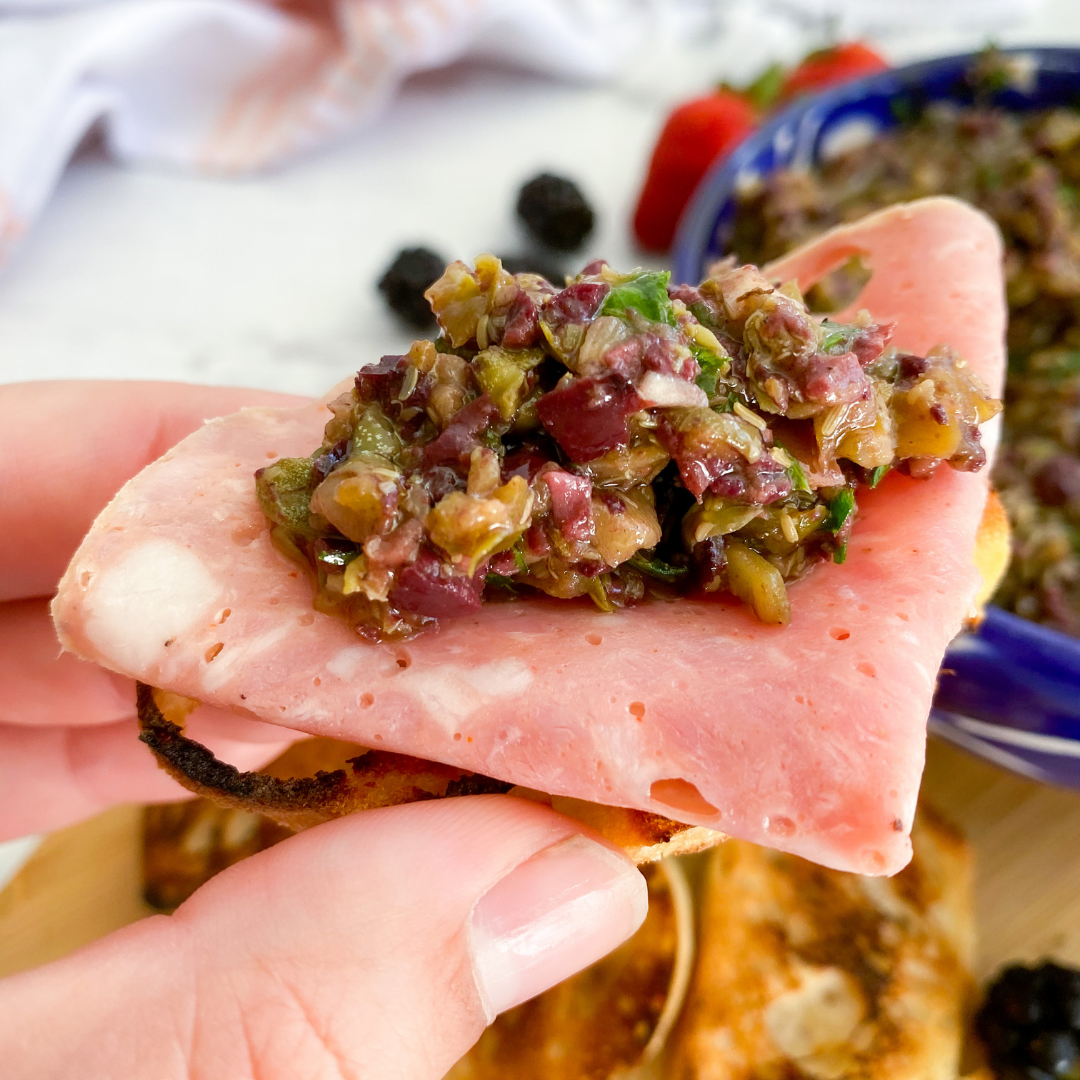 Vegan Olive Tapenade
Ingredients
6 oz can pitted green olives
4.6 oz jar Kalamata olives
2 oz jar capers
1/2 cup olive oil
1/2 tsp salt
fresh ground pepper to taste
3-4 garlic cloves
1/2 tsp oregano
1 tbsp lemon juice
handul Italian parsley
Directions
Step 1

Add all ingredients into a food processor and pulse 5-10 times until all ingredients are chopped and well combined.