This site may contains affiliate links to products and/or sponsored content. Girl Appetit may receive a commission for purchases made through such links. 
Chicken Noodle Soup is a classic staple in our household on cold days, if someone is feeling a bit under the weather, or if there is just a sudden craving for it. This year I decided to up-level this classic soup and turn it into something new and delicious. Behold, my immune boosting Chicken Orzo Soup. You are going to love this recipe so much, I promise you! This recipe actually came to be because earlier this year both my parents got sick and I offered to bring them whatever they wanted from my kitchen– and they both requested Chicken Noodle Soup. I decided that I was going to make a soup that was packed with immune boosting ingredients that would be comforting and super nutritious.
The golden color that the turmeric gives this soup is so beautiful plus the ginger powder and chili flakes give this Chicken Orzo Soup a kick that is so satisfying. I love using fresh ingredients, and the best quality ingredients, so in this recipe you fill find things such as fresh crushed garlic, organic carrots, onion, celery and chicken bone broth for an added boost of nutrients. I also love the fact that I chose to use orzo instead of the traditional egg noodle for this recipe. The orzo gives this chicken soup a new added texture that is so yummy. Plus, it makes it so easy to get an even bite of goodies each time!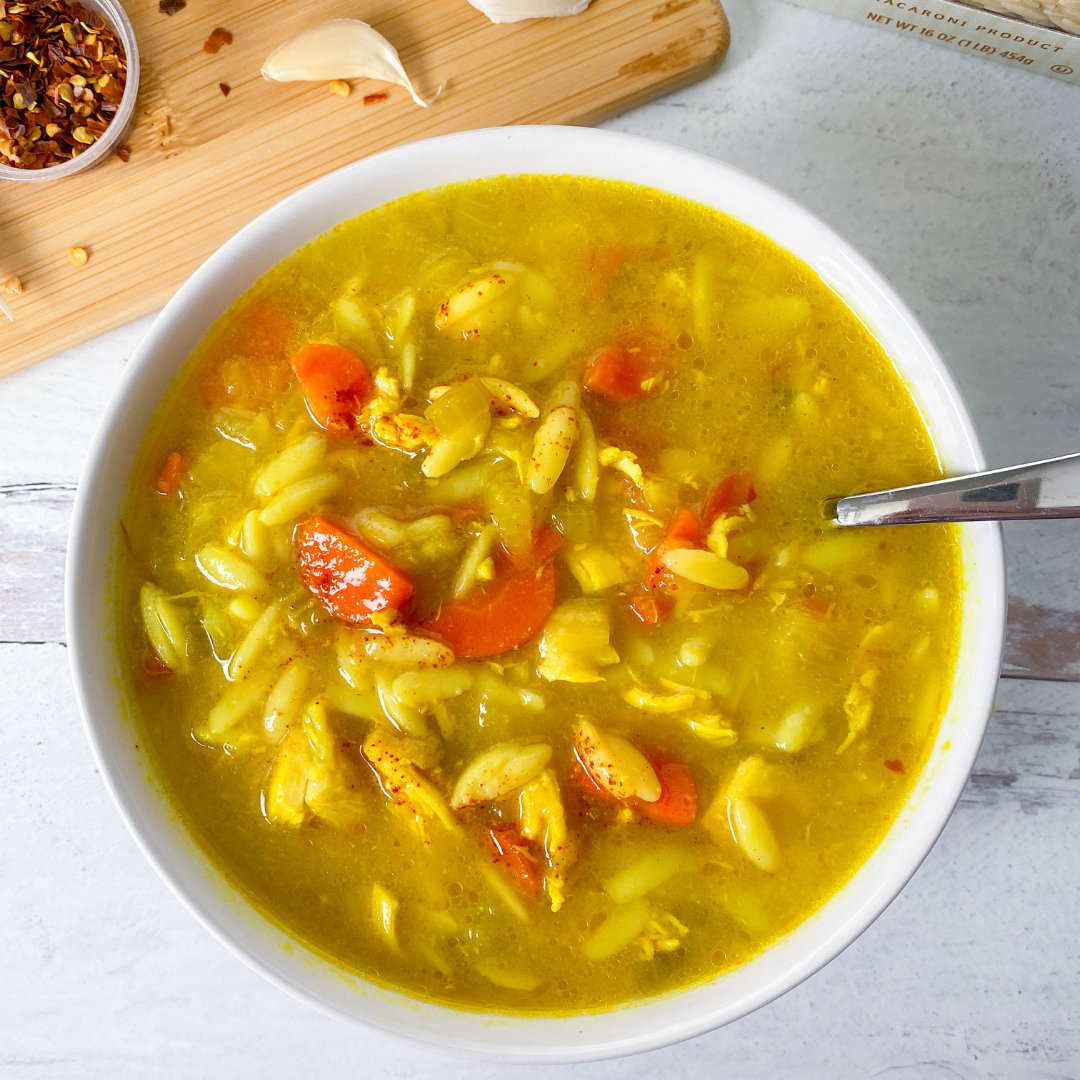 IMMUNE BOOSTING INGREDIENTS
THE VEGGIES – of course I had to stick with the classic veggies that you will find in any chicken noodle soup. Organic carrots, celery and onion were the way to go here. I love choosing organic veggies because you lower the amount of pesticides that can sometimes make their way onto conventional produce. Do I always buy organic? No, I don't always buy organic produce. But when I am able to I 100% go for it.
CHICKEN BONE BROTH – one of my favorite brands of bone broth is Bonafide Provisions. You can find them in the freeser section at lots of different grocery stores (you can check on their website to see if there are carried at a store near you). Bone broth helps support healthy digestion, joint health, boosts the immune system, helps keep skin, hair and nails in good shape, and also supports brain function!
TURMERIC AND GINGER POWDER – these two spices are packed with so many health benefits. Both support the immune system and help fight against infection and viruses. I buy my spices from Frontier Co-Op, and I find them at my local Whole Foods. Turmeric is a potent antioxidant and anti-inflammatory. It has the potential to help prevent diseases such as Alzheimer's and cancer. Ginger contains gingerol which is an amazing medicinal component. Ginger has been used for years to help heal the body.
FRESH GARLIC – it's always been known that garlic helps fight against cold and flus, but garlic can do so much more than that! Garlic may also support healthy blood pressure, lower cholesterol, improve the skin, help strengthen memory and even lower the risk of heart disease.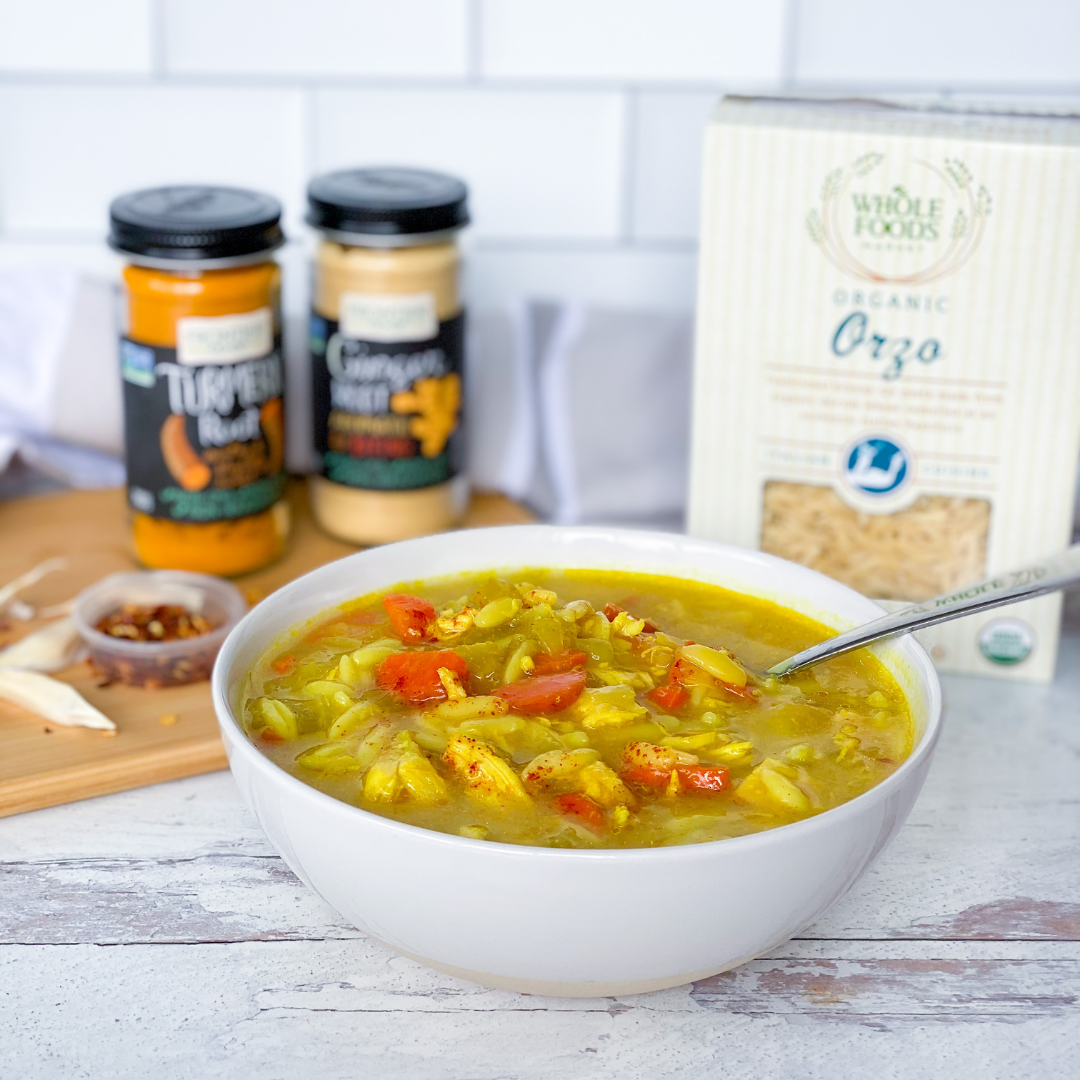 Chicken Orzo Soup
Ingredients
2-3 small chicken breasts (boneless skinless)
2 small carrots, sliced in half moon
3 celery ribs, diced
4-5 garlic cloves, crushed or finely minced
1 medium onion, chopped
2 tbsp olive oil
24oz chicken bone broth
4 cups filtered water
3/4 cup dry orzo
1 tsp ginger powder
1 tsp turmeric powder
1/4 tsp chili flakes
Directions
Step 1

First you will need to boil your chicken until fully cooked and then shred the cooked meat with two forks. Set aside when done.

Step 2

Second, in a large stock pot, heat olive oil.

Step 3

Add in your veggies and saute for about 10 minutes.

Step 4

Once veggies are tender add in garlic, shredded chicken, bone broth, water and seasonings.

Step 5

Bring to a boil.

Step 6

Add in orzo and then simmer for about 20-30 minutes until orzo is done.