This site may contains affiliate links to products and/or sponsored content. Girl Appetit may receive a commission for purchases made through such links. 
One of the best recipes I have ever made is my famous Bacon Beef Stroganoff. It was the very first thing I ever made for Matt, back when we first started dating (almost 12 years ago) and I honestly think it was what made him fall in love with me. Ever since I have been making that dish twice a year; once for his birthday and then again on Christmas Day. The last time I made it was last year for Christmas, I was already on my dairy free venture but decided to give myself the day off to enjoy this delicious meal. Needless to say it didn't go over so well. The amount of dairy that I have been including in this recipe was insane. Absolutely freaking delicious, but insane. For a while I played around with the idea of making a dairy free version of my stroganoff, but Matt said that he wouldn't let that happen lol. It wasn't until this year that I finally had the opportunity to experiment with it!
It was actually a request from one of our closest friends that made this recipe happen. Our friend is currently going through chemotherapy treatment for the cancer he was recently diagnosed with. The treatments have been extremely hard on him and the side effects of the chemo was making it very hard for him to keep food down. He loves beef stroganoff but at the time wasn't able t handle chunks of meat, so he asked me if I could make him a simple Mushroom Stroganoff. I immediately said yes, and right then decided that I would also test out a dairy free version of it to make it even that much healthier for him. My goal was to try to stick to the original flavor and texture as best I could. This dish still had to somewhat taste like the original, but not have any of the dairy of beef.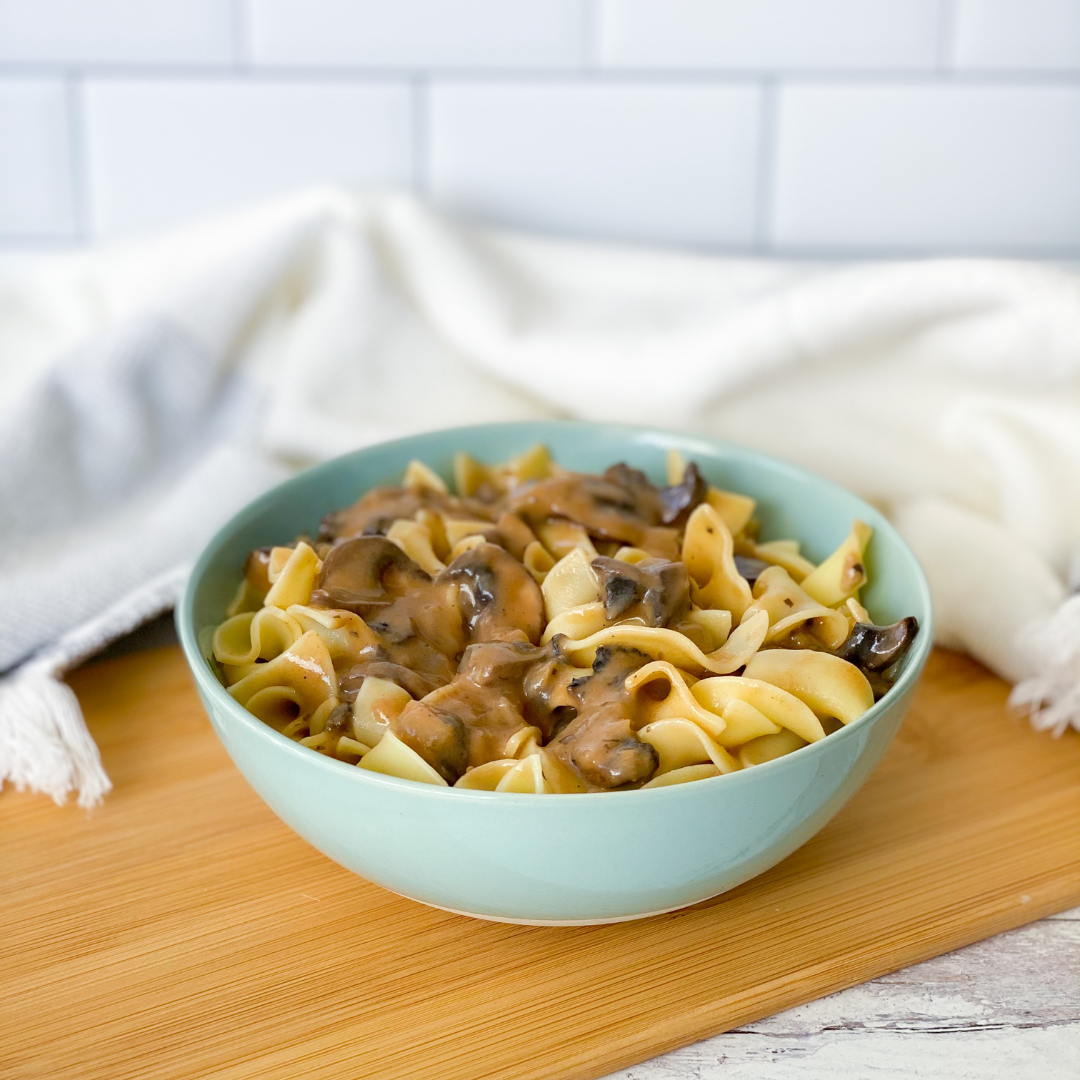 COMING UP WITH THE INGREDIENTS
I spent a few days thinking about how I was going to make this happen, and I decided that opting for a high quality beef bone broth would be one of my better options. This way, I could still carry in the beefy flavor without the beef. As for the dairy alternatives, I decided to go with coconut cream and a dairy free yogurt alternative. I actually ended up making this recipe twice, the first time it turned out really good, but not perfect. I used plain coconut yogurt the first time I made the mushroom stroganoff but later decided to use plain cashew yogurt for the second round.
MAKING A ROUX IS SO IMPORTANT!
Another mistake I made the first time around was not incorporating making a roux before going ahead with the rest of the ingredients. A roux is a mixture of fat (especially butter) and flour used in making sauces. This, I learned, was extremely important when making this sauce to ensure that it is thick and creamy.
THE BEAUTY OF USING TRUFFLES IN THIS RECIPE
On a whim I decided to add in some black truffle carpaccio into this recipe. I'd say that it's totally optional as truffles can be hard to find and they can be pricy, but it totally elevated this recipe. I was able to get my hands on a jar of black truffle carpaccio from my local Costco, but I am sure you might be able to find it as certain stores or online. Just be sure you aren't just using truffle oil. The flavor that the truffles brought into the Mushroom Stroganoff was so amazing. Because of the ingredients I was using to keep this version dairy free, there was a bit more acidity than my usual recipe carried. The truffles completely rounded out the flavor and brought in an earthy, robust tone to the sauce.
Click here to check out the Black Truffle Carpaccio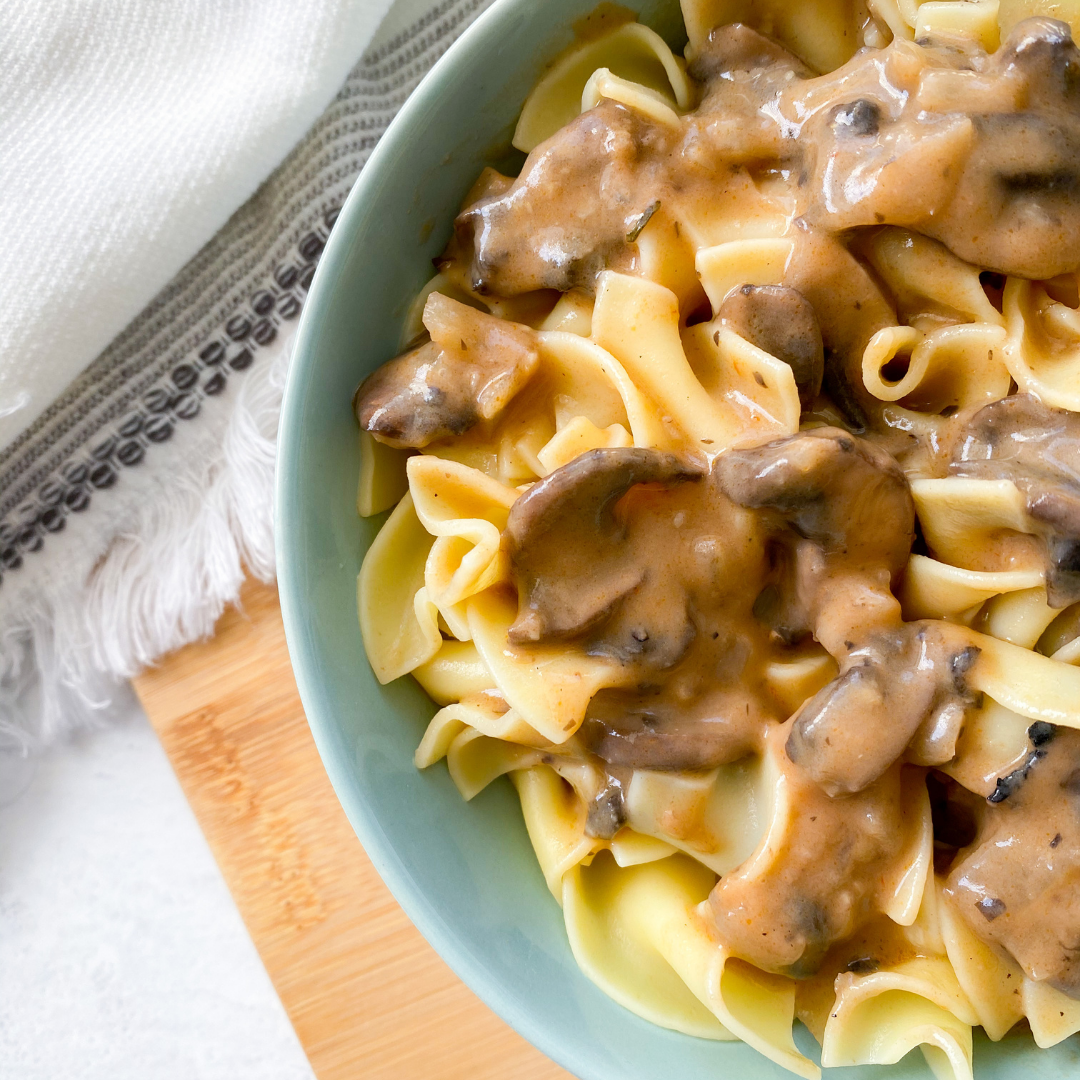 LAST YEAR WAS A TOUGH YEAR. NOT ONLY WAS OUR DEAR FRIEND, SEAN, DIAGNOSED WITH NON-HODGKINS LYMPHOMA IN EARLY DECEMBER… BUT OUR OTHER AMAZING FRIEND, KEVIN, WAS DIAGNOSED WITH STAGE 4 BRAIN CANCER (GLIOBLASTOMA) IN EARLY JUNE, 2020. BELOW I AM LINKING BOTH OF THEIR GOFUND ME ACCOUNT WHICH GO OVER THEIR STORY AND THEIR PROGRESS.