This site may contains affiliate links to products and/or sponsored content. Girl Appetit may receive a commission for purchases made through such links. 
Growing up, my mom always made us lentil stew and I loved it! I just love how versatile lentils can be, you can literally make them so many different ways. As a kid, we always had them with lots of smoked paprika, chorizo and sometimes a hard boiled egg on top. That's how we did it in Chile. I will definitely have to re-make that version one of these days and share it with you! Lately though, I have been really enjoying making my lentil stew with warm and earthy spices. Not sure exactly when it was that I started making it this way, but once I began adding turmeric and curry to my lentils I couldn't go back! It's so good and I can't wait for you to try it yourself. My curried lentil stew is the ultimate comfort food, it's perfect on any given weeknight, it makes for an amazing meal prep and you can freeze leftovers and enjoy later!
My Favorite Meal Prep Soup Containers
One of my favorite things to do each week is to prep at least one large batch of soup, stew or amazing sauce that I can enjoy once that week then freeze the rest for a rainy day. I love using these 32oz deli style containers from Amazon, they are super durable, freezer and dishwasher safe and last forever! They also make it super easy whenever I am gifting friends and family some of my meals.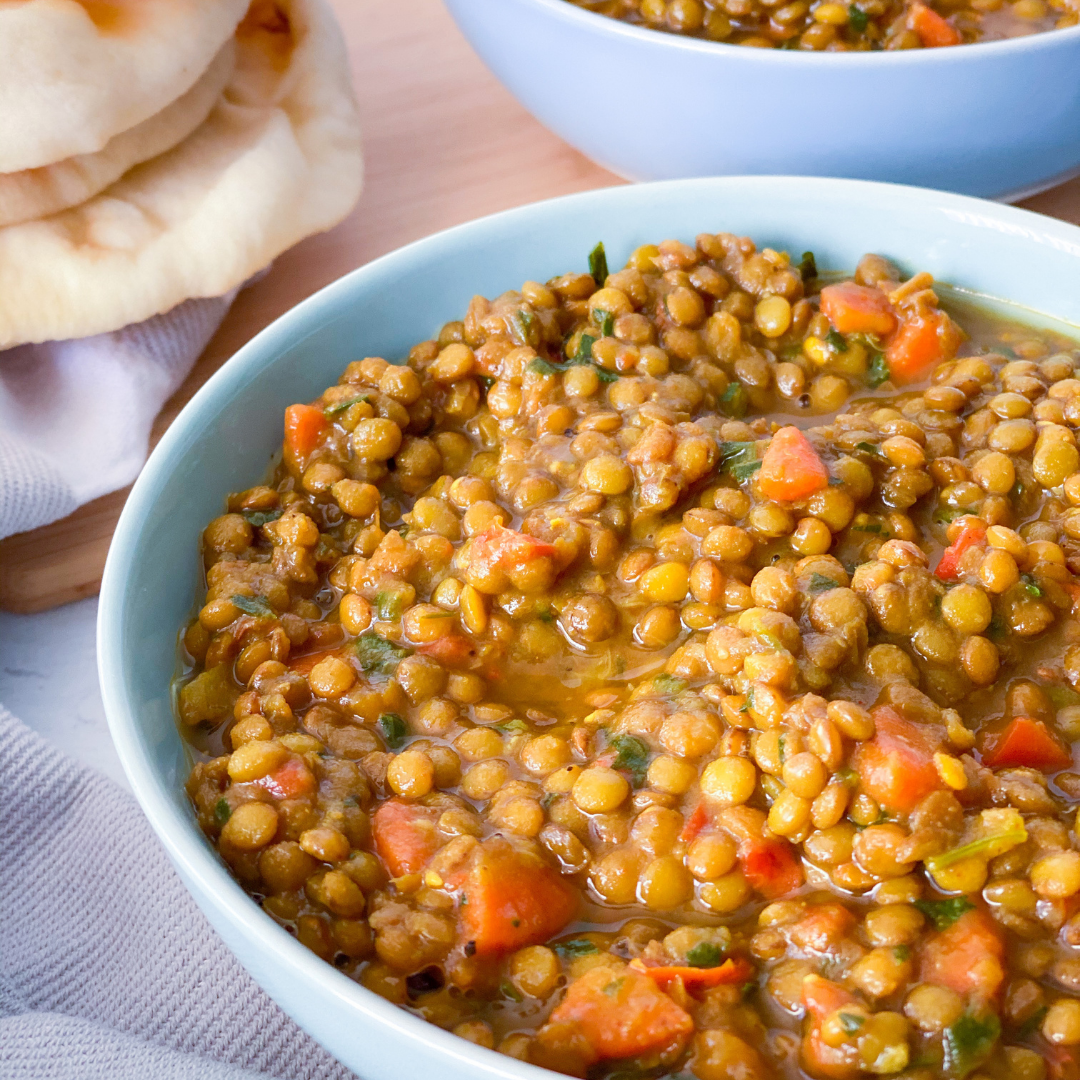 Curried Lentil Stew
Ingredients
1 medium brown onion, diced
1 large carrot (about 1.5 cups) quartered length wise then diced
3-4 garlic cloves, minced or crushed
1/2 large red bell pepper, diced (about 1 cup)
2 tsp pink salt
32 oz veggie broth
1 lb green lentils
1 tsp curry powder
1 tsp smoked paprika
1/2 tsp turmeric powder
1/2 cup fresh Italian parsley, chopped
1/2 cup water
Directions
Step 1

In a large stock pot add in 1-2 tbsp avocado or olive oil

Step 2

Once oil it hot, add in onions, carrot, bell pepper and garlic

Step 3

Saute for about 8 minutes or until veggies are tender

Step 4

Add in broth, spices and lentils

Step 5

Bring to a boil then simmer for about 60 minutes

Step 6

Stir occasionally

Step 7

Add in an additional 1/2 cup water

Step 8

Continue to simmer lentils until they are tender. They may take a little longer than 60 minutes and you may need to add a little bit more water

Step 9

Stew should be thick and not too liquidy

Step 10

Finally, add in fresh parlsey and mix it in.