This site may contains affiliate links to products and/or sponsored content. Girl Appetit may receive a commission for purchases made through such links. 
Who doesn't love a good spinach and artichoke dip? It's actually one of my favorite dips so I was super excited to take on the challenge to make another one of my favorite appetizers dairy free. So far this year I have learned that living a dairy free lifestyle really isn't as tough as I thought it would be. Yes, I do miss indulging in mac n cheese, pizza, or a fancy charcuterie board whenever I want. I am definitely in the position where I carefully pick and choose when I will eat some dairy. Anyway, back to the spinach and artichoke dip… I am so happy with the way that this recipe turned out; creamy, rich, savory, delicious. Made with amazing ingredients, this will be the hit at any gathering or date-night-in.
My Dairy Free Go-To's
If you've been following my recipes for a while now, you'll know that I am a huge fan of Miyoko's Creamery vegan products. For this recipe I chose to use their vegan cream cheese spread and the pepper jack "cheese" shreds. Why do I use Miyoko's for most of my dairy free recipes? Well, because they taste good, they melt very well and they are made with really good ingredients!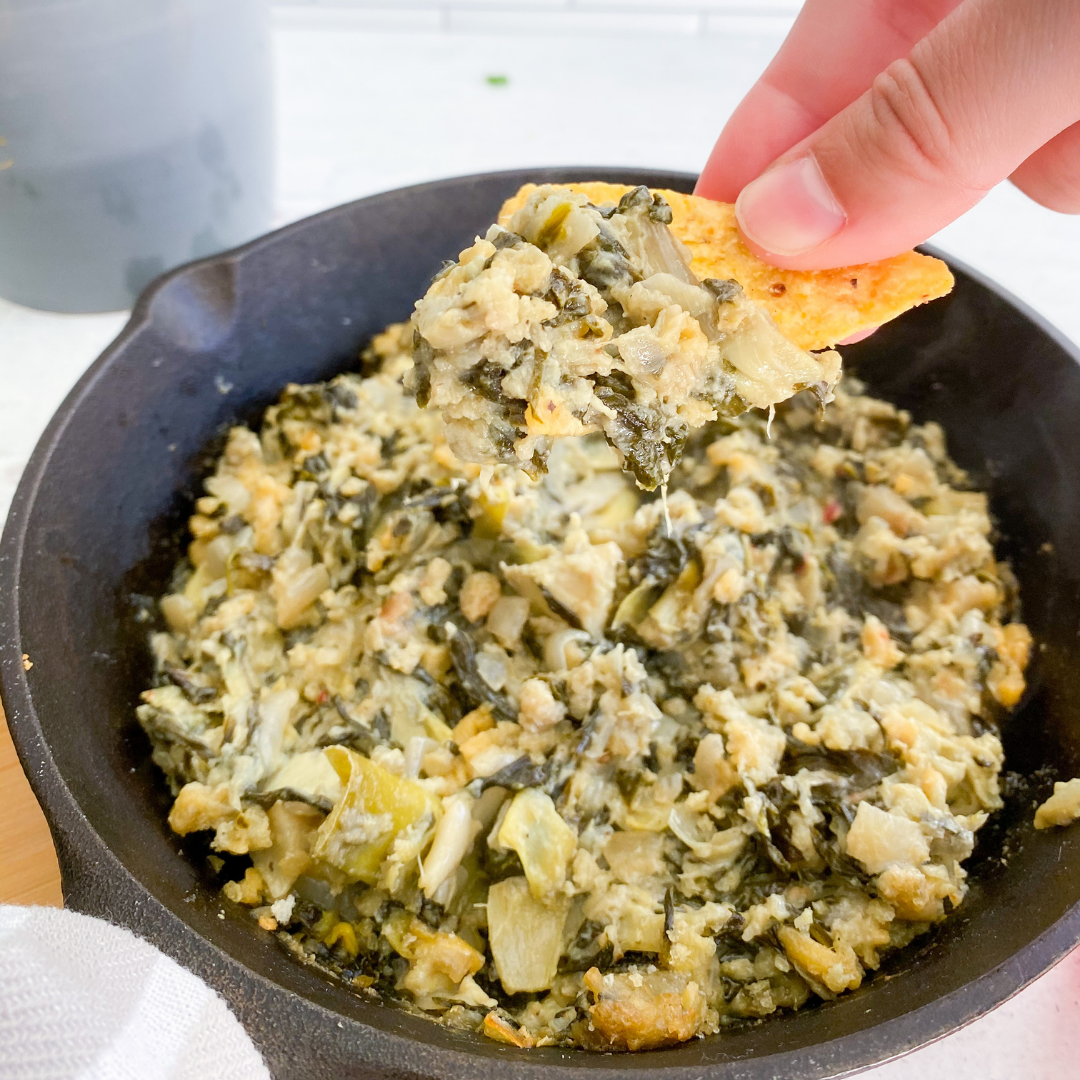 Dairy Free Spinach Artichoke Dip
Ingredients
10 oz organic spinach
1 medium brown onion, diced
3 garlic cloves, minced or crushed
1/2 cup vegan pepper jack cheese
3 tbsp vegan butter
1/3 cup vegan cream cheese
1.5 tsp pink salt
pepper to taste
14 oz can artichoke hearts, chopped
gluten free bread crumbs (for topping)
Directions
Step 1

In a large cast iron (or oven safe pan) melt down butter

Step 2

Add in onions and cook for about 5-8 minutes or until onions are translucent

Step 3

Add in garlic and saute for another couple minutes

Step 4

Wash and rough chop your spinach before adding it into your large skillet

Step 5

Saute until spinach is fully cooked down

Step 6

Season with salt and pepper

Step 7

Lower heat and melt in vegan cream cheese

Step 8

Once creamcheese has metled, add in vegan pepper jack cheese and mix until fully melted

Step 9

Finally, add in your artichoke hearts and combine all ingredients together

Step 10

Preheat oven to 425 degrees and bake your spinach artichoke dip for 10 minutes

Step 11

Finally, top your dip with gluten free breadcrumbs and put back in the oven for another 3-5 minutes on a LOW BROIL.