This site may contains affiliate links to products and/or sponsored content. Girl Appetit may receive a commission for purchases made through such links. 
I guess I should start off this post with saying that I had originally written it a few days ago, but somehow the post was completely blank when I went to go publish it today. So I am writing this from scratch, again… oh well. I've been meaning to copy/paste all of my posts in a Google doc as back up, so I guess this is my sign from the universe to get that started ASAP. But enough about that, let's get to today's recipe!
Stuffed Bell Peppers are my husbands favorite. Whenever I ask him for some suggestions for the meal plan, he always mentioned stuffed bell peppers. I love them to, and so does our son, Liam! My go-to combo is always made with ground beef but I have played around with turkey and also plant based, but ground beef has to be my favorite. Something I always do as well is combine the filling with either rice or quinoa. This way I have a lot of filling available to generously stuff the bell peppers (no puny peppers here!). Between the two, I do prefer quinoa, mostly because I find it incorporates very well with the ground beef.
Add a Little Green
I always love adding a little  green to my stuffed pepper filling. My go-to is typically organic spinach, but I have also loved using swiss chard or kale in the past. Since we've got a 4 year old, I make sure to always incorporate as many veggies as I can into my recipes. Liam isn't a necessarily a picky eater, but he does have his moments from time to time and I found that if I put in greens to basically every dish it doesn't come across as a "weird thing" to him. 
Make it a Meal Prep Recipe!
Stuffed Peppers make a great meal prep recipe. You can make the filling the day before or early in the day and stuff your peppers later when you are ready for dinner. You can even stuff them ahead of time, store them in an air tight container and you're done! What I like most about this recipe is that you literally make everything in one pan so you don't have to be messing around with a bunch of different steps.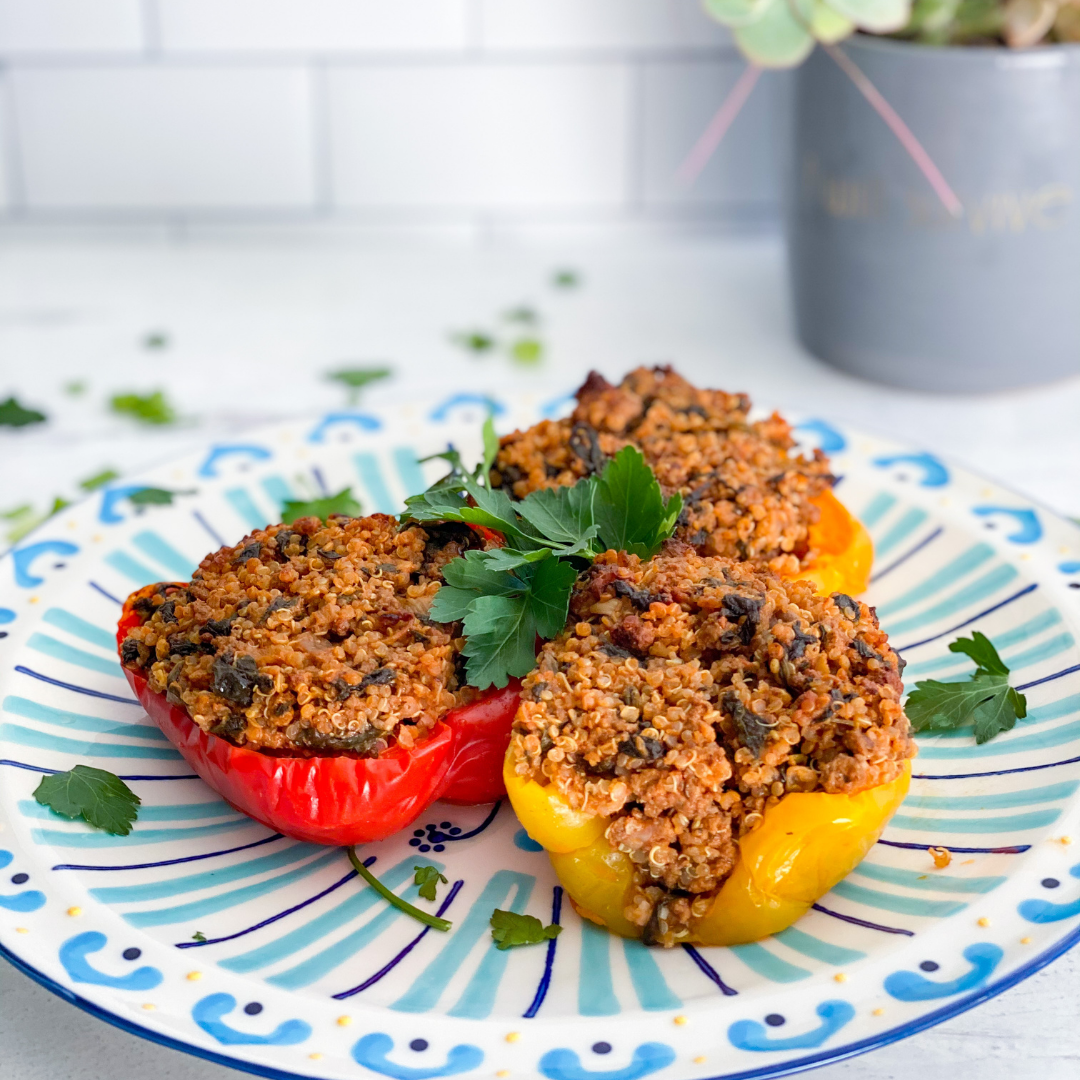 Stuffed Bell Peppers
March 12, 2021

makes 6 servings
Ingredients
3 large bell peppers, sliced in half lengthwise
1 lb ground beef
5 oz bag raw organic spinach, rough chopped
1/2 large brown onion, diced
2-3 cloves garlic, minced or crushed
1/2 cup dry quinoa
1/2 small can tomato paste
1/2 tsp garlic powder
1 tsp oregano
1 tsp pink salt
pepper to taste
Directions
Step 1

Start by preparing your quinoa. Cook according to directions. Typically you would combine 1 full cup of filtered water to 1/2 cup of dry quinoa (but check cooking instructions just in case)

Step 2

Once quinoa is done, set aside for later

Step 3

Heat a large skillet on medium high heat and add in 2 tbsp avocado oil

Step 4

Once oil is hot throw in your onions and garlic. Saute for about 5-8 minutes until onion is translucent and tender

Step 5

Add in your ground beef and saute until fully cooked

Step 6

Mix in the raw spinach and seasonings

Step 7

Add in tomato paste and mix until well combined

Step 8

Finally, add in your cooked quinoa and mix everything together

Step 9

How to stuff your peppers: Wash and dry your peppers, cut in half length wise. Carefully cut out the stem. Generously stuff each pepper with your ground beef / quinoa filling

Step 10

Preheat oven to 400 degrees

Step 11

Place your peppers on a lightly oiled Pyrex and bake your peppers for 45-60 minutes (length of time depends on how soft you like your peppers, I personally prefer them closer to the 60 minute mark)

Step 12

TIP: Cover your peppers with parchment paper before placing them in the oven. Then uncover for the last 10 minutes.