This site may contains affiliate links to products and/or sponsored content. Girl Appetit may receive a commission for purchases made through such links. 
I was so excited to learn that I was accepted into the Flavor Your Life x Mom's Meet blogger review program. I couldn't wait to try out Le Stagioni d' Italia's 100% Extra Virgin Olive Oil and Carnaroli rice. One of my favorite parts about begin a food blogger, is the opportunities I am given to try new products! Before receiving the generous package from Flavor Your Life, I didn't have much knowledge about Extra Virgin Olive Oil. Sure, I have used it while cooking, drizzled it over salad and other dishes, but I hadn't really gotten the chance to learn where it comes from.
The History of Olive Oil
Olive oil has been around for thousands of years and it has been part of many cultures everyday life. Many civilizations grew, processed and traded olive oil as a means to live. But through the years olive oil became more than just a tradable good, it infused itself into the lives and cuisine for many cultures around the world.
Originating in Europe, there have been thousands of different olive oils made from various types of olives. The science and technology that was used to first create olive oil dates back so long that no one knows exactly who was the first to discover it. Over time, the process, flavors and variations have evolved into what we know today and continue to love and discover.
What is Extra Virgin Olive Oil, Exactly?
Extra Virgin Olive oil is different from regular Olive Oil because of the way that it is made and processed. The process in which EVOO is made includes the pressing of the leaves without using heat or any chemicals. This cold pressed technique actually presses the fresh juices from the olives.
Experts over at Flavor Your Life state, "Peroxide value must be below 20 milliequivalents of oxygen/kilo of oil, which indicates the amount of oxidation or aging that's occurred as a result of exposure to oxygen, light and heat." In order for it to be considered Extra Virgin, olive oil must be practically free of any acidity. When level are high is will be considered improperly made and rancid.
Flavor Your Life, Educating Others About Extra Virgin Olive Oil
The Flavor Your Life campaign is dedicated to educating people from around the globe and North America about the misconceptions are Extra Virgin Olive Oil, how it's made and how it is used. All while opening up a world of flavor, delicious experiences and culture. You can learn more about Flavor Your Life and Extra Virgin Olive oil online at www.Flavor-Your-Life.com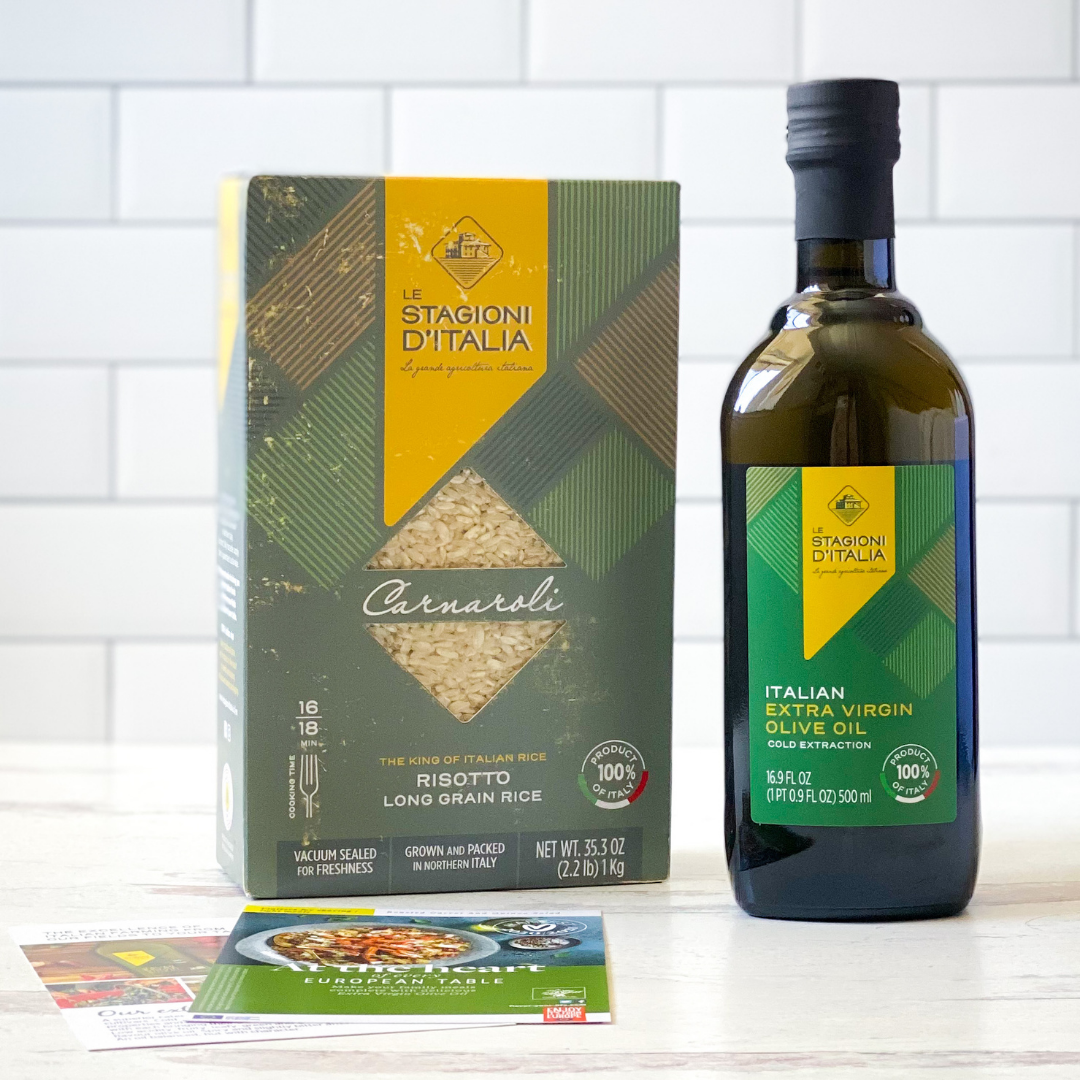 How to Cook with Extra Virgin Olive Oil:
experiment with different oils for different occasions
use delicate oils for salad dressings or as a condiment over mild foods, like vegetables, fish, eggs or potatoes
pair robust oils with heart foods that can stand up to the intense flavor, like steak or spicy foods
with a high smoking point of 400 degrees (F), EVOO is suitable for cooking and can enhance any dish by drizzling on as a finisher
At first, I wasn't sure exactly how to go about with taste testing EVOO. I knew that I would be making a recipe with it, but I also knew that I wanted to get the full, well-rounded, experience with the product. So before I even stepped foot in the kitchen to cook something up, I went to the store and bought myself a fresh loaf of French bread.
I poured some of the Extra Virgin Olive Oil into a dish, sprinkled in some salt and fresh ground pepper and a little bit of dry oregano. With the freshly baked French bread all nice and warm, I went ahead and dunked a perfectly torn off piece into the oil. It was SO good! The flavor of the olive oil was so bold, almost naturally peppery too, it probably totally would have been just as delicious without any of the seasonings I added.
My only experience having EVOO like this has been at Italian restaurants. You know, when they bring you that magical little basket full of yummy bread, along with a dish of oil and/or butter? Well, I think that it is safe to say I will be bringing that experience home a lot more often moving forward.
After learning so much about the product, the quality, along with the history of how 100% Extra Virgin Olive Oil is made, I was excited to finally cook with it! Flavor Your Life sent me a handful of cards with so many delicious recipes to try, it was hard to choose just one to make for this blog review. But after careful consideration I decided to try out their Roasted Carrot and Quinoa Salad recipe.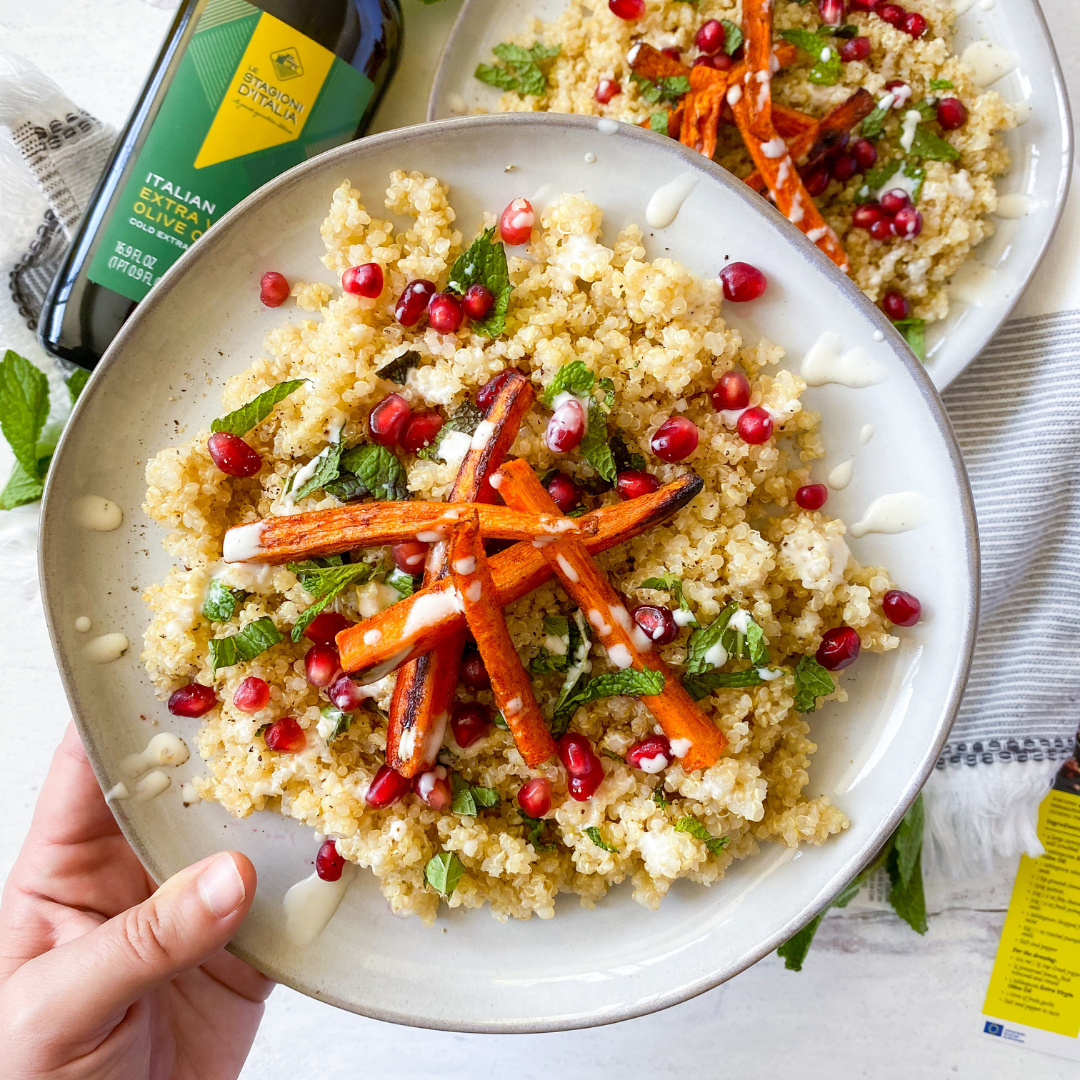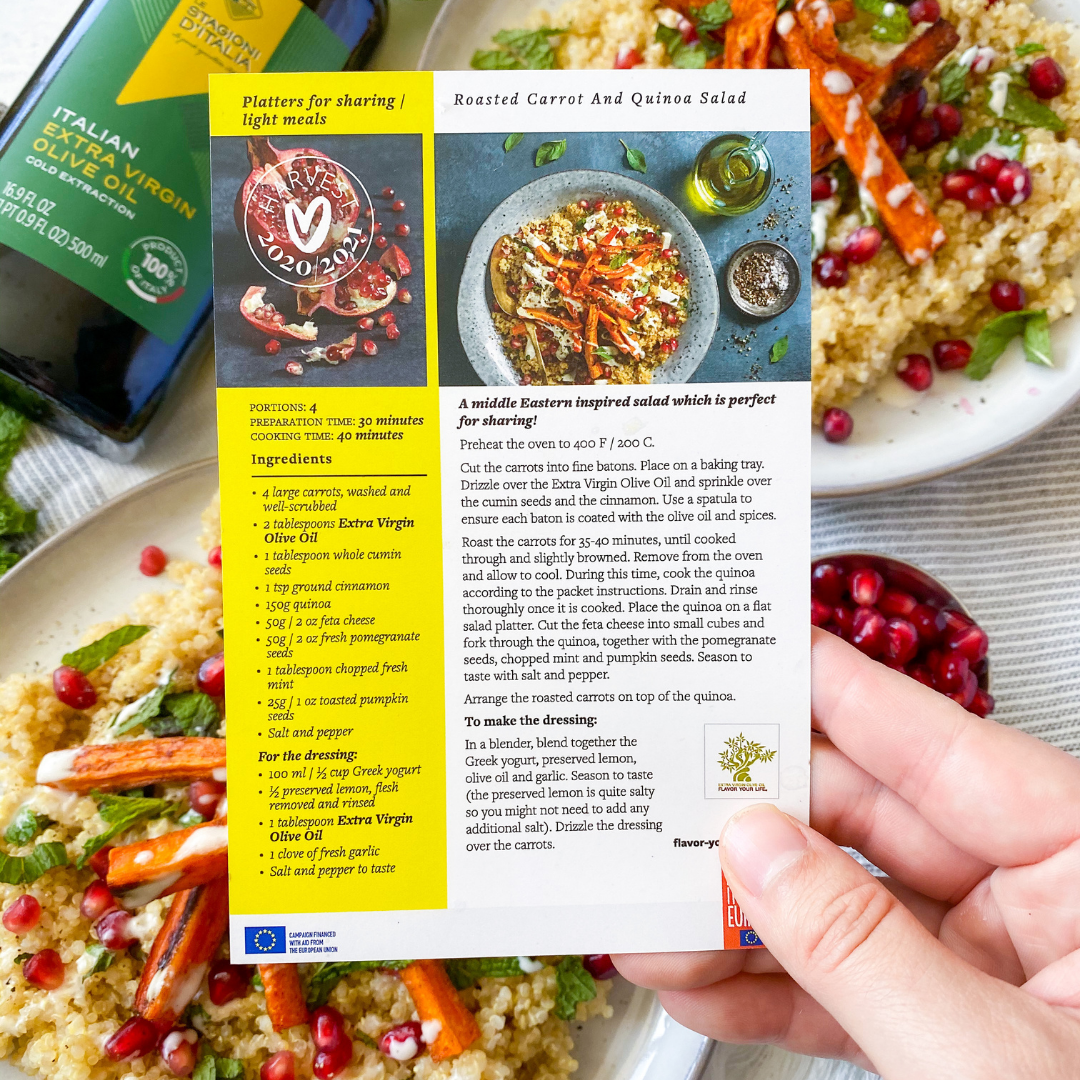 The recipe below is almost exactly like the one that was given to me by Flavor Your Life (pictured above). I have made a few modifications in order to make it dairy free. Here are a few other changes I made: I used ground cumin instead of the whole cumin seeds, I did not include feta cheese or toasted pumpkin seeds in my version of the recipe. For the dressing, I used plain cashew yogurt instead of Greek yogurt. I was unable to find "preserved lemon" so instead I used fresh lemon juice.
Roasted Carrot and Quinoa Salad
Ingredients
3-4 large carrots, washed and peeled
2 tbsp Extra Virgin Olive Oil
1 tbsp ground cumin
1 tsp ground cinnamon
1 cup quinoa
fresh pomegranate seeds
1-2 tbsp chopped fresh mint
salt and pepper to taste

For the Dressing:
1 cup plain cashew yogurt
juice of 1 whole lemon
1 tbsp Extra Virgin Olive Oil
1 clove garlic
salt and pepper to taste
Directions
Step 1

Preheat oven to 400 degrees (F)

Step 2

Cut carrots into 2-3 inch sticks and place on a parchment paper lined baking sheet. Dress with Extra Virgin Olive oil, ground cumin and cinnamon. Gently toss to coat carrots evenly. Roast for about 35 minutes. Set aside when done.

Step 3

While carrots are roasted, cook quinoa according to directions on package (typically you want a 1:2 ratio, meaning for every cup of quinoa you want to cook, use 2 cups of water)

Step 4

To make the dressing add all ingredients to a food processor and blend together

Step 5

Once both quinoa and carrots are done, place quinoa on a flat plate and garnic with pomegranate seeds, fresh mint and roasted carrots

Step 6

Drizzle dressing over dish and enjoy!