This site may contains affiliate links to products and/or sponsored content. Girl Appetit may receive a commission for purchases made through such links. 
This easy slow cooker corn chowder recipe is going to become your families new favorite weeknight meal. Made with simple and wholesome ingredients, everyone will love how delicious this easy slow cooker corn chowder tastes!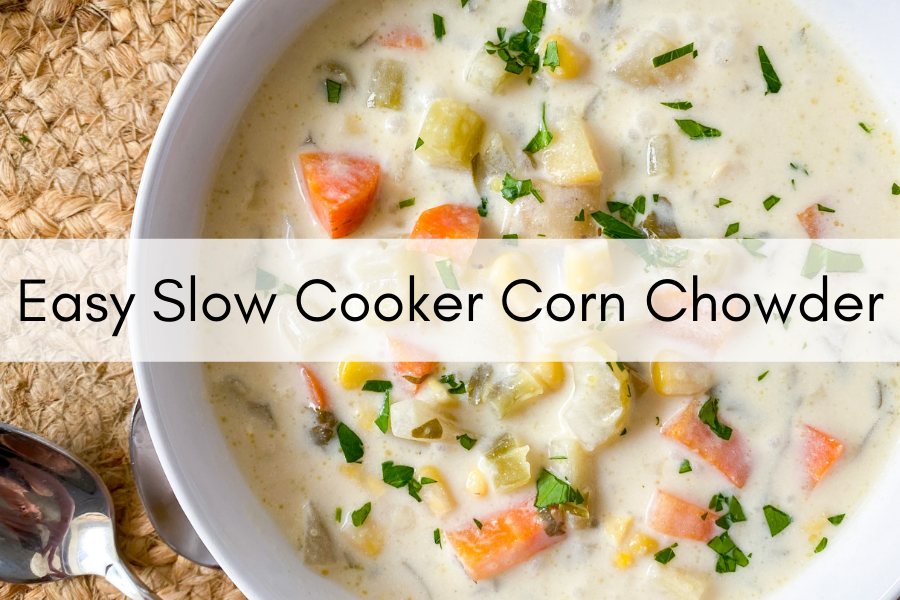 When you are busy, sometimes there is not enough time in the day to spend in the kitchen. This is why slow cookers are such an amazing tool to have in the kitchen. As a working mom myself, putting together simple slow cooker meals, like this easy slow cooker corn chowder, makes daily life so much less stressful.
You are going to find out just how easy is it to put together a delicious weeknight dinner in just minutes. The best part being that this easy slow cooker corn chowder recipe will be ready to enjoy by the time you are done with your day.
Once you have made this amazing and easy slow cooker corn chowder, you will learn how simple meal time can be!
This post is all about how great and simple it is to make this easy slow cooker corn chowder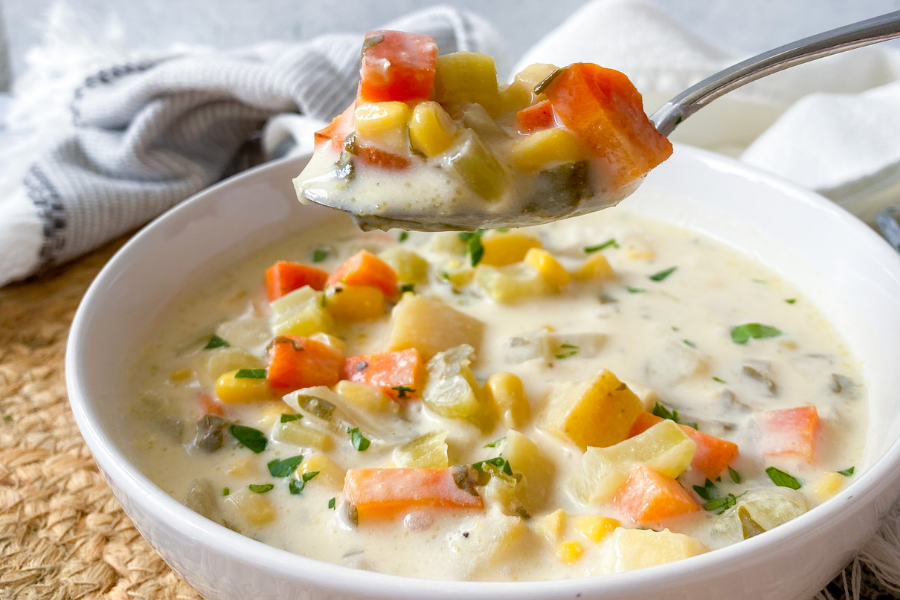 Easy Slow Cooker Corn Chowder
Why you're going to love this corn chowder recipe
This is the best slow cooker corn chowder recipe because of how minimal it is! I love using fresh ingredients in my meals, and this one has it all.
Even though this recipe includes some dairy, I made sure not to over do it, and really go heavy on the veggies instead.
A classic slow cooker corn chowder recipe will include vegetables such as carrots, potatoes, celery, onion, and of course, corn!
Creamy slow cooker corn chowder recipe and how to make it nice and thick
The creaminess for this recipe comes from using organic whipping cream and grass fed butter. Use only a pint of whipping cream, or if you prefer to choose something a bit lighter you can go ahead and use half n half.
The thickness to this easy slow cooker corn chowder comes from corn starch. I wanted to try to keep this recipe gluten free, which is why I chose to use corn starch instead of flour.
You can check out more delicious soup recipes here
Can I dump all the ingredients into the slow cooker and leave it alone?
Yes! One of the best things about this vegetarian friendly slow cooker corn chowder is that you can dump all the ingredients at once.
When I was first experimenting with this recipe, I considered letting this soup cook on HIGH for about 3 hours, but later decided to let it cook on LOW for 6 hours.
I wanted to make sure that the cooking process for this easy slow cooker corn chowder was slow and steady. I also wanted to ensure that this recipe could be thrown into the slow cooker in the morning, and then have it be done and ready to enjoy by dinner time.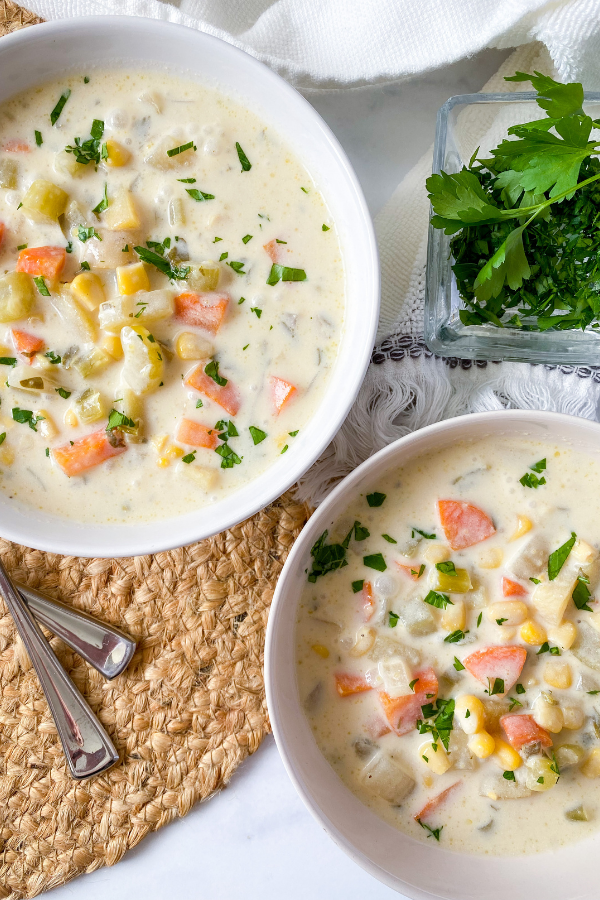 What can I serve with this
creamy slow cooker corn chowder recipe?
Although this recipe is meant to be had on its own… you are always welcome to serve it along side something else too! A big bowl of this corn chowder is hearty enough to be had as a meal.
But if you prefer to have a small portion of it you can serve it next to some other simple recipes. One of my favorite go-to easy recipes is this 12 Minute Crispy Air Fryer Chicken Thighs!
You can never go wrong with a classic cup of soup alongside a delicious grilled cheese sandwich! If you're not into all the dairy, you can also make yourself a yummy toast with your favorite type of bread.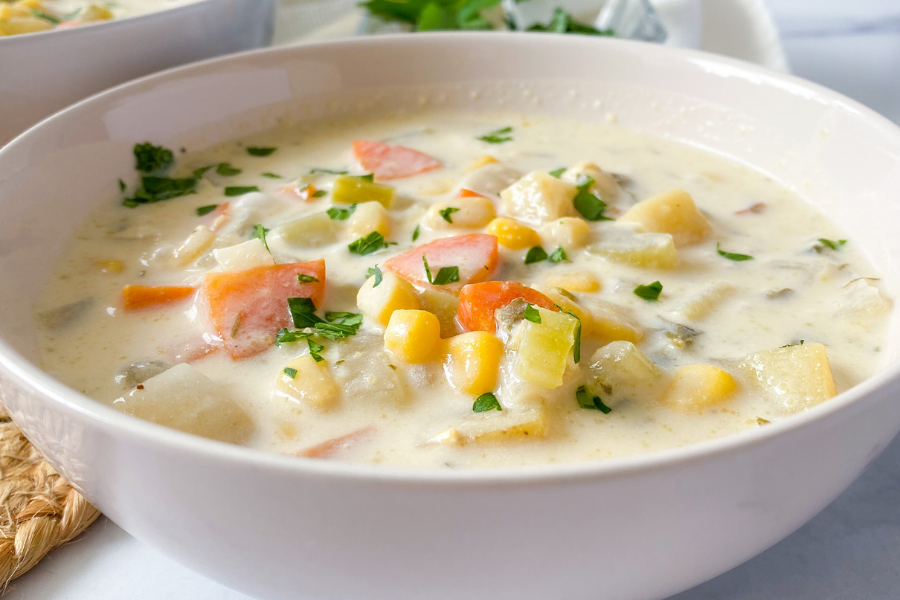 Tips on how to cut your veggies for this delicious corn chowder
Who doesn't love a thick, creamy chowder with chunks of delicious veggies inside? But sometimes there's the questions of "how chunky is too chunky?" or "how small do I need to cut my vegetables?". Check out my quick guide below giving you some tips on how to best cut your veggies for this easy slow cooker corn chowder.
CARROTS – if you are working with a medium or large carrot I first like to cut the carrot in half lengthwise, then I cut each half lengthwise again. So you are left with a carrot that's been quartered (lengthwise), which will make the dicing process much simpler. Once I have all four carrots "sticks", I hold them together and dice until I have little bite sized cubes.
CELERY – similar to how I cut the carrots, I will take one rib of celery and slice in half lengthwise. Then, proceed to dice the celery just as I did the carrots.
Easy Slow Cooker Corn Chowder
Ingredients
2 cups diced celery
2 cups diced carrots (about 2-3 medium sized carrots)
2 medium sized golden potatoes, cut into bite sized cubes
1/2 large brown onion, chopped
3 garlic cloves, sliced
1/2 cup chopped Italian parsley (plus extra for garnish)
3 tbsp unsalted grass fed butter
16 oz bag of frozen corn
32 oz veggie stock
1 pint heavy whipping cream
3-4 tsp salt
pepper to taste
7 tbsp corn starch
Directions
Step 1

Add all ingredients to a 6-7qt slow cooker and cook on LOW for 6 hours. (optional to stir occasionally)
This post was all about this easy slow cooker corn chowder that takes just minutes to prepare and will be ready for you by the time you end your busy day!
Here are a few other posts you might like to check out!