This site may contains affiliate links to products and/or sponsored content. Girl Appetit may receive a commission for purchases made through such links. 
When Life Gets Busy…Make 5 Ingredient Tomato Soup!
Life has gotten very busy for me these past couple of months. I picked up two new part time jobs which are keeping me out of the kitchen (and home) for 40+ hours a week. Before, I was mostly doing freelance work from home and also working Instacart (food delivery service) so I was able to make my own schedule and had plenty of time to create lots of content for the blog.  That's why my 5 ingredient tomato soup recipe is perfect for a quick, weeknight dinner!
You may have noticed that I haven't been posting twice a week anymore like I was at the beginning of the year. Things have changed for the better and it has been so amazing having some steady income all while I continue to pursue my career as a food blogger and content creator. Your support means the world to me, and the fact that you find yourself on this page today is the most rewarding thing, and it encourages me to continue doing what I love.
Nowadays, I am waking up at 5:00am three times a week, working 12 hour days twice a week and scrambling around the rest of the time. I am not kidding when I tell you that for a solid two months, I didn't cook a single dinner. My husband has actually been so amazing and has stepped in for me as chef most weeknights. It's been such a blessing to have his support as I navigate this new crazy schedule of mine. But as I slowly adjust, I am learning to be more vigilant when it comes to meal planning, and even meal prepping from time to time.
I know there are a lot of you out there who have extremely busy lifestyle and simply don't have time to be making an extravagant recipe every night. So I am here to tell you that I TOTALLY GET IT NOW!!! There is nothing more frustrating that coming home at the end of the day and having to think about what in the world you are going to make for dinner. Well, I am here to tell you that I am getting ready to bring a whole lot of simplified meals to Girl Appetit– because the universe knows that it's what I need right now!

Tomato soup is one of my favorite recipes to make. But sometimes there simply isn't time to make it from scratch, so I have come up with my quick and easy 5 ingredient tomato soup recipe that is absolutely delicious. You will be in and out of the kitchen in less than 30 minutes!
I would like to make a quick disclaimer and say that this easy 5 ingredient tomato soup recipe IS made with canned items. I would highly suggest you opt for buying organic, quality canned goods if they are available to you. If you would prefer to make a fresh tomato soup from scratch, I will be working on a recipe for you soon!! My parents have a garden and every year they end up with an abundance of tomatoes!!! So no worries, that recipe will be on my blog very soon.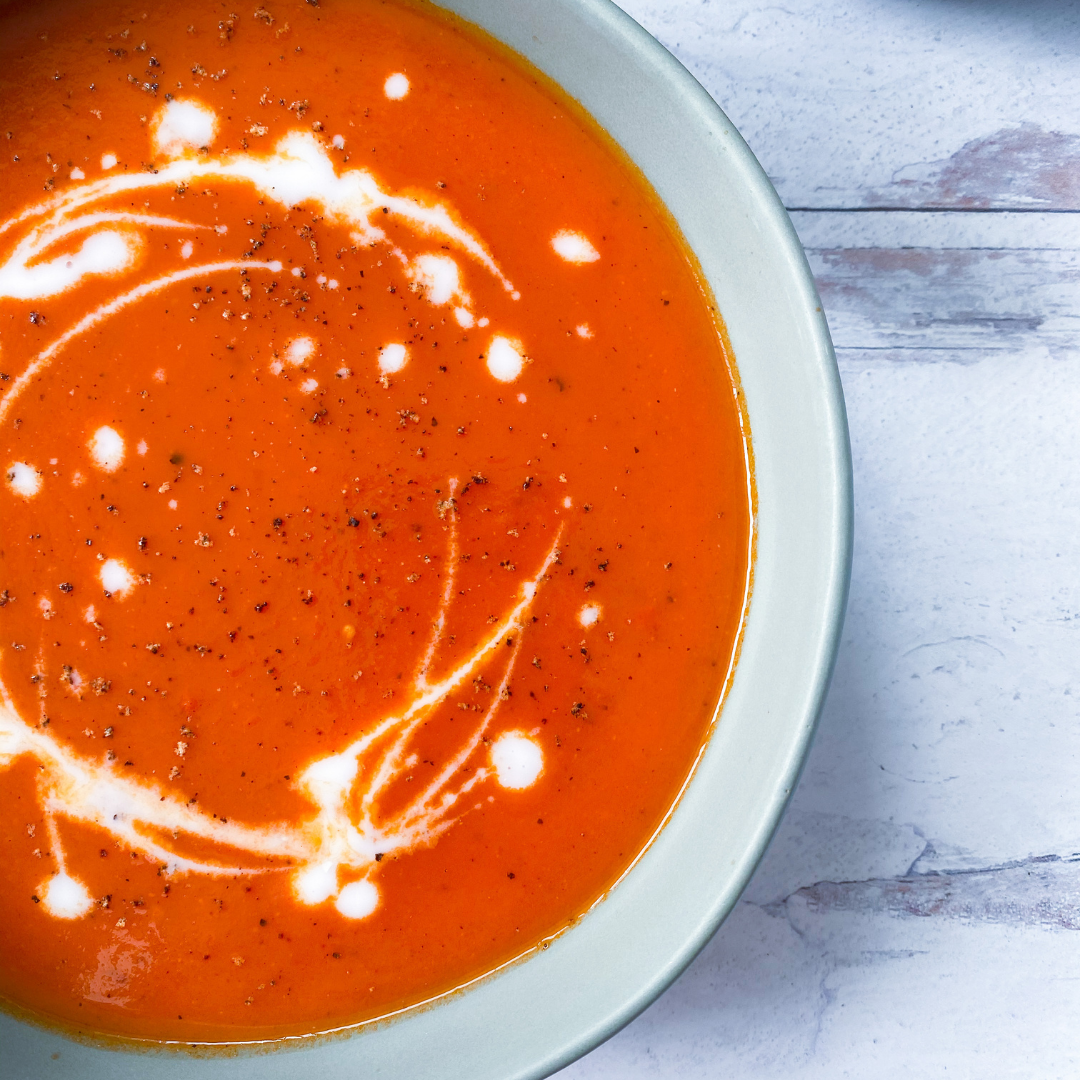 There is something so comforting about this easy 5 ingredient tomato soup recipe. Whether you are having it by itself or as a side (grilled cheese anyone?!), you really can't go wrong with this dish. My kiddo also loves having a little cup of it alongside his dinner and pretty much drinks it straight from the bowl haha! Whenever I make this recipe, like any soup recipe in fact, I make a pretty large batch. This way we are able to enjoy it once or twice and then I will freeze the rest for another day.
I can't tell you how many times my evenings have been saved by doing this! I love using these 32oz containers that I buy off of Amazon for freezing leftover soups and sauces. They are the best containers for freezing soup.  Just the other day I remembered that I had a container of tomato soup left over in my freezer and was so happy to know that I at least had half of dinner ready to go!
How long can you keep frozen soup in your freezer?
To stay on the safe side, the FFS (Federal Food Safety) recommends that soup should stay frozen for no more than 2-3 months. Allow your soup to defrost on the kitchen counter until it's about half way there. I usually don't wait until it is 100% defrosted, and ill just add it to a small pot on low/medium heat and it will naturally keep defrosting as it warms up.
How to freeze your tomato soup
When you are getting ready to freeze your soup, be sure to not let the soup sit in your fridge for more than 3-4 days. I always freeze it after we have had our second serving the day after it is made. Also, making sure that freezing soup that has been sitting in the fridge overnight (meaning it is not hot or warm) will prevent your soup from expanding which will result in damaging your container.
5 Ingredient Tomato Soup Recipe
Ingredients
28 oz can whole peeled tomatoes
14.5 oz can crushed fire roasted tomatoes
6 oz can tomato paste
13.5 oz can full fat coconut milk
2 cups low sodium veggie broth
Seasonings: 1 tsp pink salt and pepper to taste, 1 tsp garlic powder and 3 tbsp coconut sugar (or 2 tbsp regular sugar)
Directions
Step 1

Add all ingredients to a small or medium pot

Step 2

Bring to a boil and then simmer for about 10-15 minutes

Step 3

Using an immersion blender, blend your ingredients until smooth