This site may contains affiliate links to products and/or sponsored content. Girl Appetit may receive a commission for purchases made through such links. 
If you're looking for the perfect side dish to take to your next Summer BBQ then this is the recipe for you! This healthy four-bean salad is delicious, ready in just minutes and will feed a lot of people!
It's been a long time since I have been excited for Summer. The fact that we didn't get to do anything last year has me very excited about spending time outdoors with family, friends and lots of yummy food.
A good salad is always the perfect company to any cookout. I feel like bean salads don't get to shine much these days. It's all about potato or pasta salad. But it's time for them to make a comeback this season! This is one of the easiest recipes you will ever make. Sure, you can buy the beans dry, soak them, and cook them yourself… or you can buy a few cans of organic beans and call it a day!
Nine Reasons You Should Eat More Beans!
they are a great source of protein
contain folate which is a vital nutrient for overall health
packed with antioxidants which can fight the effects of free radicals that cause cell damage
it's good for the heart!
may reduce the risk of cancer due to their antioxidants and anti inflammatory agents
helps stabilize blood glucose
may prevent fatty liver disease
they are full of fiber which is great for feeling full and satisfied
improves gut health
Include some veggies in your four bean salad
Beans are great and all, but what makes this four bean salad that much better are the fresh veggies that I have included in the recipe. Red Bell Pepper gives this bean salad the most amazing crunch. It also brings in a slight sweetness to this salad. Adding some sliced green onions also elevates this recipe with a little kick of flavor!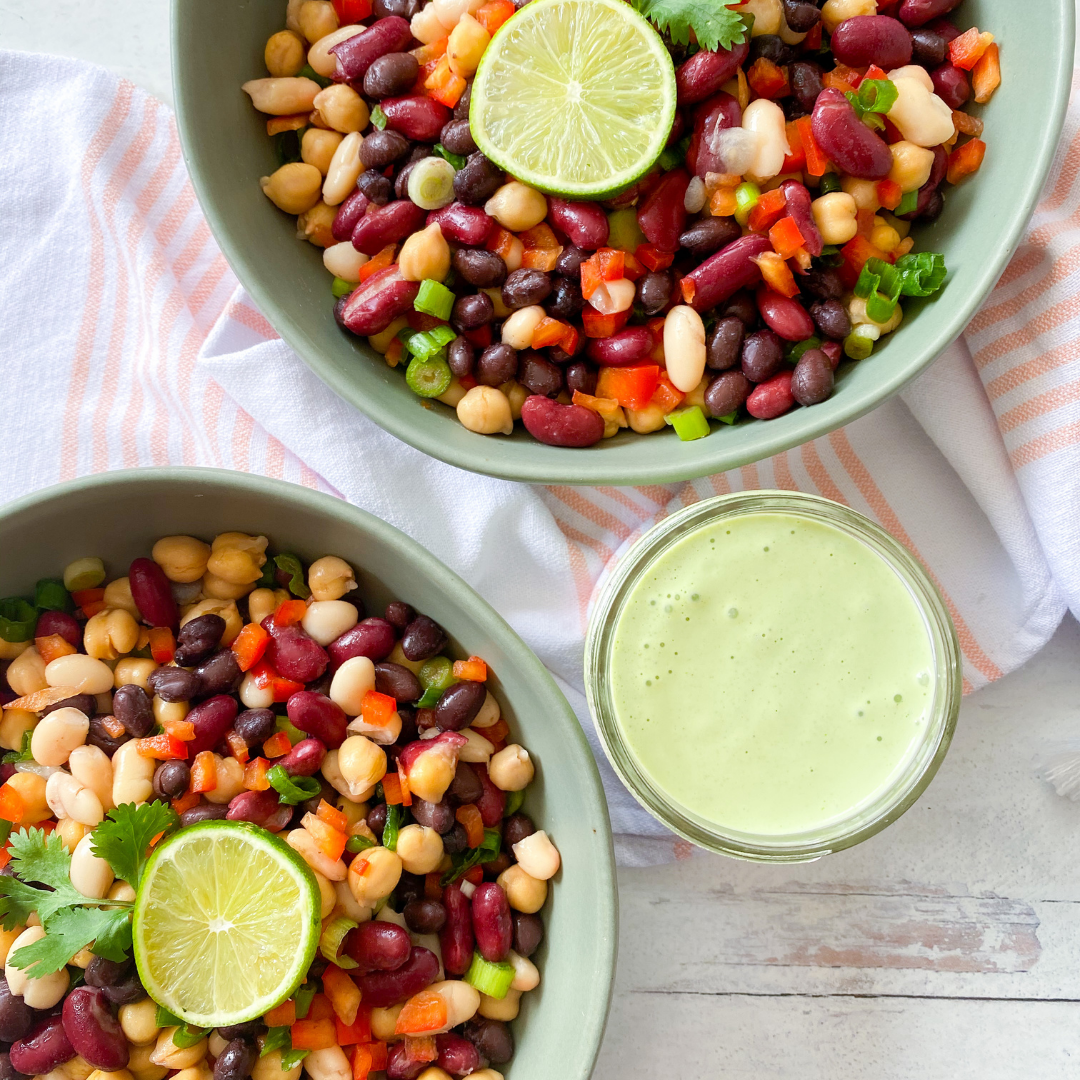 Healthy Four Bean Salad
Ingredients
1 can black beans (no salt added)
1 can garbanzo beans (no salt added)
1 can kidney beans (no salt added)
1 can great northern beans (no salt added)
1 large red bell pepper, finely chopped
3 green onions, sliced
dairy free creamy cilantro dressing
Directions
Step 1

Combine all ingredients in a large mixing bowl. Serve and drizzle in creamy cilantro dressing!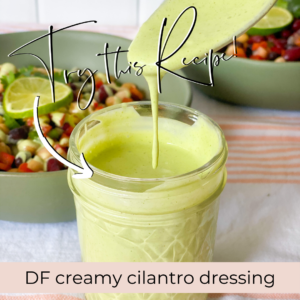 Dairy Free Creamy Cilantro Dressing
Ell Pollo Loco Creamy Cilantro Dressing is my probably my favorite creamy sauce from a fast food joint. I could literally drink it and that is not an exaggeration. It's amazing on a BRC (bean rice and cheese) burrito, on their tostada salads, with chips, you name it! I knew that making my own copycat version of this delicious sauce was going to be tricky. Making it dairy free was going to be even more challenging.
I did my research and checked out a few recipes online for reference. I gathered my ingredients and was ready to go for it! To make this recipe dairy free I used plain cashew yogurt which is my favorite ingredient for dairy free dips and sauces. What I love about using cashew yogurt is that it has great texture, it's tart but doesn't have a super overwhelming taste.