This site may contains affiliate links to products and/or sponsored content. Girl Appetit may receive a commission for purchases made through such links. 
Ell Pollo Loco Creamy Cilantro Dressing is my probably my favorite creamy sauce from a fast food joint. I could literally drink it and that is not an exaggeration. It's amazing on a BRC (bean rice and cheese) burrito, on their tostada salads, with chips, you name it! I knew that making my own copycat version of this delicious sauce was going to be tricky. Making it dairy free was going to be even more challenging.
I did my research and checked out a few recipes online for reference. I gathered my ingredients and was ready to go for it! To make this recipe dairy free I used plain cashew yogurt which is my favorite ingredient for dairy free dips and sauces. What I love about using cashew yogurt is that it has great texture, it's tart but doesn't have a super overwhelming taste.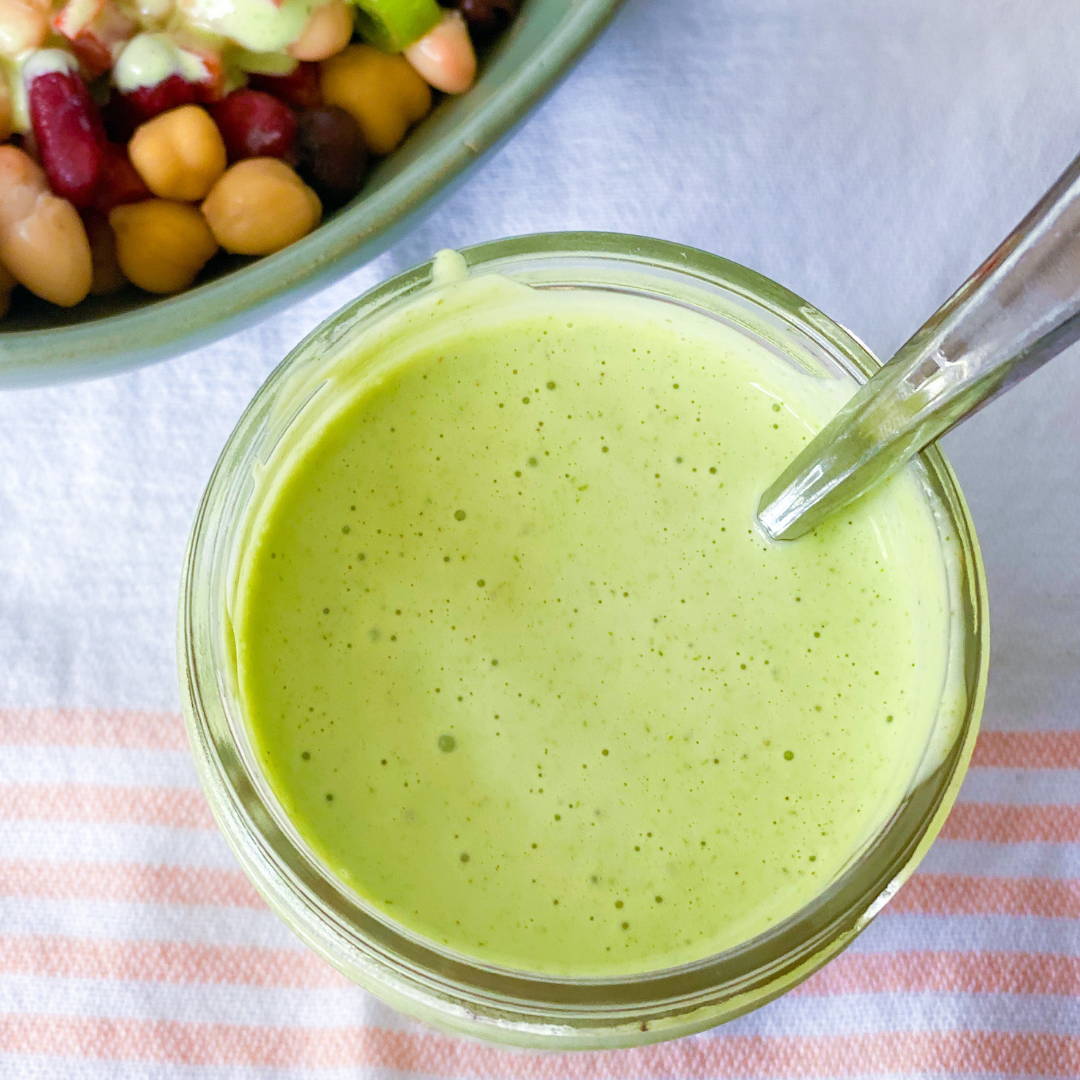 What you need for the El Pollo Loco Creamy Cilantro Dressing copycat recipe
To recreate this delicious creamy cilantro dressing you will need a blender or magic bullet. I love my magic bullet blender for making small batches of sauces. It's compact, easy to clean and easy to store too! It's great that it comes with different sized cups too because it's makes it simple to customize according to how much you are making.
INGREDIENTS FOR MY DAIRY FREE CREAMY CILANTRO DRESSING
plain cashew yogurt
mayo or vegan mayo
fresh chopped cilantro
white vinegar
garlic
lime juice
sugar
cumin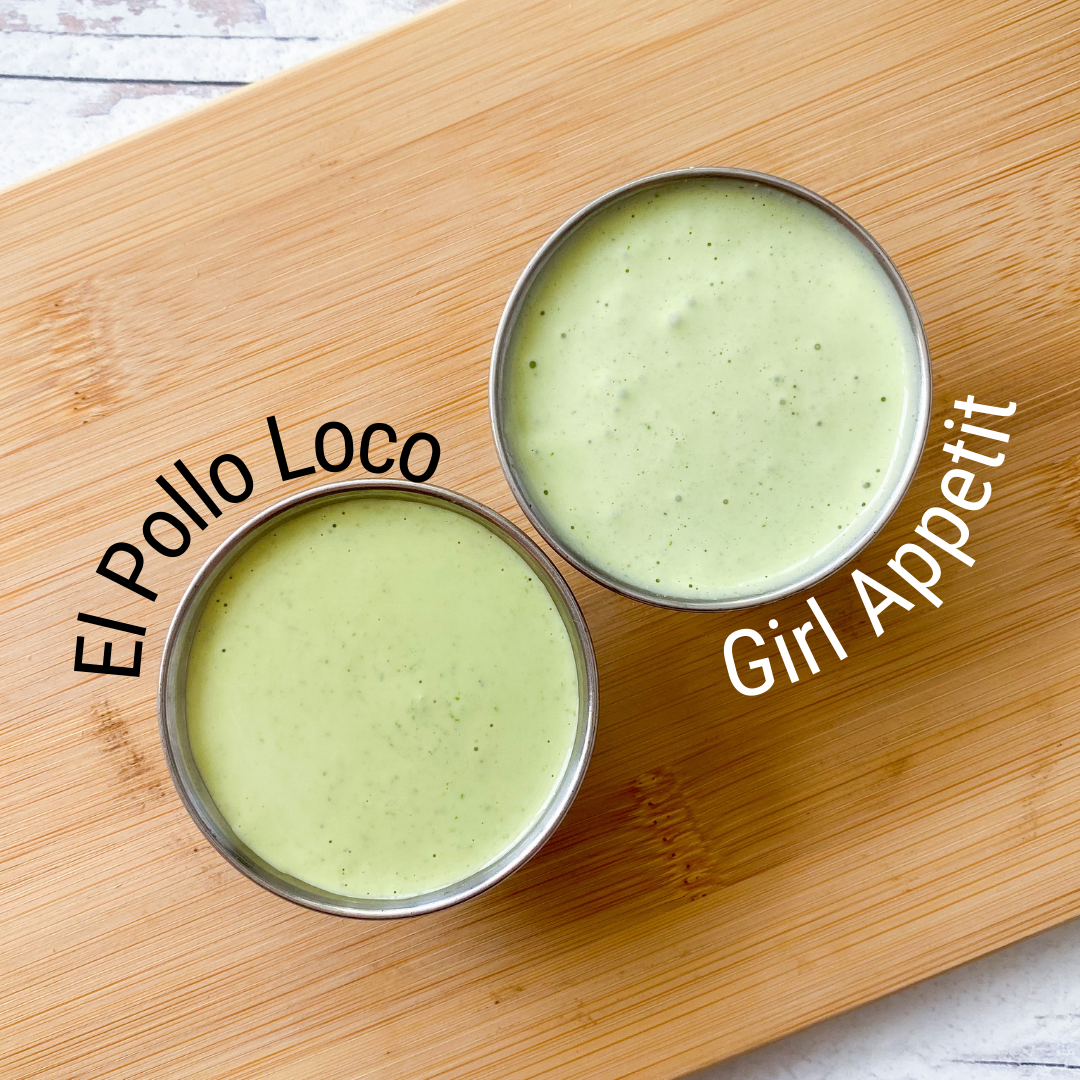 How to store your dairy free creamy cilantro dressing
This copycat recipe makes a good amount of dressing. I did this purposely because you can absolutely use it in so many different ways! You can drizzle it over a Chicken Fajita Tray Bake or in a yummy salad or bowl. Store the dressing in an air tight container like a glass Tupperware or mason jar and keep in the fridge for up to a week!
El Pollo Loco vs Girl Appetit
I think I did a fairly good job getting the flavor of my dressing to be as close to the original. From all the recipes I found online, I am sure that El Pollo Loco keeps certain ingredients secret in order to keep the flavor of their creamy cilantro dressing unique. The fact that there is no dairy also makes my version slightly different from the original. But overall, I'd say that it's just as delicious and pretty damn spot on for a dairy free copycat recipe!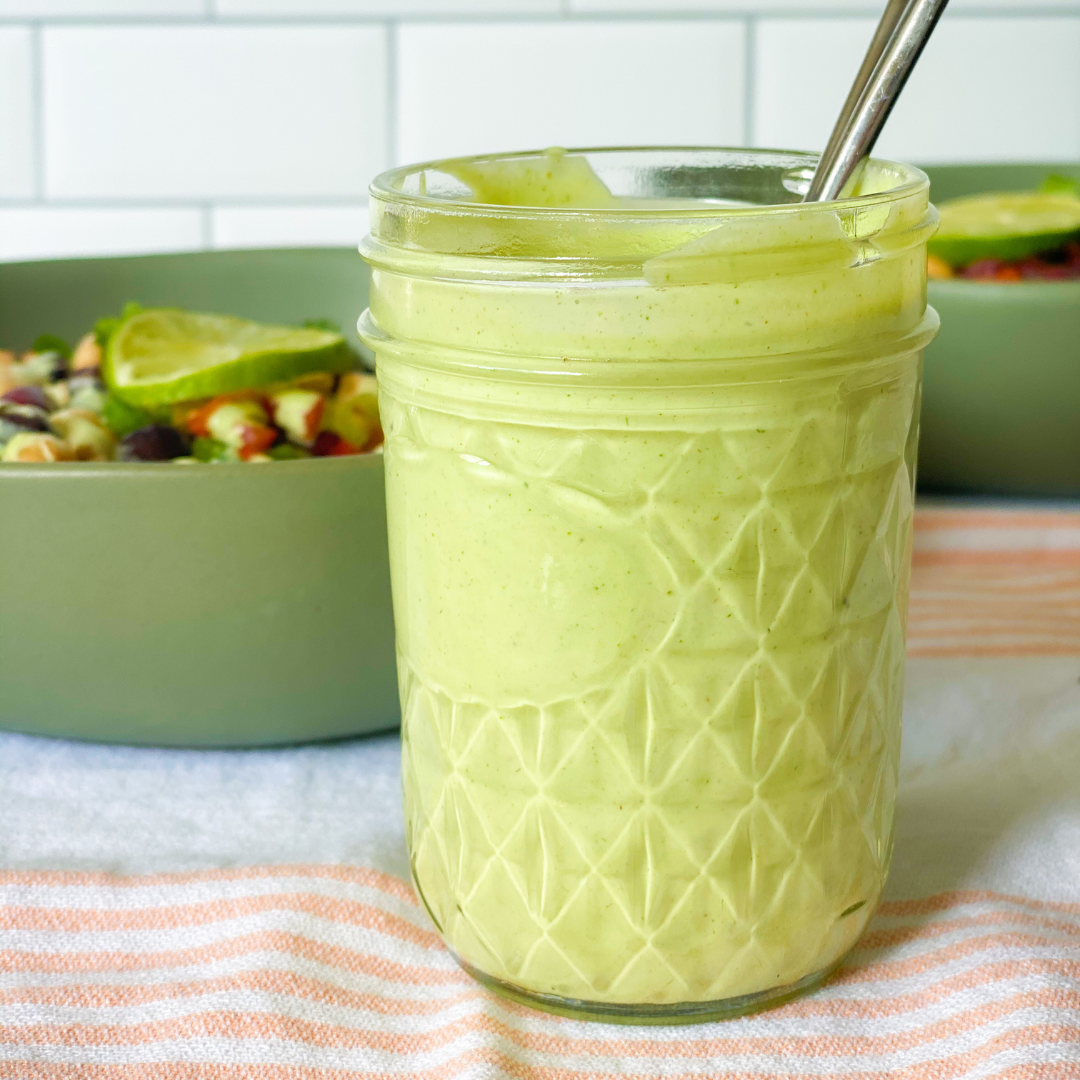 El Pollo Loco Creamy Cilantro Dressing
Ingredients
1/2 cup plain cashew yogurt
1/2 cup mayo (or vegan mayo)
4 tbsp fresh chopped cilantro
1 tsp white vinegar
1-2 garlic cloves, crushed
juice of 1 lime
1 tsp sugar
1/4 tsp cumin
Directions
Step 1

Add all ingredients to a magic bullet cup (or blender) and blend until smooth. Store in air tight container and keep in fridge for up to one week.