This site may contains affiliate links to products and/or sponsored content. Girl Appetit may receive a commission for purchases made through such links. 
Chicken enchiladas not only are delicious but they are also a great option for meal prepping. One full tray of chicken enchiladas will typically be enough for two or three days. This is perfect for those busy week days when you don't have much time to make dinner every night. Meal planning and meal prepping are key to alleviating busy lifestyles. Even better, is when you put together a recipe that takes just a few steps then it's ready for the oven.
I have always been a big fan of chicken enchiladas. They are my go-to choice whenever I go to a Mexican restaurant, along with a margarita or two… of course! It has been a little different these days, since I have been eliminating dairy from my diet. Cheese is a big part of enchiladas, but trust me when I say that making this dish with no cheese doesn't make this dish any less delicious or exciting.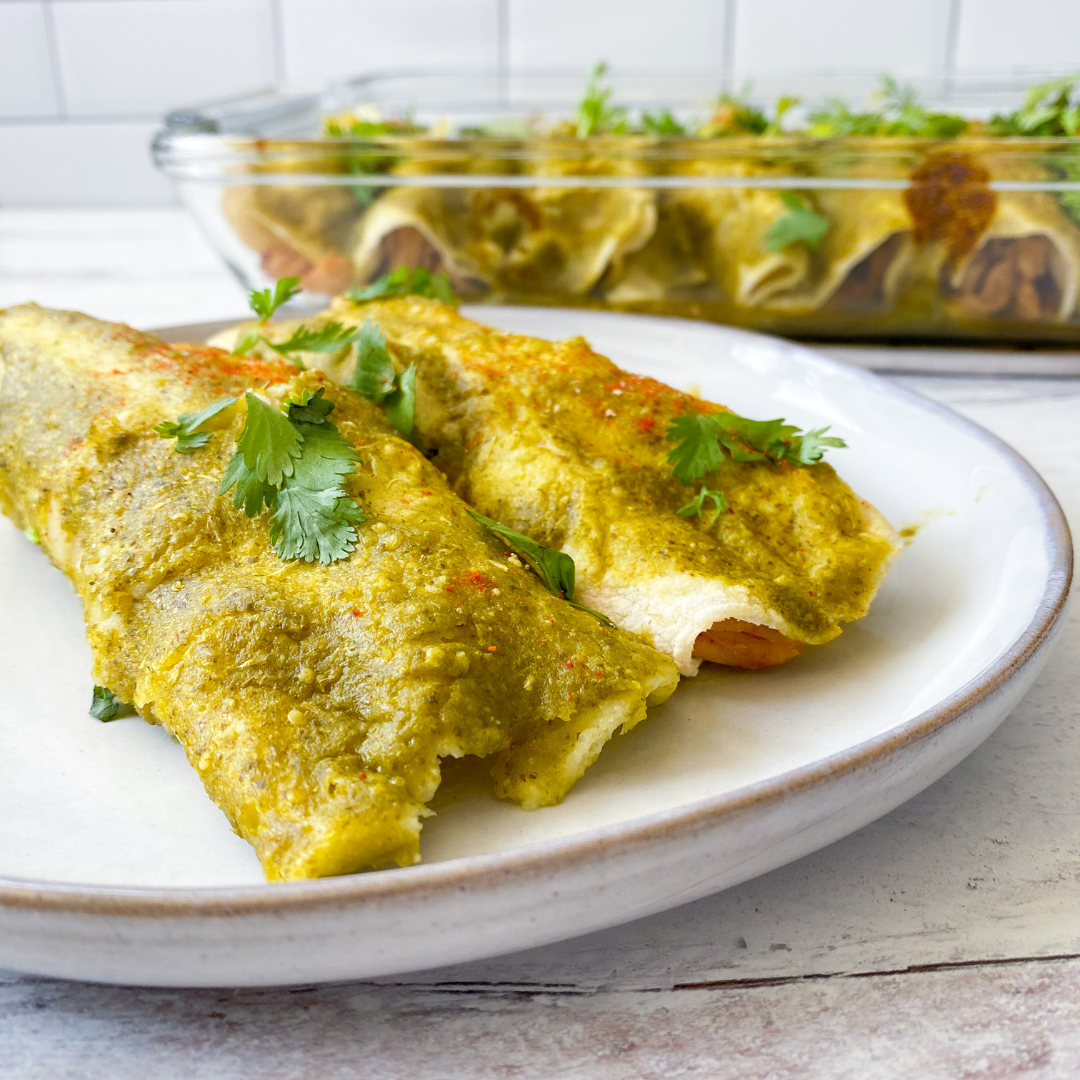 In my opinion, it's all about the sauce. What would chicken enchiladas be without green tomatillo sauce? If you've never made your very own tomatillo enchilada sauce, don't be intimidated. Here is a super easy recipe to make your very own green enchilada sauce. Made with simple fresh ingredients, this sauce is a ten out of ten.
Green vs Red Enchilada Sauce
The choice is ultimately up to you, whether you choose green or red enchilada sauce. Green enchilada sauce is made with green peppers, tomatillos. While red enchilada sauce is made with red chilis. Green enchilada sauce is typically spicier and bolder than red sauce because it is made with green chilies that tend to be hotter. You can easily make a mild green enchilada sauce by choosing to gut the spicy peppers (jalapeno, green chiles, etc) or choose milder peppers such as pasilla peppers.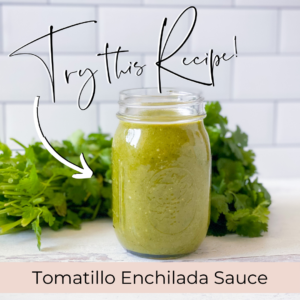 Is it easy to make homemade green enchilada sauce?
YES! it is actually very easy to make homemade green enchilada sauce. My tomatillo enchilada sauce recipe is made with less than ten ingredients and there are just two-steps involved to make it. The first step is roasting the peppers and tomatillos in the oven then it's just a matter of blending the roasted veggies with the remaining ingredients in a blender.
At first, the though of making my own enchilada sauce was kind of daunting. But once I got into it and finished I realized how easy it really was! In my opinion, there is nothing better than homemade anything. Although there are a lot of quality enchilada sauces available to purchase, many of the products found on store shelves are made with lots of additives.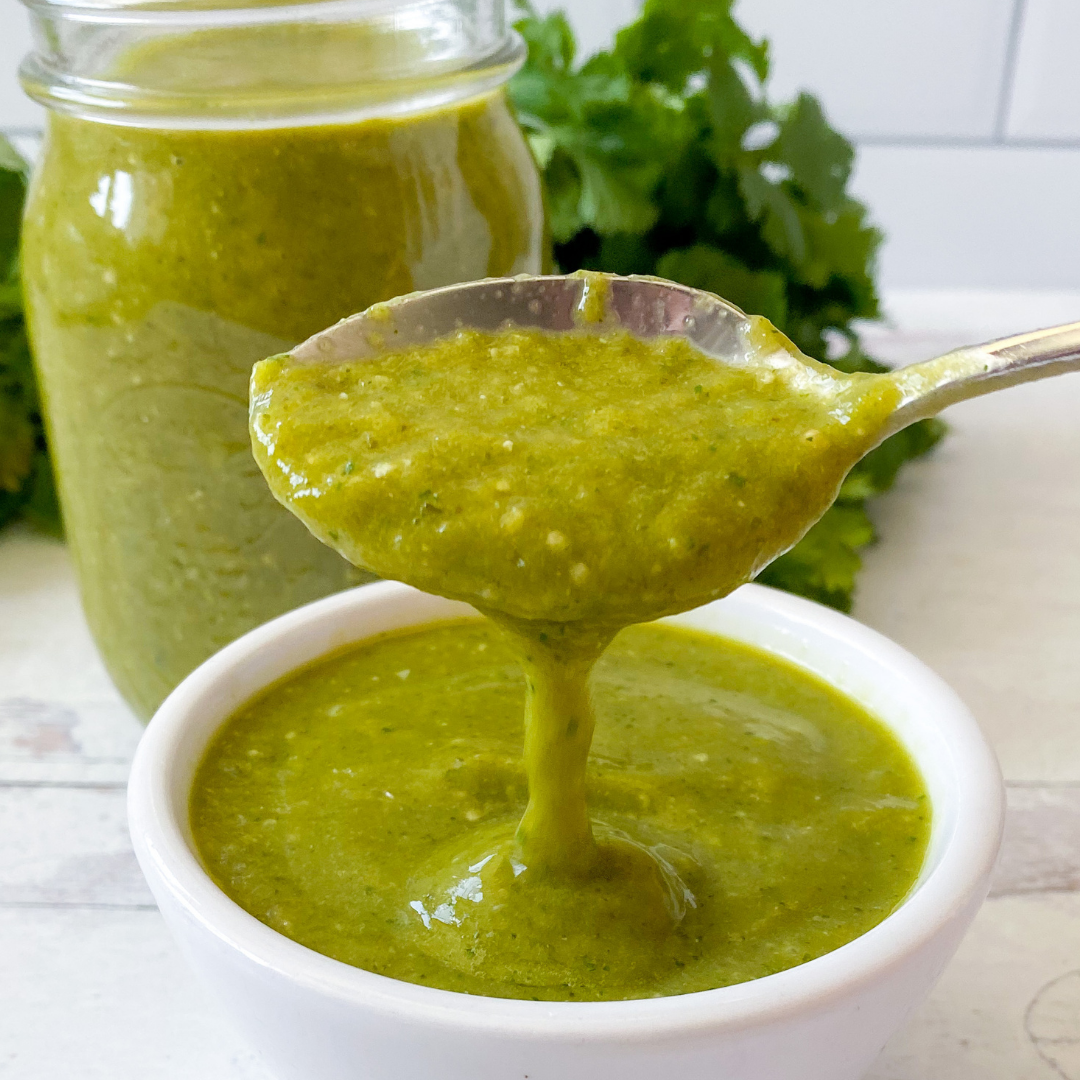 Here is what you will need for this chicken enchilada recipe
skinless boneless chicken breasts
Siete Foods taco seasoning
green onions
1 lime
corn tortillas
salt
BOILING YOUR CHICKEN AHEAD OF TIME
I prefer to boil my chicken breast in preparation to making my enchiladas. It's so easy to add your chicken breasts to a pot of water, setting it to a boil then letting them cook. After your chicken has fully cooked you will then proceed to shred the chicken breasts with two forks.
WHAT IS THE TACO SEASONING FOR?
Adding a little bit of taco seasoning to your fully cooked and shredded chicken breast really elevated the flavors. There have been a lot of times that I've had pretty bland chicken enchiladas. Personally, I am not a fan of bland, so I took this recipe to the next level by adding a little bit of spice.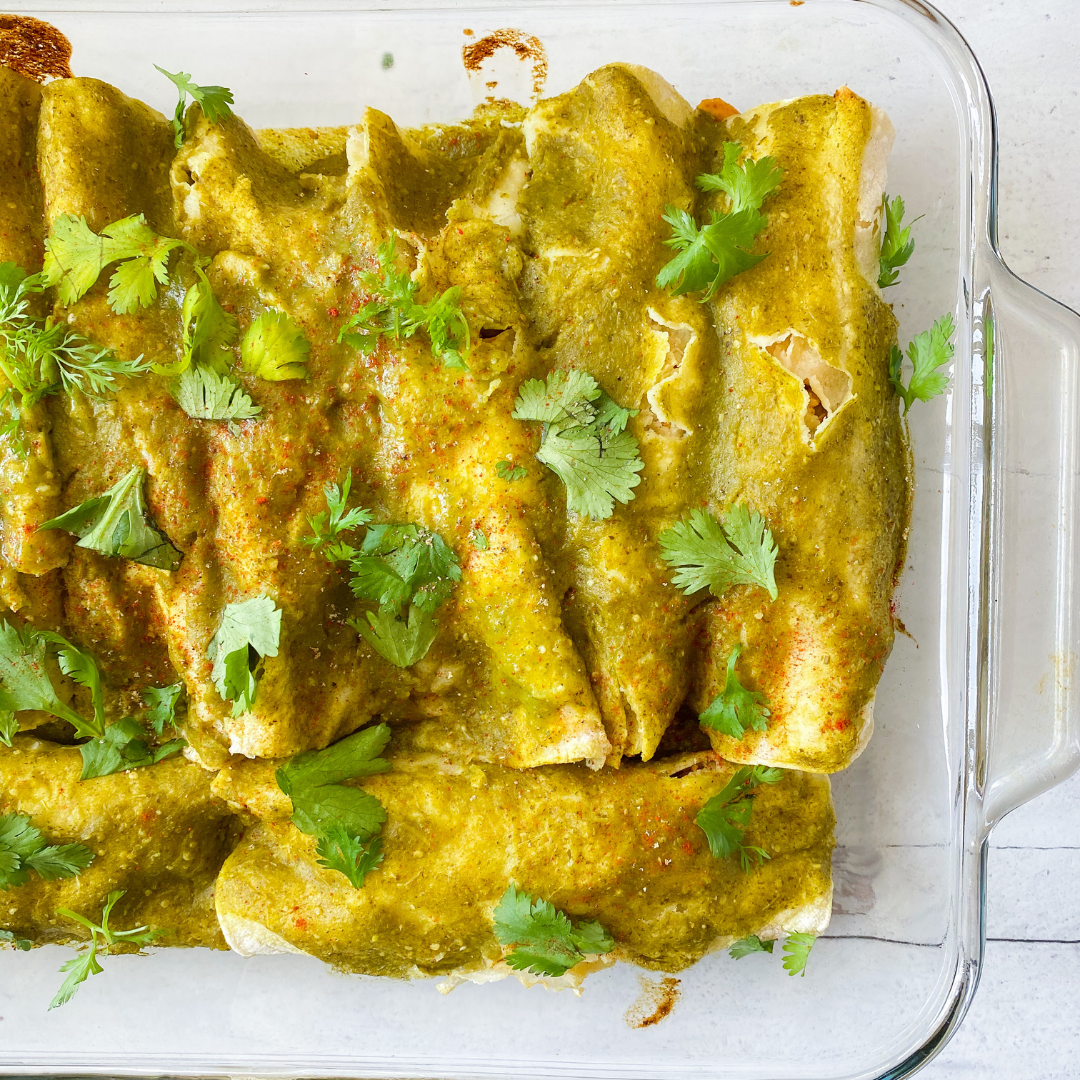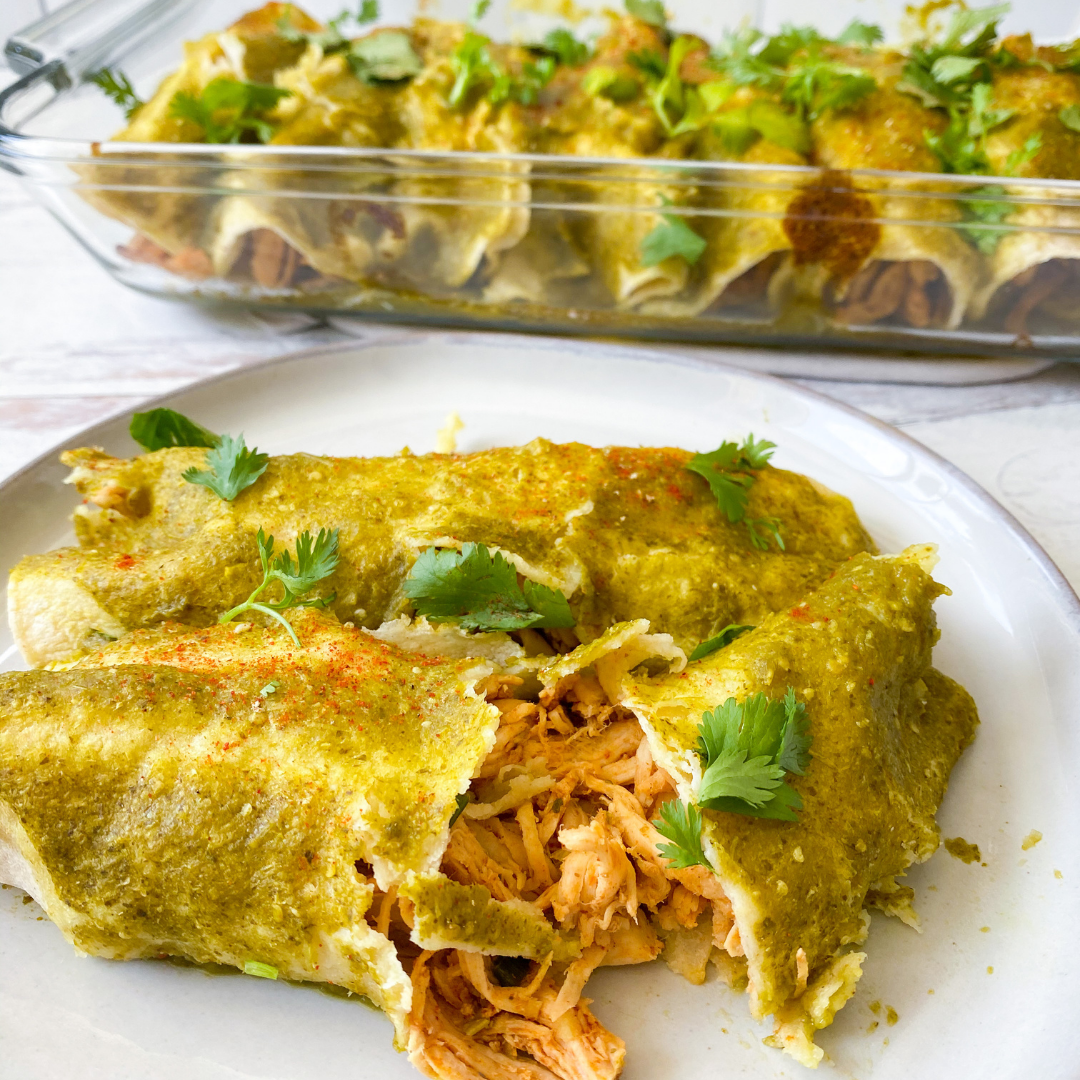 Chicken Enchiladas with Green Tomatillo Sauce
Ingredients
2 lbs skinless boneless chicken breasts (about 3 breasts)
pack of 10 corn tortillas
1 tsp salt
2 tbsp Siete Foods taco seasoning
4 green onions, sliced
1 lime
green enchilada sauce (if you are not making the sauce from scratch, be sure to buy two 10 oz cans of enchilada sauce or one large 28 oz can)
Directions
Step 1

Preheat oven to 375

Step 2

To prep the chicken: before you get started be sure to rinse the chicken breasts. Place clean chicken breasts in a pot and fill with enough water to cover chicken. Place pot on stove top and set heat to medium high. Bring the water to a boil and cook chicken for about 10 minutes. Careful not to overcook, you don't want to end up with dry chicken!

Step 3

When the chicken is fully cooked take it out of the hot water and set aside to cool down for a few minute. Using two forks, begin shredding the chicken and set aside in a large bowl

Step 4

To the bowl with your shredded chicken, add in salt, sliced green onions, taco seasoning and the juice of 1 lime. Mix all ingredients together until chicken is fully coated

Step 5

To prep your enchiladas, take out a 9 x 13 glass pyrex and pour in a little bit of the enchilada sauce, enough to lightly coat the bottom of the pyrex

Step 6

Next, heat a small sauce pan over medium low heat and pour in 1 cup of enchilada sauce. Remove from heat once the sauce is warmed up. One by one, dip the corn tortillas into the warmed sauce coating each side. Transfer the sauced tortilla to the pyrex, fill with chicken filling and roll

Step 7

Repeat this step until all 10 enchiladas are made. Finally, pour more sauce on top of entire dish of enchiladas. Cover pyrex with parchment paper and bake for 15 minutes.