This site may contains affiliate links to products and/or sponsored content. Girl Appetit may receive a commission for purchases made through such links. 
Delicious homemade tomatillo enchilada sauce that is so easy to make, you're going to wonder why it's taken you this long to make it! I love enchiladas but I was always so hesitant to make my own sauce. It wasn't until recent that I started doing a little research about green enchilada sauce. I wanted to give it a try and came across a lot of delicious recipe that totally inspired me. With just a few simple ingredients, a baking sheet and a blender, you are just steps away from a delicious enchilada sauce.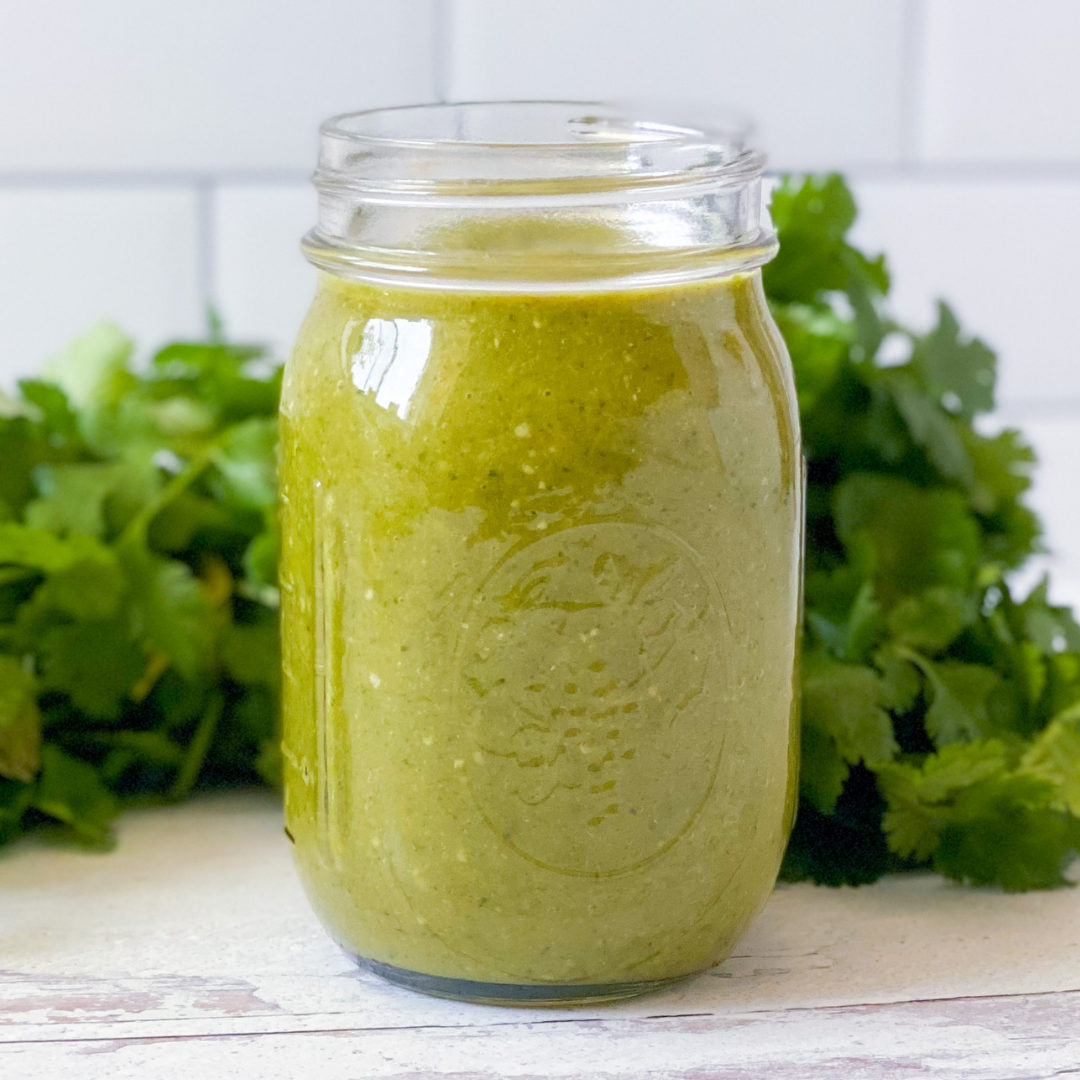 What goes in a traditional tomatillo enchilada sauce?
Tomatillo enchilada sauce (or green enchilada sauce) is made up of, you guessed it, tomatillos and a variety of peppers. Cilantro, cumin and other spices are also found in tomatillo enchilada sauce.
Green peppers such as poblano, pasilla, jalapeno and green chiles are also stars of the show. You are welcome to use some or all in your sauce, but I prefer to keep it simple and usually opt for two types of peppers. Onion and garlic are always great ingredients to add into your tomatillo enchilada sauce.
What is the difference between tomatillo enchilada sauce and salsa verde?
These two sauces may look very similar, but there is a lot of major differences between the two. The enchilada sauce is cooked versus salsa verde that is made with raw ingredients. Tomatillo enchilada sauce also includes stock when salsa verde does not.
Ingredients you will need for this recipe
tomatillos
pasilla peppers
jalapenos
garlic
cilantro
ground cumin
salt
white vinegar
veggie broth
Prepping and roasting your tomatillos and peppers
Before roasting your tomatillo enchilada sauce ingredients you want to be sure you wash all your veggies! Prepping ahead of time is key to smooth sailing in the kitchen. I always begin by washing all the veggies I am going to use ahead of time.
To prep your tomatillos you want to peel away the husk and wash them. Ideally, when choosing tomatillos, they should tightly fill in the husk. You don't want to pick ones that are loose or balloon-like inside the husk. If you are not able to find "the perfect" tomatillos, don't stress! It will still turn out delicious and amazing.
Preheat your oven to 350 degrees (F) and line a baking sheet with parchment paper. Slice your tomatillos in half and place flat side down on the baking sheet. Slice your peppers in half too and gut them, placing face down on baking sheet as well along with the tomatillos. Lightly oil the veggies and roast for 30 minutes!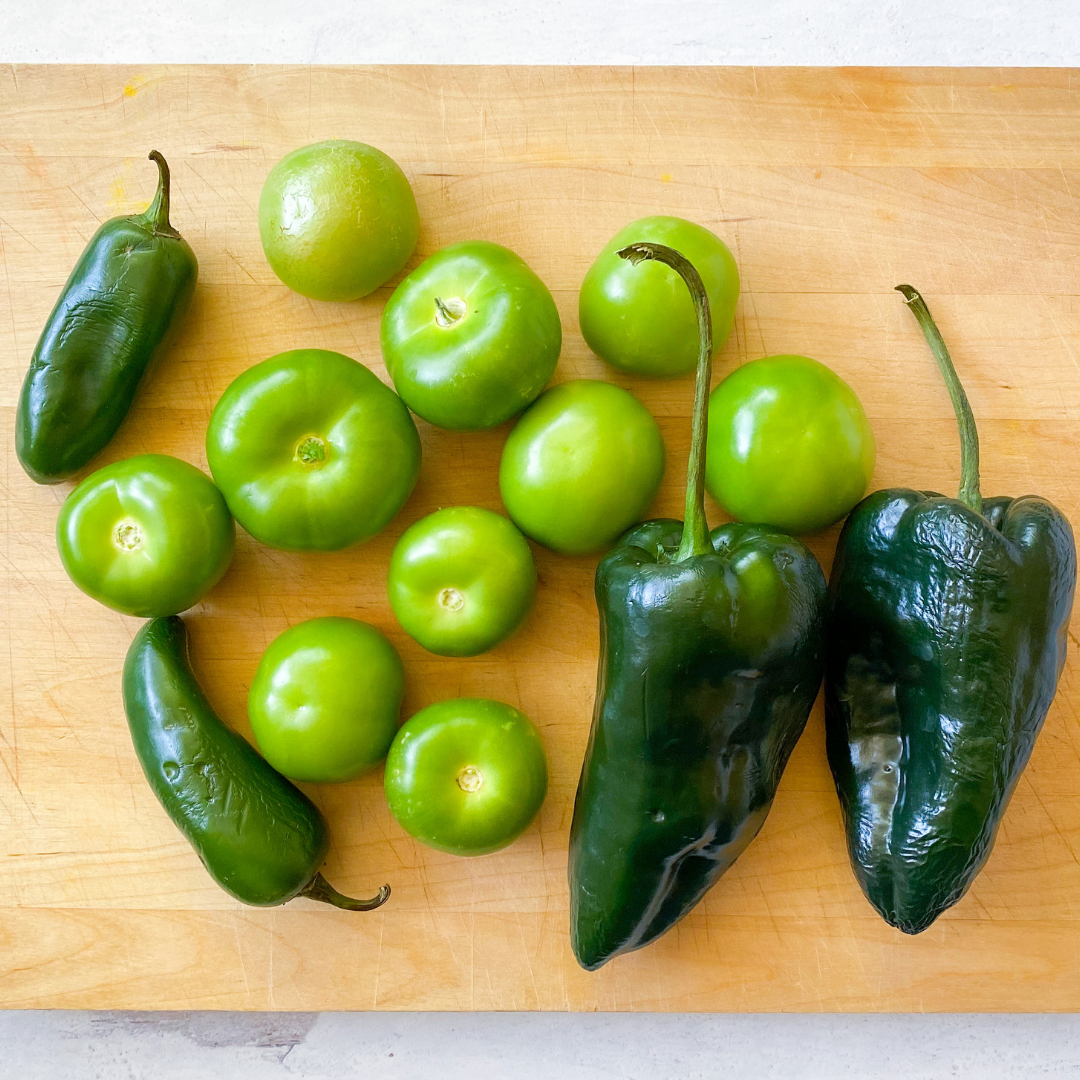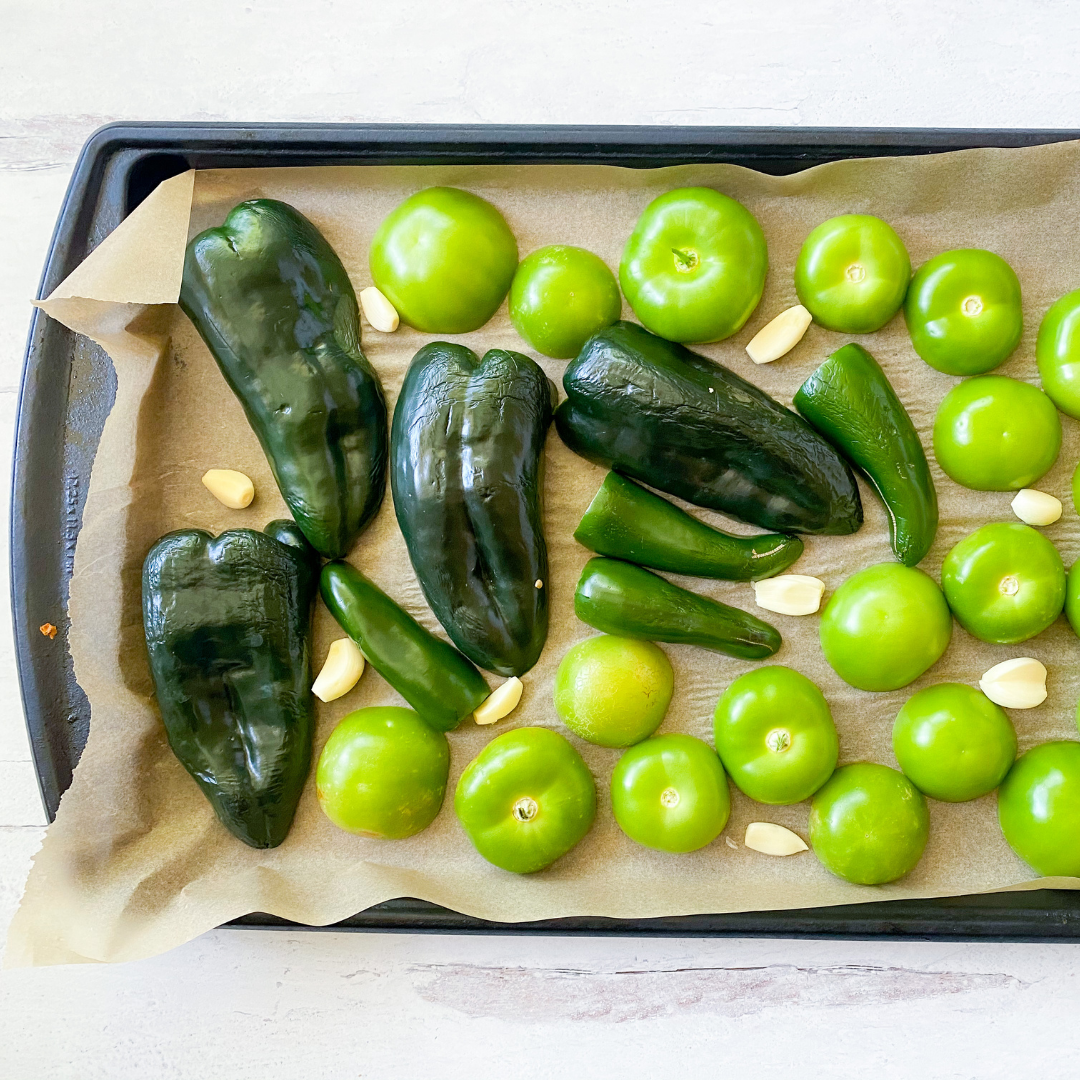 Tomatillo Enchilada Sauce
Ingredients
10 tomatillos
2 pasilla peppers
2 jalapenos
6-8 garlic cloves
1/4 cup chopped cilantro
1/4 tsp ground cumin
1/2 tsp pink salt
1 tbsp white vinegar
1 cup veggie broth
Directions
Step 1

Preheat oven to 350 degrees (F) and prepare a baking sheet by lining it with parchment paper

Step 2

Prep your veggies by removing tomatillos from their husks. Wash tomatillos and peppers. Slice tomatillos in half and place flat side down on baking sheet. Slice peppers in half as well and gut them (you may choose to keep jalapeno seeds if you prefer a spicier sauce). Place peppers face down on baking sheet along with tomatillos and place whole garlic cloves in between

Step 3

Lightly oil tomatillos and peppers with a little bit of avocado oil and roast for 30 minutes in the oven

Step 4

Once veggies are done roasting, let them cool for about 10-15 minutes, or until they are cool enough to touch. Once they have cooled down you want to peel the skin off the pasilla and jalapeno peppers

Step 5

Add everyting from the baking sheet into a blender along with chopped cilantro, cumin, salt, vinegar and veggie broth. Blend until smooth!

Step 6

Use immediately to make delicious enchiladas or store in a air-tight container and store in fridge for later.